Mind The Gap is my submission to Curated Quilts latest challenge. This issue is about Negative Space and 'gap' is the prompt for the mini quilt section.
Mind The Gap est ma soumission pour le dernier challenge de Curated Quilts. Ce numéro est dédié à l'Espace Négatif et "gap" (à traduire par vide, écart) est le thème de la rubrique des minis quilts.
Ordering the fabric bundle with exact colorways is not feasible for me considering the delivery time and the short timeline for submitting. So I tried to find in my stash the best matching colours, using the image below and the online Moda Bella Solids colour card.
Commander le lot de tissus avec les coloris exacts n'est pas envisageable pour moi compte tenu des temps de livraison et du délai court pour soumettre. Donc j'ai essayé de trouver dans mon stock les couleurs les plus proches, en utilisant l'image ci-dessous et le nuancier en ligne de la collection Moda Bella Solids.
I decided to use five out of the six colours, putting aside the purple. I think the lime, sky, indigo and pink colorways match pretty well the given palette. But I realized afterwards that the blue-green I chose doesn't really match. Not green enough. My selection was probably influenced by my personal taste …
J'ai décidé d'utiliser cinq des six couleurs, laissant de côté le violet. Je pense que les coloris lime, ciel, indigo et pink correspondent assez bien à la palette donnée. Mais j'ai réalisé après coup que le bleu-vert que j'ai choisi ne correspond pas vraiment. Pas assez vert. Ma sélection a probablement été influencée par mes goûts personnels …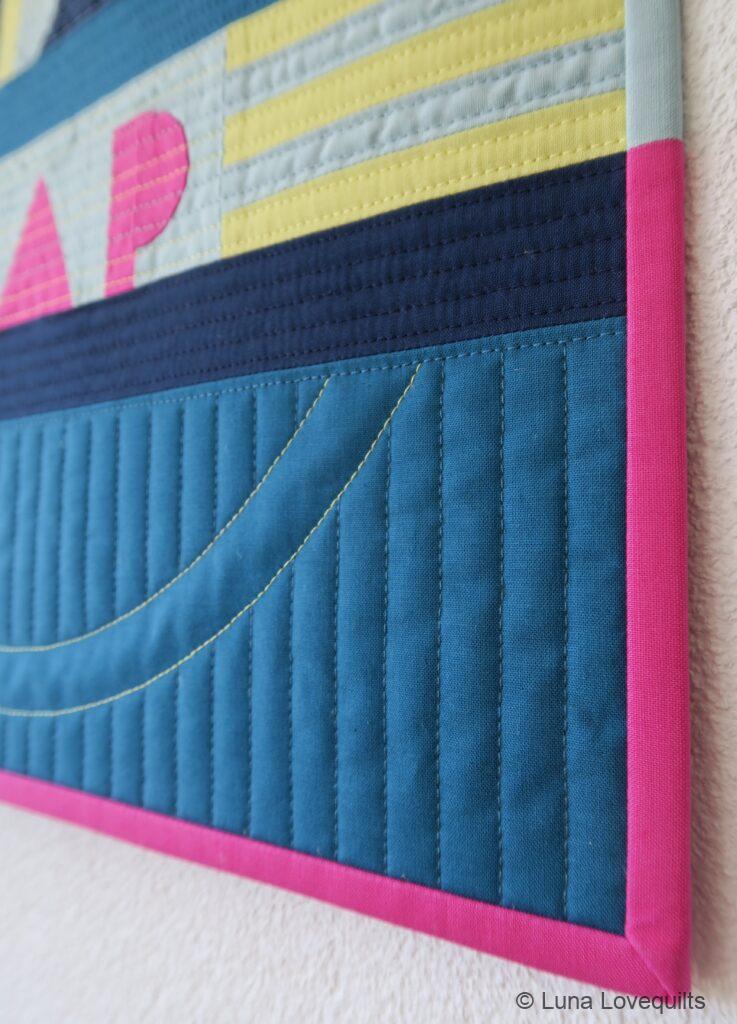 The idea for the design came to me pretty quickly since the word 'gap' always reminds me my first time in London underground. 'Mind the gap' is a phrase painted onto the platform to warn passengers to take caution of the gap between the train door and the platform.
L'idée pour le design m'est venue assez rapidement car le mot "gap" me rappelle toujours ma première fois dans le métro de Londres. "Mind the gap" est une phrase peinte sur le quai pour avertir les passagers de faire attention au vide entre la porte du train et le quai.
I kept on the same theme for the quilting design and added a circle to mimic the iconic station signs of London underground.
J'ai continué sur le même thème pour le quilting en ajoutant un cercle pour imiter les emblématiques enseignes de gare du métro de Londres.
The deadline for submissions is June 20 and the decision email will be sent within two weeks. So fingers crossed !
Le délai pour les soumissions est le 20 juin et le mail de décision sera envoyé dans les deux semaines suivantes. Je croise les doigts !