I hope you are all well and safe ! First I wanted to let you know that I was featured on Create Whimsy which is a website dedicated to Crafts and speaking about makers, inspiration, tutorials and more. I was really thrilled when they contacted me early November to take part in their Spotlights topic. Well … It took me a few weeks before finding time to answer the interview questions (2020, you know … ). Anyway the article is live now and you can have a look at it here.
J'espère que vous allez tous bien ! D'abord je voulais vous informer que mon travail est présenté sur Create Whimsy, un site web dédié aux loisirs créatifs et parlant des créateurs, inspiration, tutoriels et plus. J'ai été ravie d'être contactée début novembre pour participer à leur rubrique Spotlights. Bon … cela m'a pris quelques semaines avant de trouver le temps de répondre aux questions de l'interview (2020, vous savez … ). Enfin, l'article est en ligne maintenant et vous pouvez le voir ici.
I spent the ten past days cleaning my sewing space, sorting every single box and drawer … And it feels SO GOOD ! There is now room, in my head and my studio, for starting new quilting and sewing projects. Actually new design ideas for quilted pouches are taking shape on my computer.
J'ai passé ces dix derniers jours à ranger mon espace couture, triant chaque boîte et tiroir … Et ça fait VRAIMENT DU BIEN ! Il y a maintenant de la place, dans mon esprit et mon atelier, pour commencer de nouveaux projets patchwork et couture. En fait, de nouvelles idées de design pour des trousses en patchwork prennent déjà forme sur mon ordinateur.
I reorganized my drawers to store all the sewing supplies I use for making pouches and bags (rivets, cords, beads, …).
J'ai réorganisé mes tiroirs pour ranger toutes les fournitures dont j'ai besoin pour réaliser les pochettes et sacs (rivets, cordons, perles, …).
I also documented all my favourite sewing patterns, adding personal notes and options to the original instructions.
J'ai aussi documenté tous mes modèles de couture préférés, en ajoutant des notes personnelles et des options aux instructions originales.
Considering all craft markets and exhibits were cancelled in 2020 I have to say I am pretty happy with my sales. Here is a glimpse at the space provided by a local shop for selling my makes.
Compte tenu du fait que tous les marchés et expositions ont été annulés en 2020, je dois dire que je suis plutôt contente de mes ventes. Voici un aperçu de l'espace mis à disposition par une boutique de la région pour vendre mes créations.
I really enjoyed thinking about how to display and showcase my items, making labels, … Anyway I invested a lot of time and energy organizing it all and so decided to keep sewing small items in 2021 (hoping markets will be held at the end of the year …).
J'ai vraiment aimé réfléchir à comment présenter et mettre en valeur mes articles, créer les étiquettes, … Mais c'était un investissement en temps et énergie important pour tout organiser et j'ai donc décidé de continuer à réaliser des objets en 2021 (en espérant que les marchés de fin d'année seront maintenus …).
BUT … I also have a few goals for quilting projects !
– A mini quilt for a secret friend swap. I started designing it but it still requires a bit of thinking …
– Two pieces for an exhibit with my friends of ART-TEX group next November.
– A couple of quilts I would like to submit to the Festival of Quilts and Quiltcon.
…

Speaking of Quiltcon, My Orangeraie quilt was accepted into the 2021 juried show which will be held online. More picture of Orangeraie here.
MAIS … J'ai aussi quelques objectifs pour des projets patchwork !
– Un mini quilt pour un échange. J'ai commencé à le dessiner mais cela demande encore un peu de réflexion …
– Deux pièces pour une exposition avec mes amies du groupe ART-TEX en novembre.
– Un ou deux quilts que j'aimerais soumettre au Festival of Quilts et Quiltcon.
…

En parlant de Quiltcon, mon quilt Orangeraie a été accepté pour l'exposition 2021 qui aura lieu en ligne. D'autres photos de Orangeraie ici.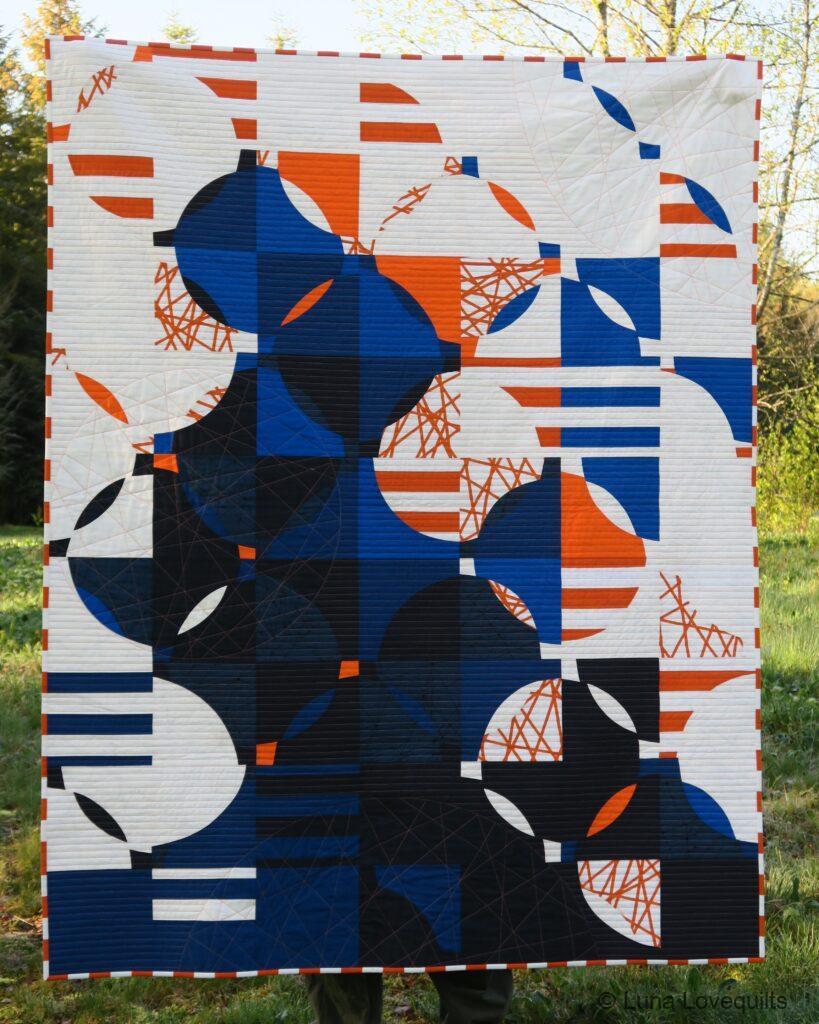 I wish you a happy and creative year 2021 !
Je vous souhaite une année 2021 heureuse et créative !