I love the simplicity of this foldover clutch pattern designed by Svetlana of SOTAK Handmade. I liked the result so much that I made eight versions …
J'adore la simplicité de cette pochette repliée, un modèle de Svetlana de SOTAK Handmade. J'ai tellement aimé le résultat que j'ai réalisé huit versions …
The backside has a zipper pocket. I didn't use the technique described in the pattern though. My back panel is made out of four pieces sewn to the zipper instead of one piece with a welt zipper pocket.
Le dos a une poche avec zip. Je n'ai cependant pas utilisé la technique expliquée dans le modèle. Mon panneau arrière est composé de quatre pièces cousues à la fermeture Eclair au lieu d'une seule pièce avec poche passepoilée.
For five of these clutches I used as main fabric this black on black dots print. It is a cotton linen blend from the Balboa collection, prints on different tones of Essex Linen fabrics.
Pour cinq de ces pochettes, j'ai utilisé comme tissu principal cet imprimé à pois noir sur fond noir. C'est un mélange lin coton qui fait partie de la collection Balboa, des imprimés sur différents tons de tissus Essex Linen.
For the two below I chose prints from Libs Elliott True Love fabric collection for the accent fabric.
Pour ces deux-là, j'ai choisi comme tissu contrasté des imprimés de la collection True Love de Libs Elliott.
The same dots print in two colourways. I also made a reversed version.
Le même imprimé à pois dans deux coloris. J'ai aussi réalisé une version inversée.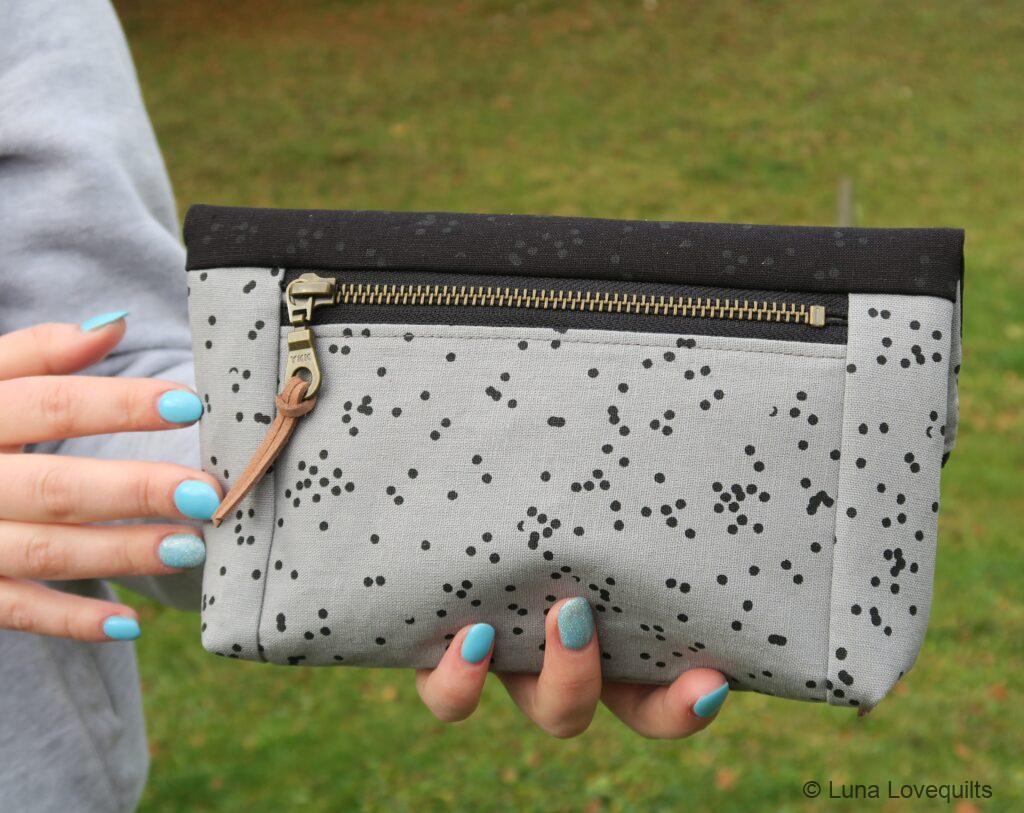 This print is from Crescent collection of Ruby Star Society. I bought it in three colourways and used it for quite a few items. I am not sure if I shared them all or not. I will check that …
Cet imprimé est de la collection Crescent de chez Ruby Star Society. Je l'ai acheté dans trois coloris et l'ai utilisé pour pas mal d'objets. Je ne suis pas sûre de vous les avoir tous montrés. Je vais vérifier …
And here is the lining!
Et voici la doublure !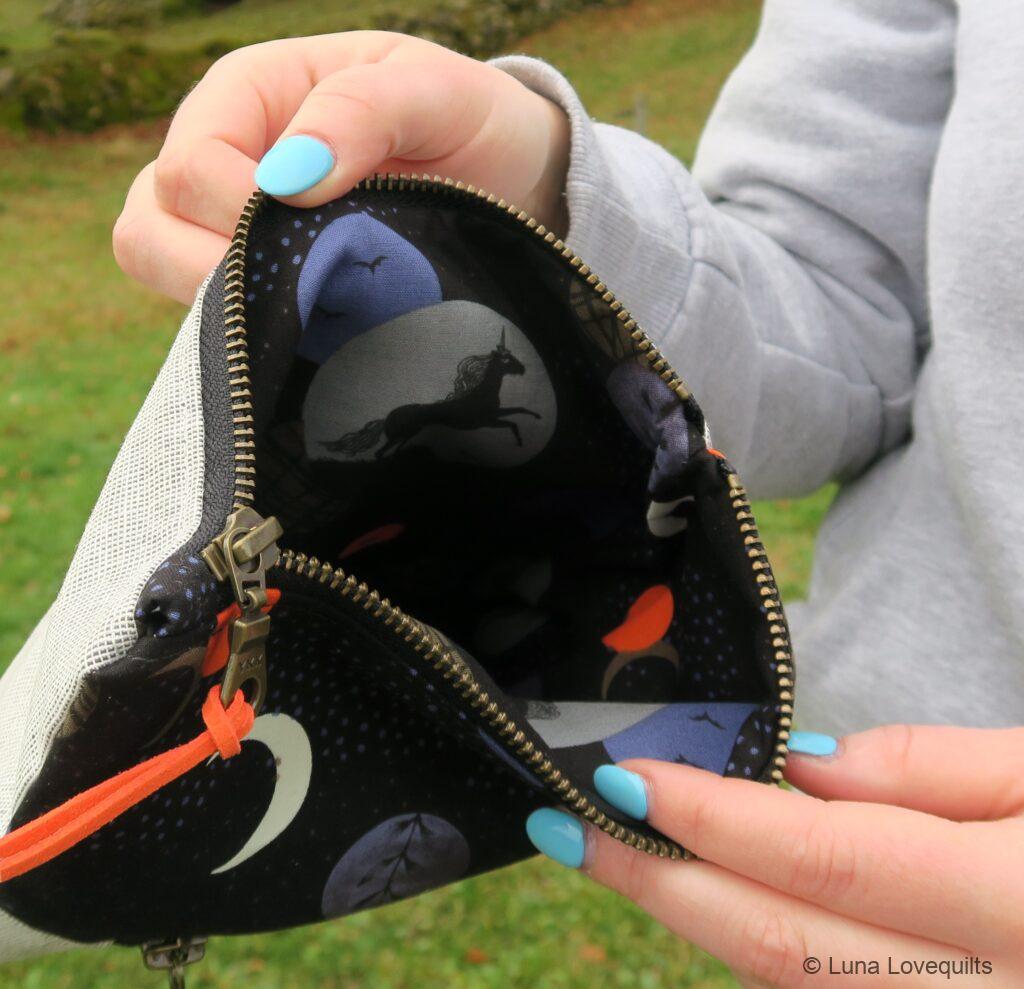 I already showed you this small pouch a few weeks back but here is how it looks when used. It is the small size of the Norfolk Pouch pattern.
Je vous ai déjà montré cette petite pochette il y a quelques semaines mais voici à quoi cela ressemble quand elle est utilisée. C'est la petite taille du modèle Norfolk Pouch.
I made the most of the presence of my helper that day and took a few pictures of two versions of the Wool & Wax Tote Bag pattern designed by Noodlehead.
J'ai profité au maximum de la présence de mon aide ce jour-là et j'ai pris aussi quelques photos de deux versions du modèle Wool & Wax Tote Bag de Noodlehead.
I replaced the inside slip pocket of the pattern by a zipper pocket that I find more convenient.
J'ai remplacé la poche intérieure ouverte du modèle par une poche à zip que je trouve plus pratique.
I finally may not have the mini market at home … because … I have an other opportunity !!! That sounds incredible in 2020, right ?! I was offered to have a stall in a local shop that sells clothes and gift items. So if the Covid situation doesn't get worse and shops that sell non-essential goods are allowed to remain open … I will sell my makes there from end November until Christmas. 🙂
Finalement, je ne vais peut-être pas organiser le mini marché chez moi … parce que … J'ai une autre opportunité !!! Cela semble incroyable en 2020, non ?! On m'a proposé d'avoir un stand dans une boutique de la région qui vend des vêtements et des articles cadeaux. Donc si la situation Covid n'empire pas et que les magasins non essentiels sont autorisés à rester ouverts … Je vendrai mes réalisations là-bas de fin novembre à Noël. 🙂