A few weeks back I started to make small items to sell at our upcoming group exhibit. It is held every three years late August and the next one was planned for 2020. Unfortunately, we recently made the decision to postpone it for one year due to the Covid situation and constraints.
Il y a quelques semaines, j'ai commencé à réaliser des petits objets à vendre lors de notre exposition de groupe à venir. Elle a lieu tous les trois ans fin août et la suivante était prévue pour 2020. Malheureusement, nous avons récemment pris la décision de la reporter d'une année à cause de la situation Covid et de ses contraintes.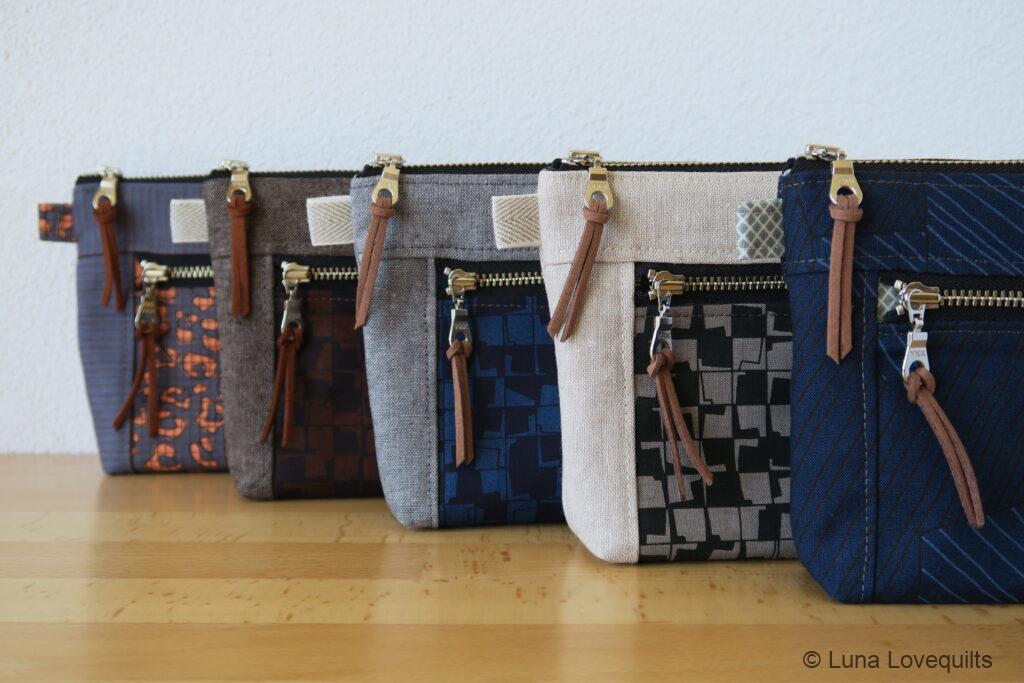 I decided to continue working on these small items anyway. I was on a roll and besides I feel like working on short term projects at the moment. I may try to take part in a craft fair by the end of the year (if they are held …).
J'ai décidé de quand même continuer à travailler sur ces petits objets. J'étais sur ma lancée et en plus j'ai envie de travailler sur des projets à court terme en ce moment. J'essaierai peut-être de participer à un marché d'artisans d'ici la fin de l'année (si ils sont maintenus … ).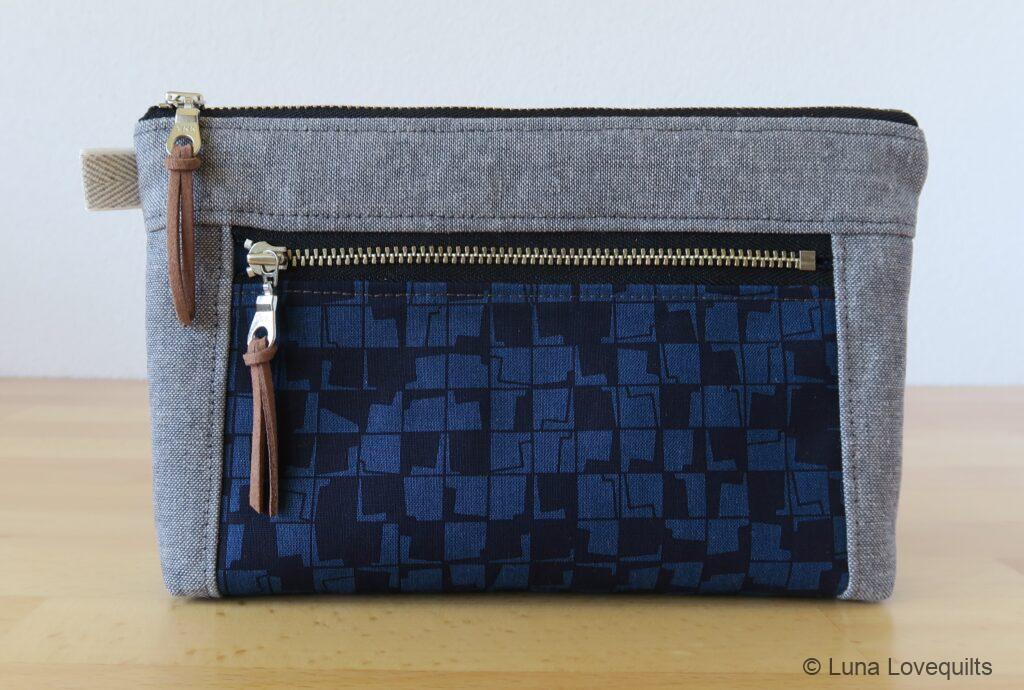 These pouches are made from Devon Pouch pattern designed by Svetlana of SOTAK Handmade. I bought it a while back but never tried it before. The pattern comes in two sizes and this is the large one.
Ces pochettes sont réalisées à partir du modèle Devon Pouch dessiné par Svetlana de SOTAK Handmade. Je l'ai acheté il y a longtemps mais je ne l'avais jamais essayé. Le modèle est en deux tailles et celle-ci est la grande.
It was also my first time working with metal zippers. I already cut fabric pieces for making the smaller version of this pattern but would like to find thiner metal zippers. These are from YKK brand, teeth length 5.
C'était aussi la première fois que je travaillais avec des zips en métal. J'ai déjà coupé des pièces de tissu pour réaliser la petite version de ce modèle mais j'aimerais trouver des zips plus fins. Ceux-ci sont de la marque YKK, longueurs de dents 5.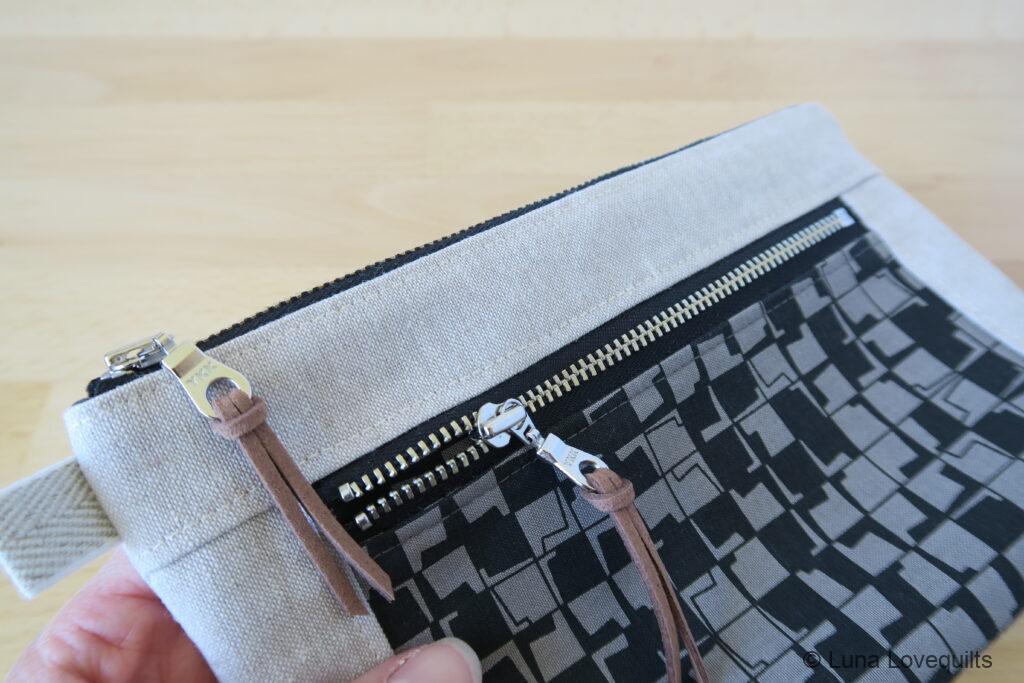 Two of these pouches are fully made, exterior and lining, with recent and older prints from Carolyn Friedlander collections.
Deux de ces pochettes sont entièrement réalisées, extérieur et doublure, avec des collections récentes et plus anciennes de Carolyn Friedlander.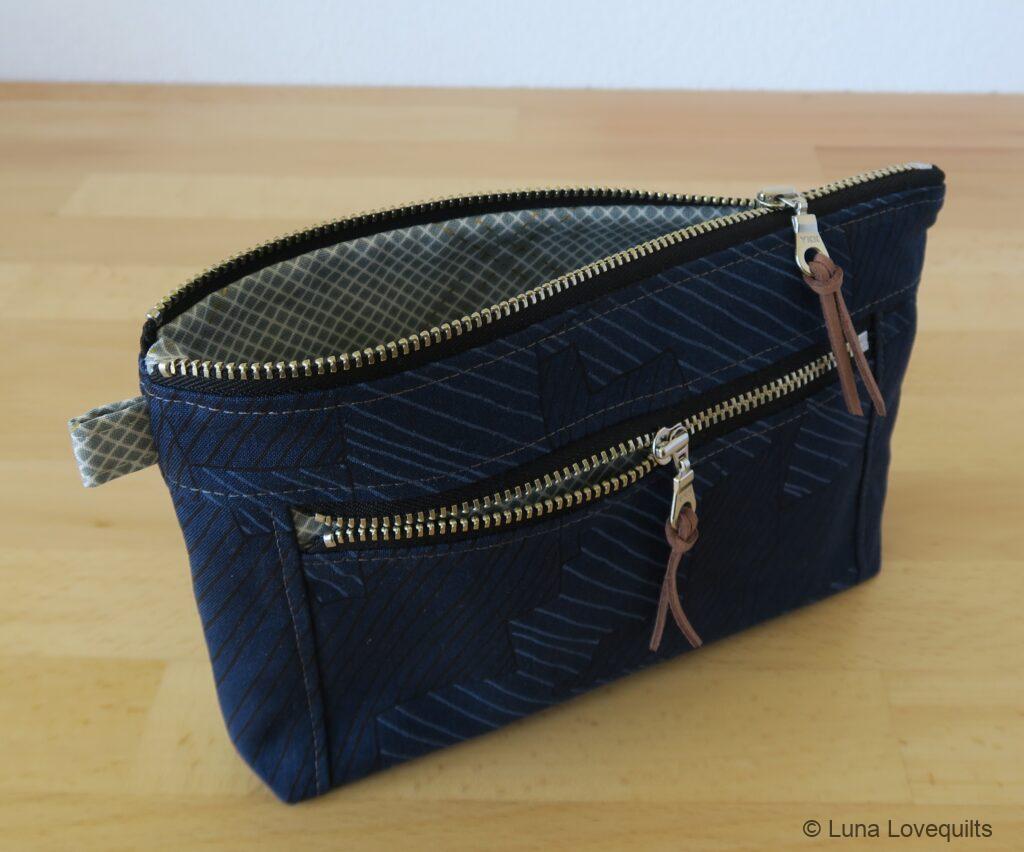 The three others are made with different colourways of the Instead collection (also by Carolyn Friedlander) paired with Essex Linen.
Les trois autres sont réalisées avec différents coloris de la collection Instead (aussi de Carolyn Friedlander) associés avec des Essex Linen.
I have many other makes to show you but I will share them in dedicated blog posts !
J'ai beaucoup d'autres réalisations à vous montrer mais je les partagerai dans des articles spécifiques !
I am linking up with Kelly for NTT