There were definitely less vendors than usual but one of my favorite shops in Europe, Quiltcabin (Germany), was there … 🙂
Il y avaient clairement moins de vendeurs que d'habitude, mais une de mes boutiques préférées en Europe, Quiltcabin (Allemagne), était présente … 🙂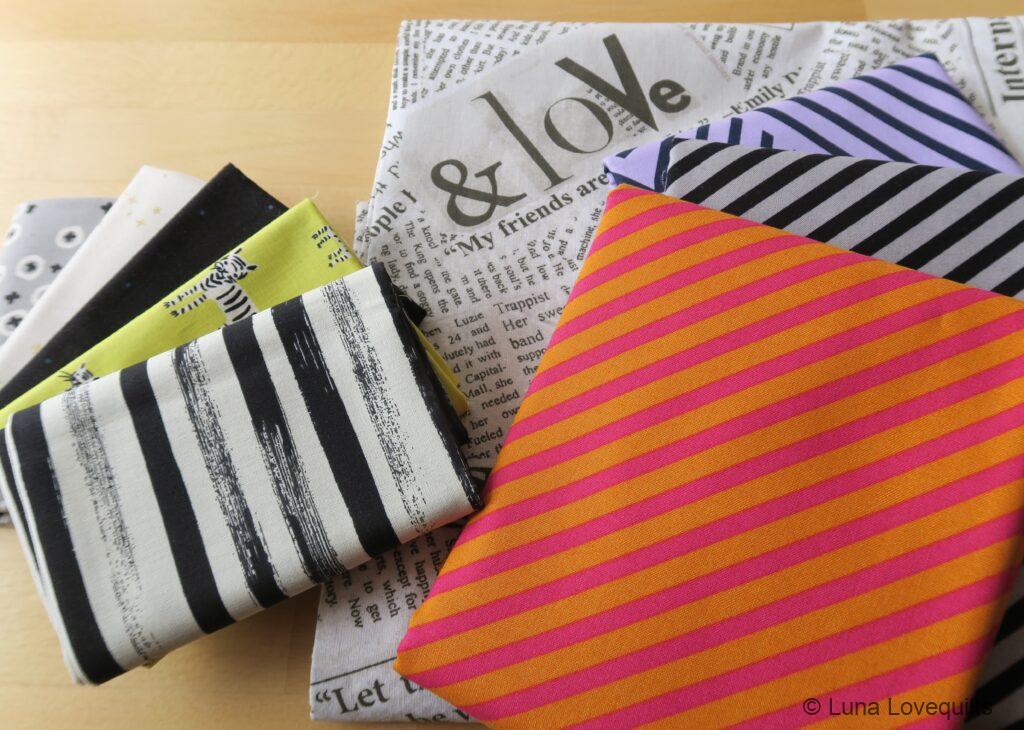 And now some favorites … In the exhibition Light The World curated by SAQA, I was attracted directly by this quilt, Fiber Optics, made by Maria Shell (USA).
Et maintenant quelques coups de coeur … Dans l'exposition Light The World organisée par SAQA, j'ai été attirée directement par ce quilt, Fiber Optics, réalisé par Maria Shell (USA).
In the same exhibition though totally different, I loved the texture on this quilt made by Daphne Taylor (USA), Quilt Drawing 24. It is hand quilted and I love how she played with quilting density and spacement between quilting lines.
Dans la même exposition, mais totalement différent, j'ai adoré la texture de ce quilt réalisé par Daphne Taylor (USA), Quilt Drawing 24. Il est quilté main et j'adore comme elle a joué avec la densité du quilting et l'espacement entre les lignes de quilting.
I love Ramona Conconi's work (Switzerland) and so spotted straight away her quilt Sign's Death in Wide Horizons VII exhibition, also curated by SAQA.
J'adore le travail de Ramona Conconi (Suisse) et j'ai tout de suite repéré son quilt Sign's Death dans l'exposition Wide Horizons VII, aussi organisée par SAQA.
So it wasn't a big surprise when I realized that this small quilt that caught my eye in another site was also made by Ramona! It was hanging as a part of the Italian Guild 25th anniversary exhibition.
Donc ce n'était pas une grande surprise quand j'ai réalisé que ce petit quilt qui a attiré mon attention sur un autre site a aussi été réalisé par Ramona. Il faisait partie de l'exposition 25ème anniversaire de Quilt Italia.
I loved the modern feel of these two old quilts from the collection of Charles-Edouard de Broin who has been collecting quilts for more than 30 years. An Amish quilt from Pennsylvania dating back to 1870 on the left and pictured right, a quilt made in 1940 by an African American quilter.
J'ai adoré l'effet moderne de ces deux quilts anciens de la collection de Charles-Edouard de Broin, un collectionneur depuis plus de 30 ans. Un quilt Amish de Pennsylvanie datant de 1870 à gauche et sur la photo de droite, un quilt réalisé par une quilteuse afro-américaine en 1940.
The German and South Korean guilds presented a joint project about country division by political blocks. They invited artists from both countries to produce quilts that reflect their own feelings and experiences on division, a theme which is a part of their history.
The Wish by Sung Hye Byun from South Korea.
Les associations d'Allemagne et de Corée du Sud présentaient un projet commun sur le thème des pays divisés par des blocs politiques. Elles ont invités des artistes des deux pays à réaliser des quilts qui reflètent leurs propres sentiments et expériences sur la division, un thème qui fait partie de leur histoire.
The Wish réalisé par Sung Hye Byun en Corée du Sud.
Growing together by Erica Waaser (Germany).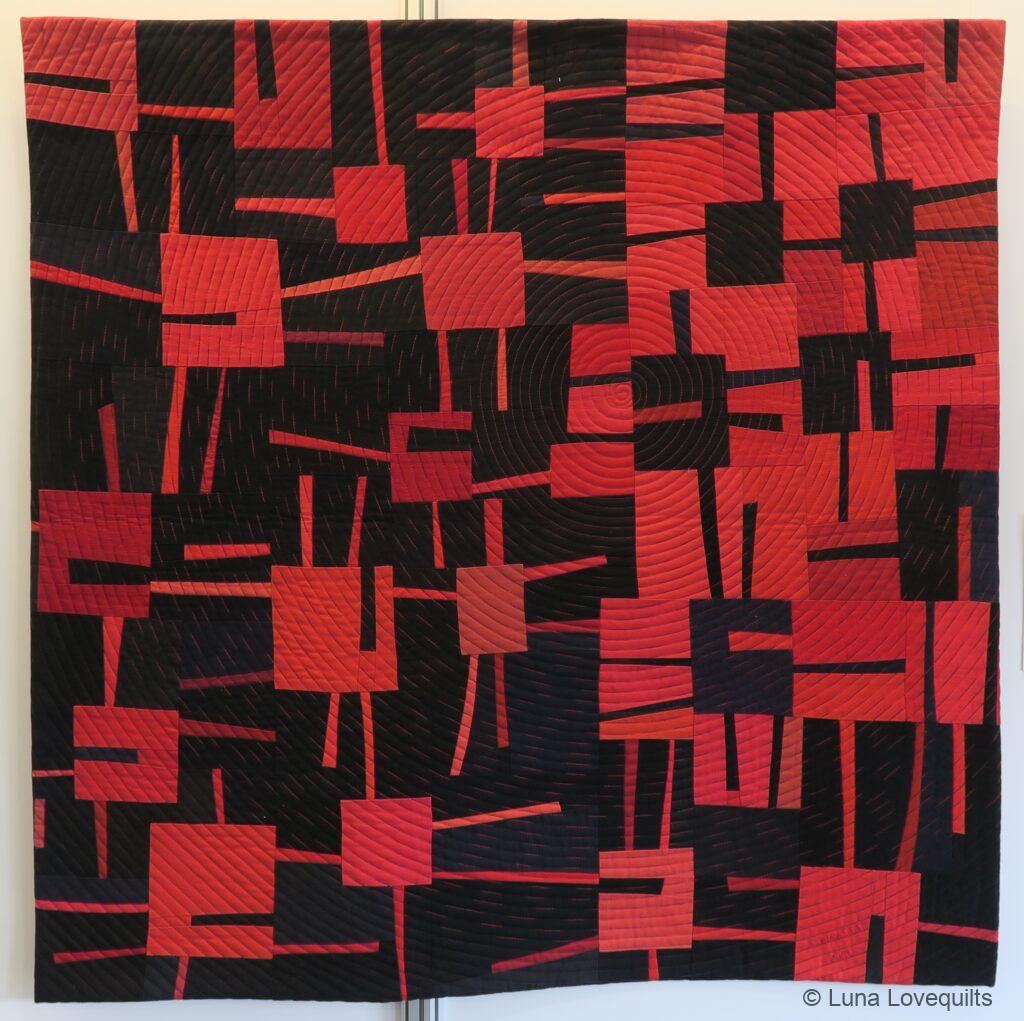 Scene through the Layers by Kayoung Ahn (South Korea).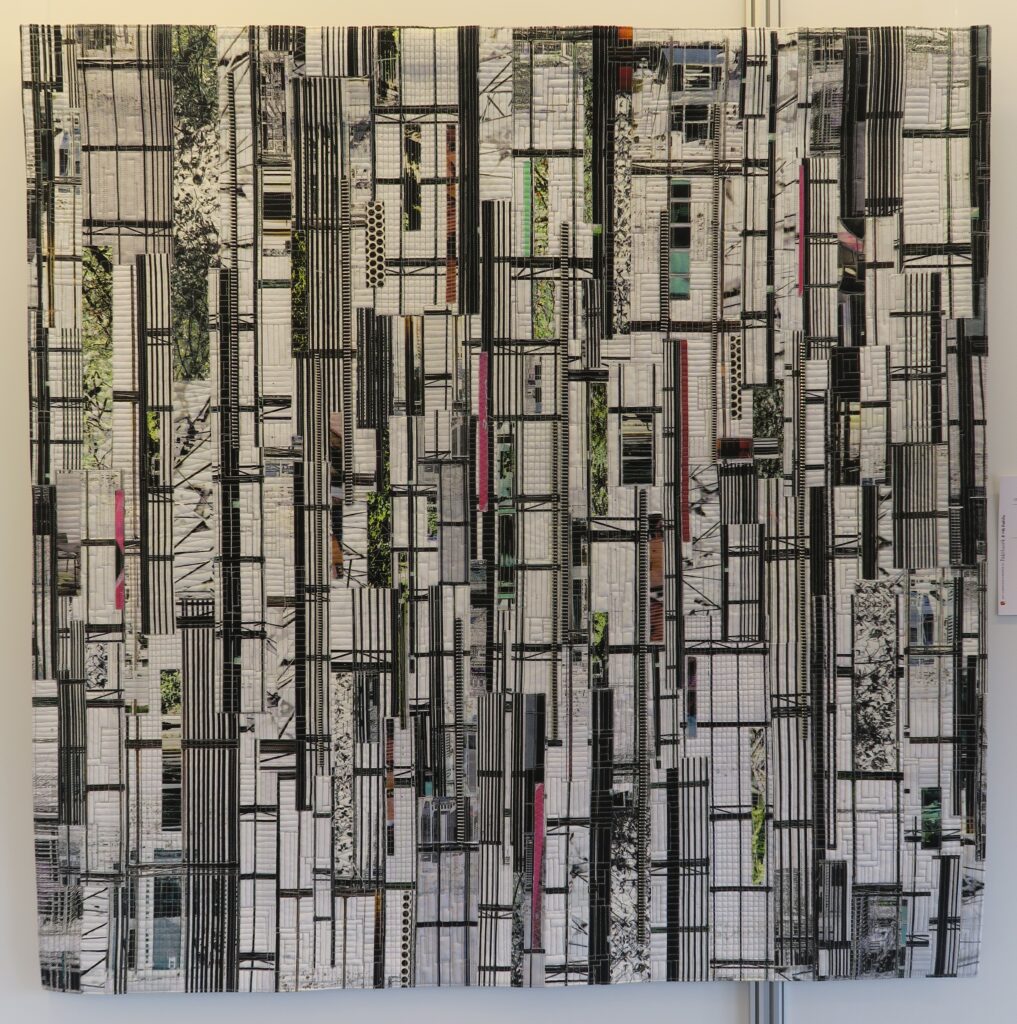 A close-up so that you see the addtion of bits of zippers!
Un détail pour vous montrer l'ajout de morceaux de fermetures Eclair !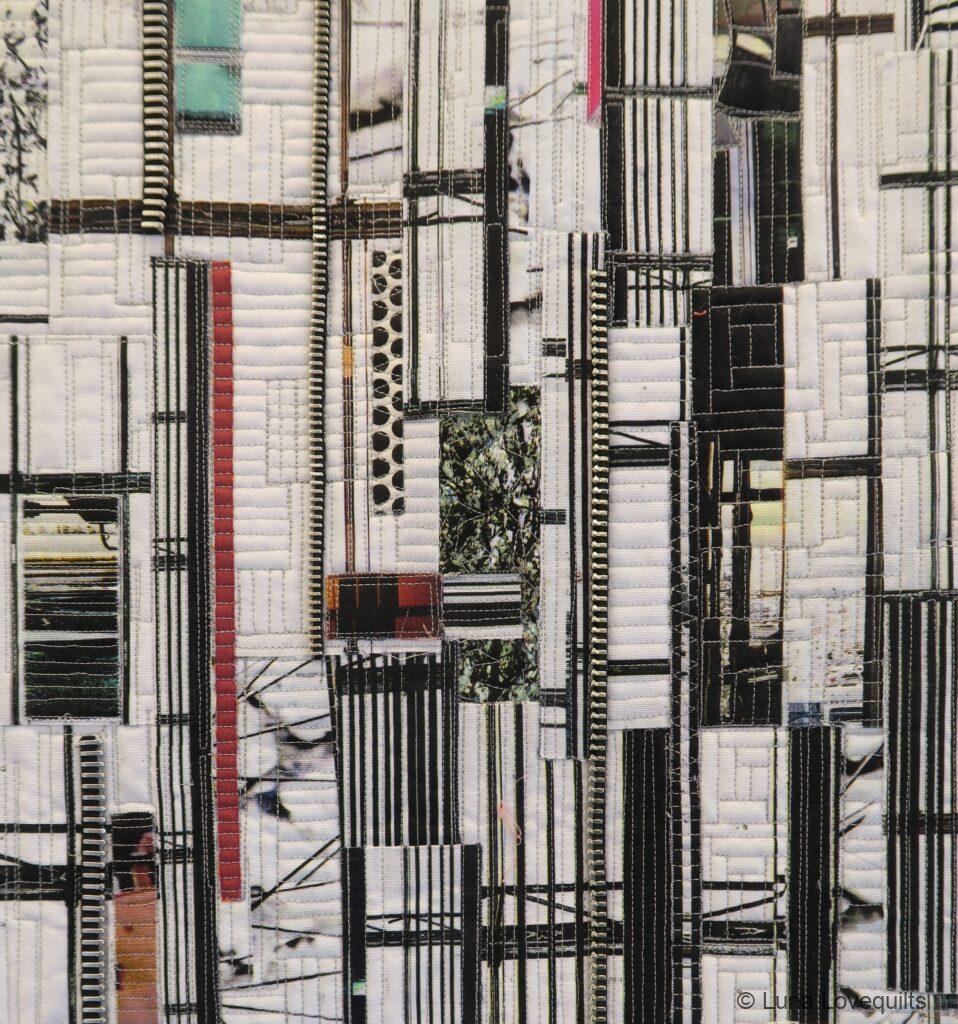 Hidden Faces by Paola Zanda (Switzerland) was one of my favorite exhibitions.
L'exposition Visages cachés de Paola Zanda (Suisse) était une de mes préférées.
This series is a study on tree barks. Actually this is a theme she has been exploring for a while as you can see in this post.
Cette série est une étude sur les écorces d'arbre. En fait, c'est un thème qu'elle explore depuis quelques temps comme vous pouvez le voir dans cet article.
The idea to make evolve the tree barks theme towards 'Hidden Faces' came from comments Paola often gets when people see her work. She decided to highlight some details in the tree bark motifs and play with colours to bring out faces as you can see in her Meeting Point quilt pictured below.
L'idée de faire évoluer le thème d'écorce vers "Visages cachés" est venue des commentaires que Paola reçoit souvent des gens qui voient son travail. Elle a décidé de souligner quelques détails dans les motifs des écorces et de jouer avec les couleurs pour faire ressortir des visages comme vous pouvez le voir dans son quilt Meeting Point sur la photo ci-dessous.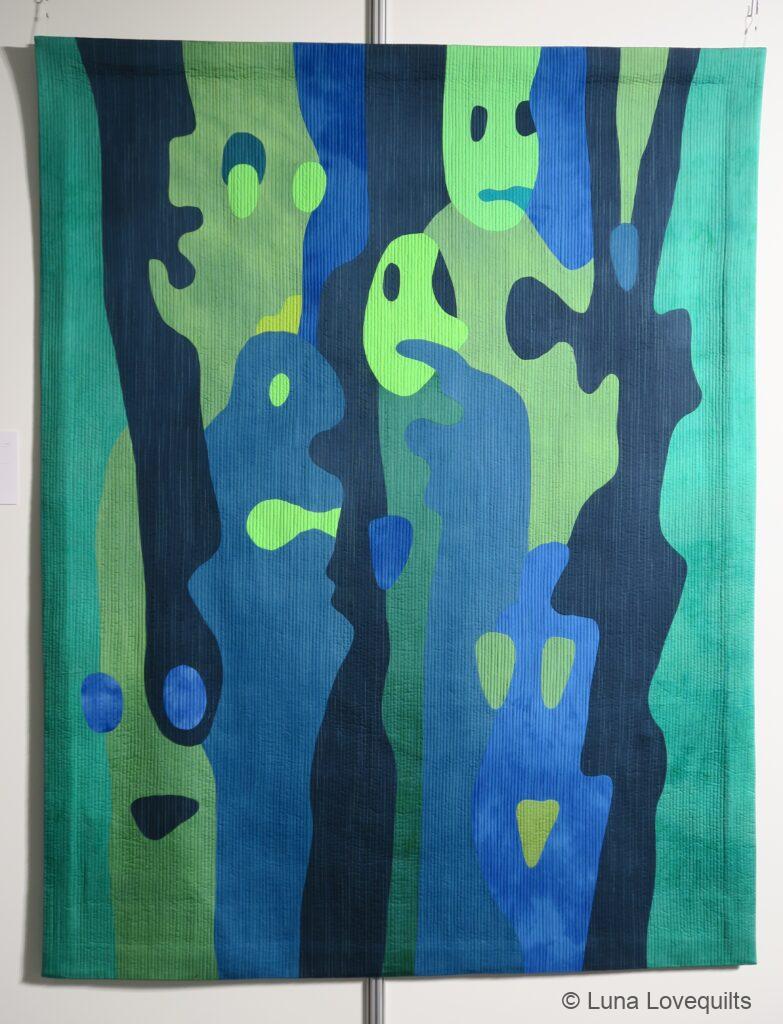 Her pieces are pretty large (about 60″ wide). The whole exhibition was well showcased as the quilts were hanging in a large space, with enough room to stand back.
Ses pièces sont assez grandes (environ 150 cm de large). Toute l'exposition était bien mise en valeur car les quilts étaient présentés dans un large espace, avec avec assez de place pour avoir du recul.
Some technical details … The fabrics are hand dyed by Paola. This series is entirely machine pieced (and not appliqued as you could think). All the quilts are quilted with straight lines on her domestic sewing machine.
Quelques détails techniques … Les tissus sont teints à la main par Paola. Cette série est entièrement piécée à la machine (et non appliquée comme on pourrait le penser). Tous les quilts sont quiltés en lignes droites sur sa machine à coudre.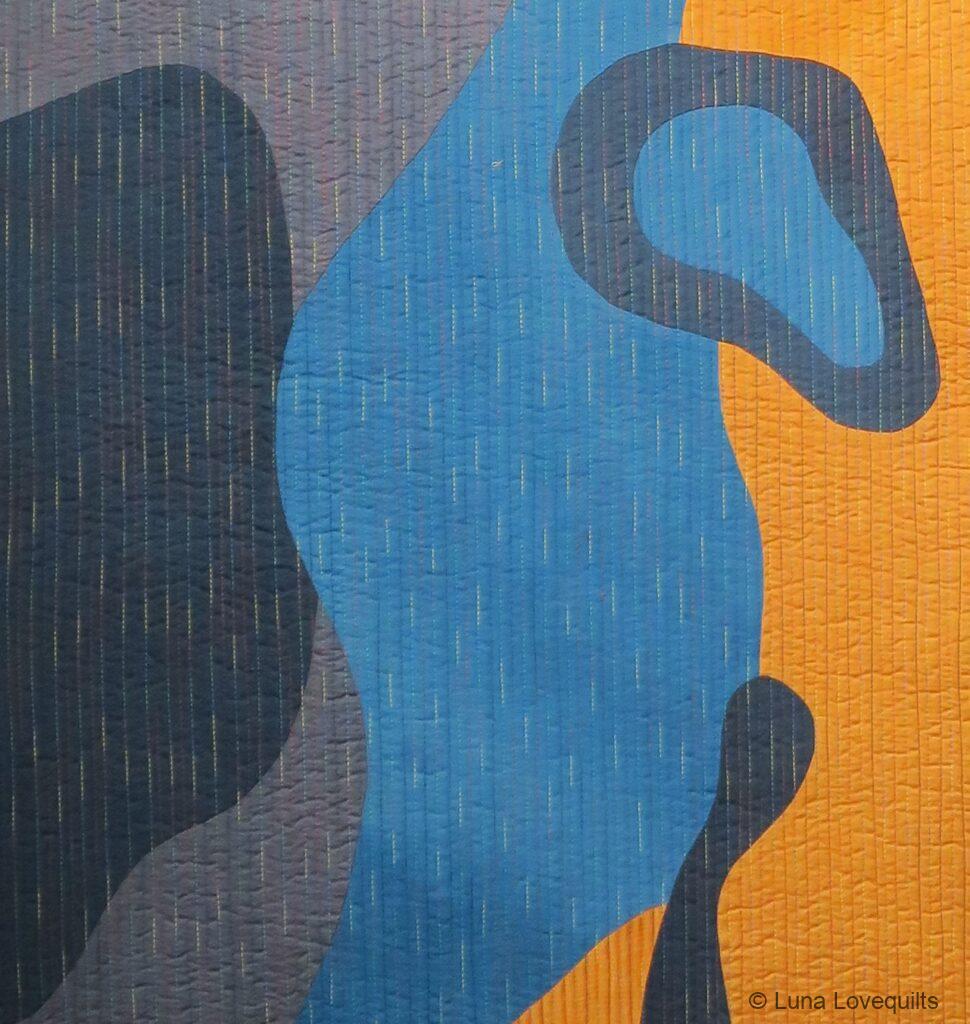 And all this work would not have been possible without the enthusiastic help and support of Paolo, her husband! 😉
Et tout ce travail n'aurait pas été possible sans l'aide et le support enthousiaste de Paolo, son mari ! 😉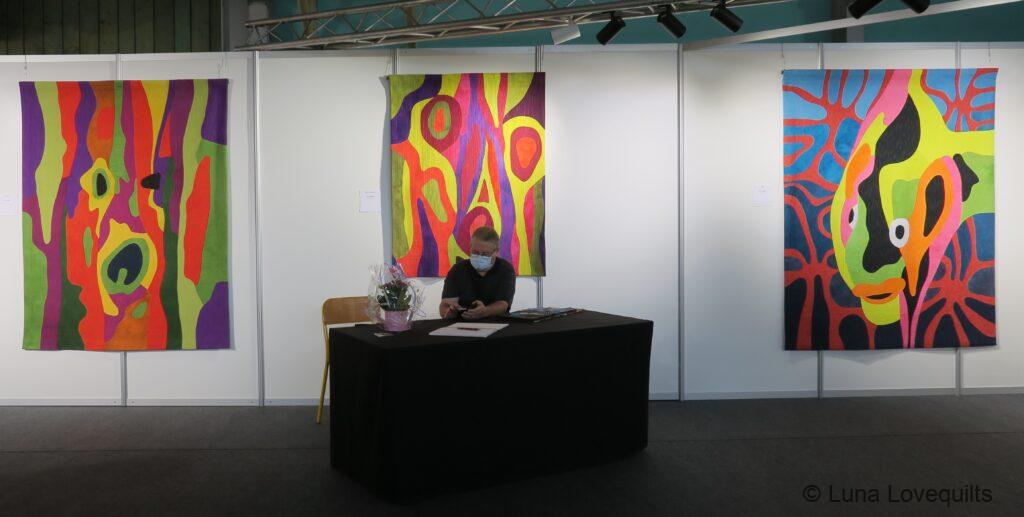 Another favorite was Celebrating Curves, the exhibition of Daisy Aschehoug, an American quilter now living in Norway and who is a MQG member.
Un autre coup de coeur était Celebrating Curves, l'exposition de Daisy Aschehoug, une quilteuse américaine qui vit actuellement en Norvège et qui est membre de la Modern Quilt Guild.
She exhibited quilts made in recent years and I had already seen a few of them on display in different Quilton shows. But it was impressive to see them all together in one space.
Elle présentait des quilts réalisés ces dernières années et j'en avais déjà vu quelques uns exposés dans différents Quiltcon. Mais c'était impressionant de les voir tous dans un même espace.
Like for all exhibitions held in churches, it was difficult to take decent pictures and I had to discard most of them. A lot of shadows due to the lighting and very few space to face the quilts because of the benches. Well, it gives you an idea of her style and work anyway …
Comme pour toutes les expositions présentées dans les églises, c'était difficile de prendre de bonnes photos et j'ai dû en éliminer pas mal. Beaucoup d'ombres dues à l'éclairage et très peu d'espace en face des quilts à cause des bancs. Bon, cela vous donne quand même une idée de son style et son travail …
From this year work, Cider Press.
Dans le travail de cette année, Cider Press.
This edition of EPM was more focused on European artists, so maybe a bit less diverse than usual. Anyway I enjoyed the visit and I felt that, on the whole, the quilts were more spaced and better showcased than in previous years. I also thought the organizers coped well with the Covid regulations (reception, organization of the different exhibition spaces, signs …).
Spain and Latin America will be in the spotlight next year, so mark your calendar !
Cette édition du Carrefour était plus centrée sur les artistes européens, donc peut-être un peu moins diversifiée que d'habitude. J'ai cependant bien apprécié la visite et trouvé que, de manière générale, les quilts étaient plus espacés et mieux mis en valeur que les années passées. J'ai aussi trouvé que les organisateurs s'en sont bien sortis avec les mesures Covid (accueil, organisation des espaces d'exposition, sens de visite, …).
L'Espagne et l'Amérique latine seront à l'honneur l'année prochaine, donc à vos agenda !