What I have been up to lately … Though this quilt is completed right now, here is an in progress picture. I still have to take pictures of the finished piece, in full and some close-ups as well.
Ce que j'ai fait ces derniers temps … Bien que ce quilt est maintenant terminé, voici une photo en cours de réalisation. Je dois encore prendre des photos de la pièce finie, en entier et aussi quelques vues de détails.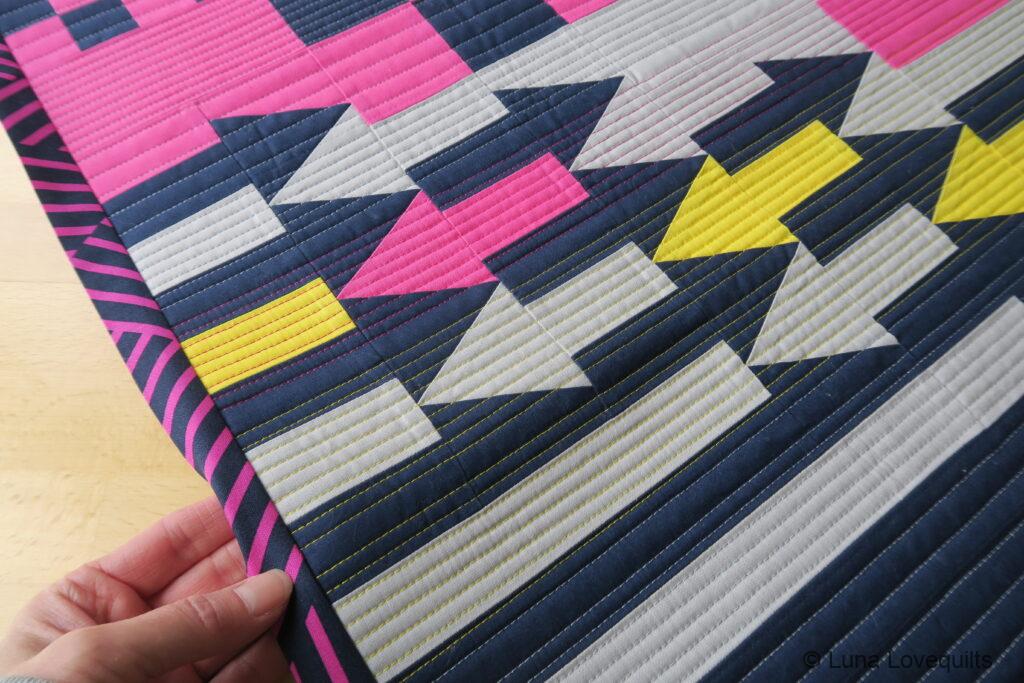 I started a new project similar to my Gelateria quilt as regards shapes and construction but with a very different colour palette.
J'ai commencé un nouveau projet similaire à mon quilt Gelateria en ce qui concerne les formes et la construction mais avec une palette de couleurs très différente.
My appliqué circles look like a giant polka dot fabric. A picture with my hand for the scale ! I am preparing more shapes to appliqué while at a sewing day with friends tomorrow. Yes, you read it … An in-person meeting !
Mes cercles appliqués ressemblent à un tissu à pois géants. Une photo avec mes mains pour l'échelle ! Je prépare en ce moment d'autres formes à appliquer demain lors d'une journée couture avec des amies. Oui, vous avez bien lu … Une réunion en personne !
And now the 'out of the studio' part … I really enjoyed visiting a quilt exhibit in Neuchâtel yesterday. It is just a little over an hour drive from home but felt like a vacation !
Et maintenant, la partie "en dehors de l'atelier" … J'ai beaucoup apprécié de visiter une expo de quilts à Neuchâtel hier. C'est seulement à un peu plus d'une heure de route de chez moi, mais ça m'a semblé être des vacances !
I particularly liked the texture on this quilt (probably linen). Unfortunately the feel is hard to capture on a picture …
J'ai particulièrement aimé la texture de ce quilt (probablement des lins). Malheureusement, l'impression est difficile à reproduire en photo …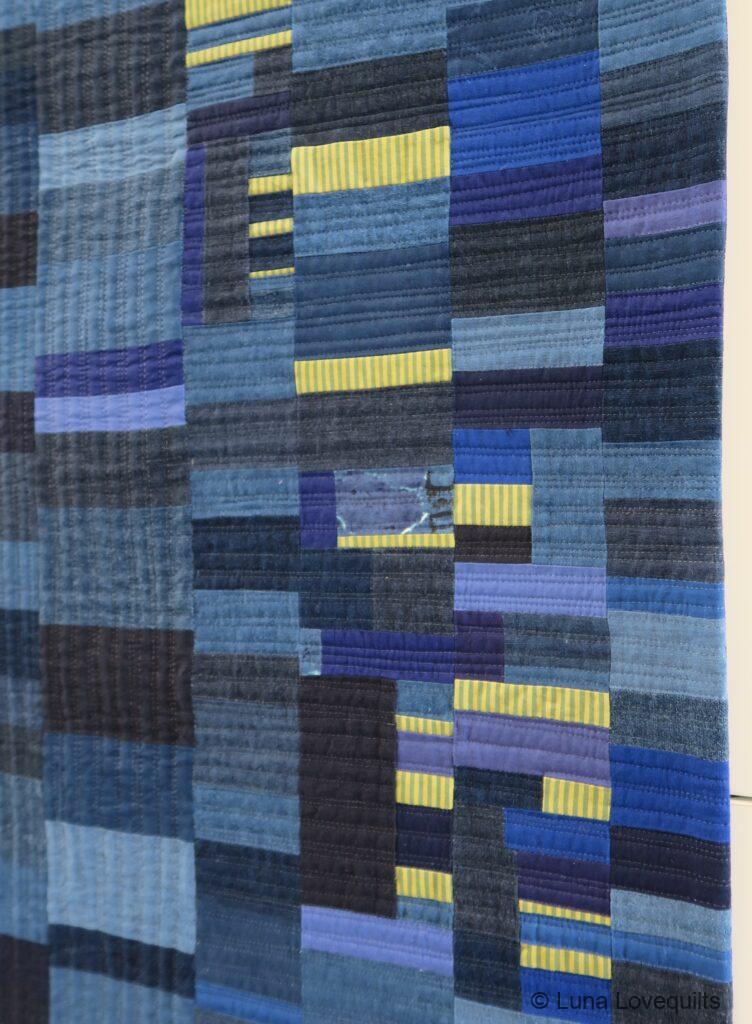 This quilt made me smile. The luminous and happy colour, the neon touch, the nine patch blocks here and there, …
Ce quilt m'a donné le sourire. La couleur lumineuse et gaie, la touche de fluo, les blocs nine patch par ci par là, …
And also the beautiful texture …
Et aussi la magnifique texture …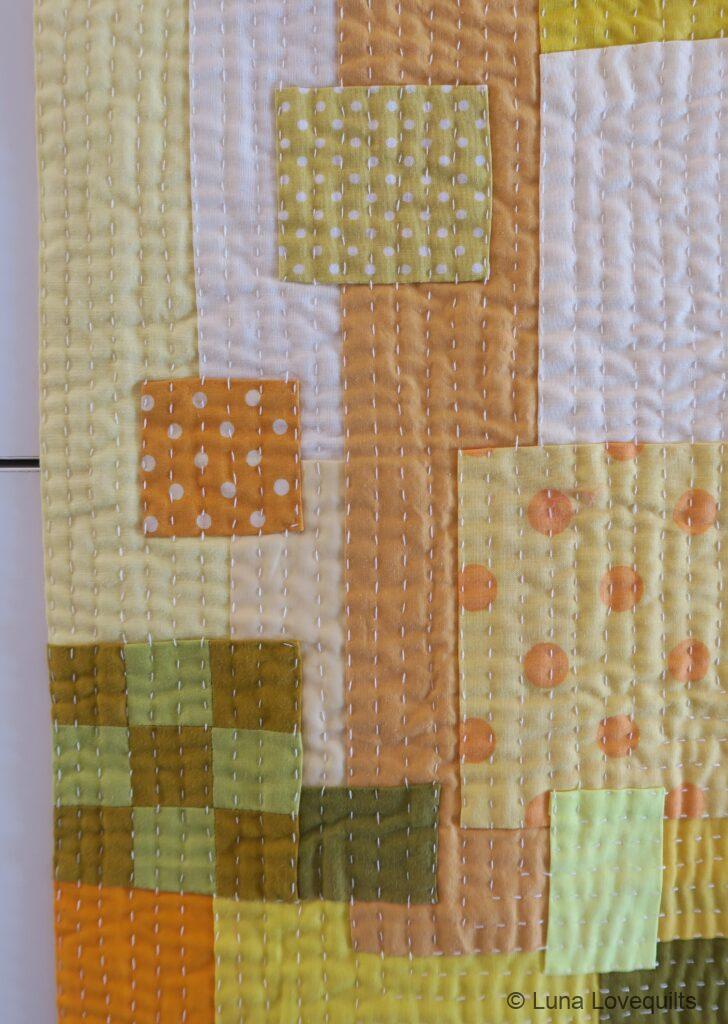 This one was a part of the mini quilt challenge (30 cm x 40 cm). I loved the graffiti feel and use of different striped fabrics.
Celui-ci faisait partie d'un challenge de mini quilts (30 cm x 40 cm). J'ai adoré l'ambiance graffiti et l'utilisation des différents tissus à rayures.
Hélène @30hela was inspired by plane tree barks to make this quilt. The shapes are hand appliqued. If you'd like to see an in progress picture you can find one in this Instagram post as well as her inspiration source.
Hélène @30hela s'est inspirée des écorces de platane pour réaliser ce quilt. Les formes sont appliquées à la main. Si vous avez envie de voir une photo en cours de réalisation vous pouvez en trouver une dans cette publication Instagram, ainsi que sa source d'inspiration.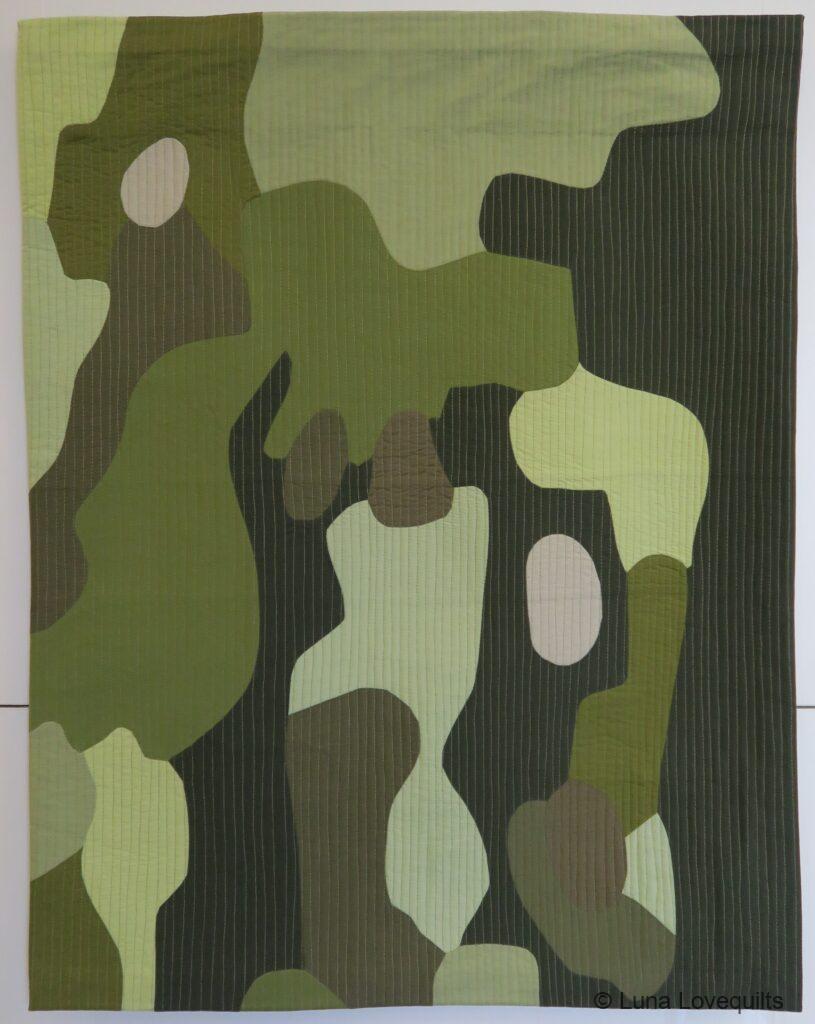 That was so good to see quilts in person! Thank you ladies for having organized this exhibit despite of all uncertainties and constraints at the moment. I spent the end of the day shopping and, cherry on the cake, dined out with my husband (first time in months!). Can you imagine that ?! :-))
Cela faisait du bien de voir des quilts en vrai ! Merci Mesdames d'avoir organisé cette expo en dépit de toutes les incertitudes et contraintes du moment. J'ai passé le reste de la journée à faire du shopping et, cerise sur le gâteau, j'ai mangé au resto avec mon mari (première fois depuis des mois !). Pouvez-vous imaginer ça ?! :-))