We took just a five day family vacation so I ended up with a lot of time for quilting in July …
Nous avons pris seulement cinq jours de vacances en famille donc j'ai eu beaucoup de temps pour la couture en juillet …
The project for Quiltcon Fabric Challenge category I spoke you about in my previous post is now finished. It just needs a title, a label and a ray of sunshine for the photo shoot … I am not sure to know what is the hardest to get at the moment … :-))
Le projet pour Quiltcon dans la catégorie Fabric Challenge dont je vous ai parlé dans mon article précédent est maintenant terminé. Il a seulement besoin d'un titre, une étiquette et un rayon de soleil pour la séance photo … Je ne suis pas sûre de savoir qu'est-ce qui est le plus difficile à obtenir en ce moment … :-))
I was on a roll and decided to prepare and baste three tops in a row. My neck and back found it was not the best idea ever … Well, it's done!
J'étais sur ma lancée et j'ai décidé de préparer et bâtir trois tops à la suite. Ma nuque et mon dos ont trouvé que ce n'était pas la meilleure idée de tous les temps … Bon, c'est fait !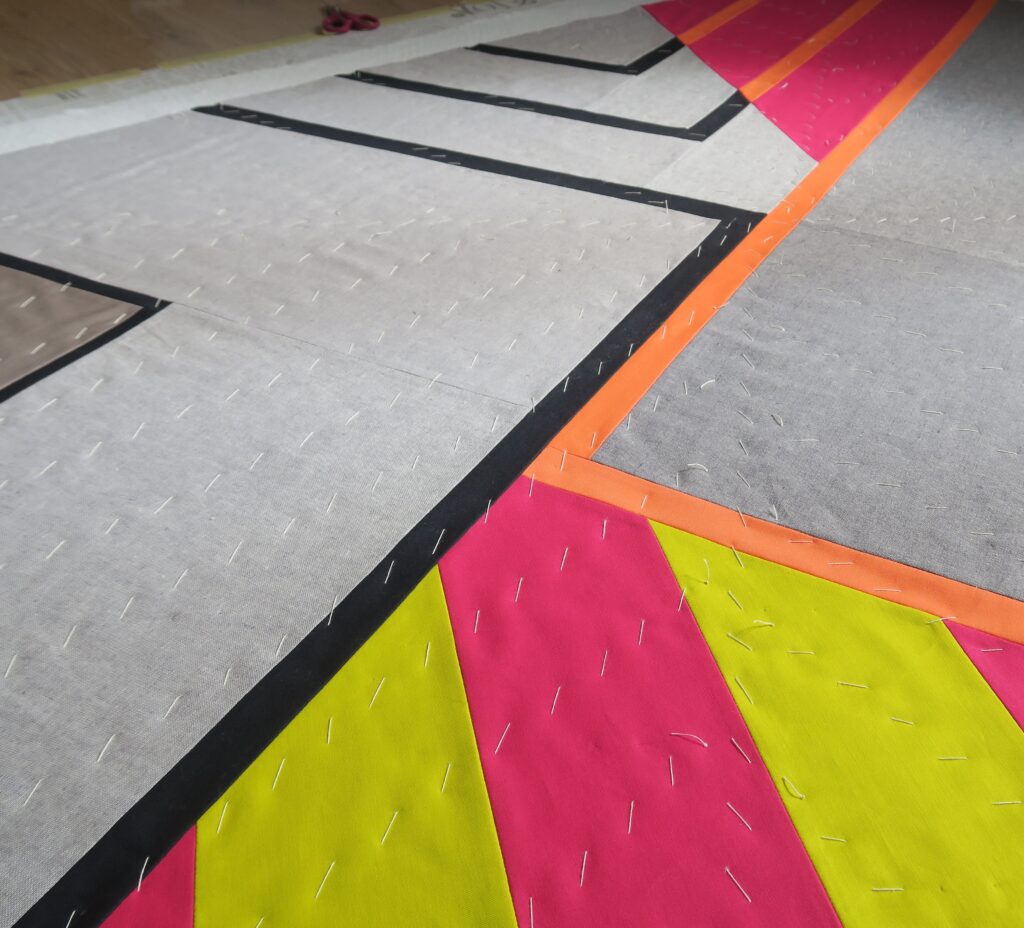 Whatever the method you choose for basting (spray, pins or thread), this step is important. Not very exciting though but taking time to do it carefully really makes a difference for the final outcome.
Quelle que soit la méthode choisie pour bâtir (spray, épingles ou fil), cette étape est importante. Pas très intéressante cependant mais prendre du temps pour la réaliser soigneusement fait vraiment une différence sur le résultat final.
The quilting is now in progress on my Spotlight project.
Le quilting est maintenant en cours de réalisation sur mon projet Spotlight.
Last week I met my friend Sophie for a sewing day together. We both were registered in an in person workshop with Maria Shell later this year that unfortunately has been cancelled. As an alternative, we decided to do some exercises based on her book.
La semaine dernière, j'ai passé une journée couture avec mon amie Sophie. Nous étions toutes les deux inscrites pour un cours (en personne) avec Maria Shell cet automne qui a malheureusement été annulé. Pour remplacer, nous avons décidé de faire quelques exercices basés sur son livre.
I chose to work with Essex Linen fabric in denim combined to solids from my scraps box for a change. On the picture below you can see Sophie's blocks in progress.
J'ai choisi de travailler avec du tissu Essex Linen couleur denim combiné à des unis de ma boîte de restes pour une fois. Sur la photo ci-dessous, vous pouvez voir les blocs de Sophie en cours de réalisation.
I cut stripes and sewed them together in blocks the whole day. As I don't often work so randomly, I felt the need to pin all blocks on my wall as soon as I got home.
J'ai coupé des bandes et les ai cousues ensemble en blocs toute la journée. Comme je n'ai pas l'habitude de travailler de manière si aléatoire, j'ai senti le besoin d'épingler les blocs sur mon mur dès que je suis arrivée à la maison.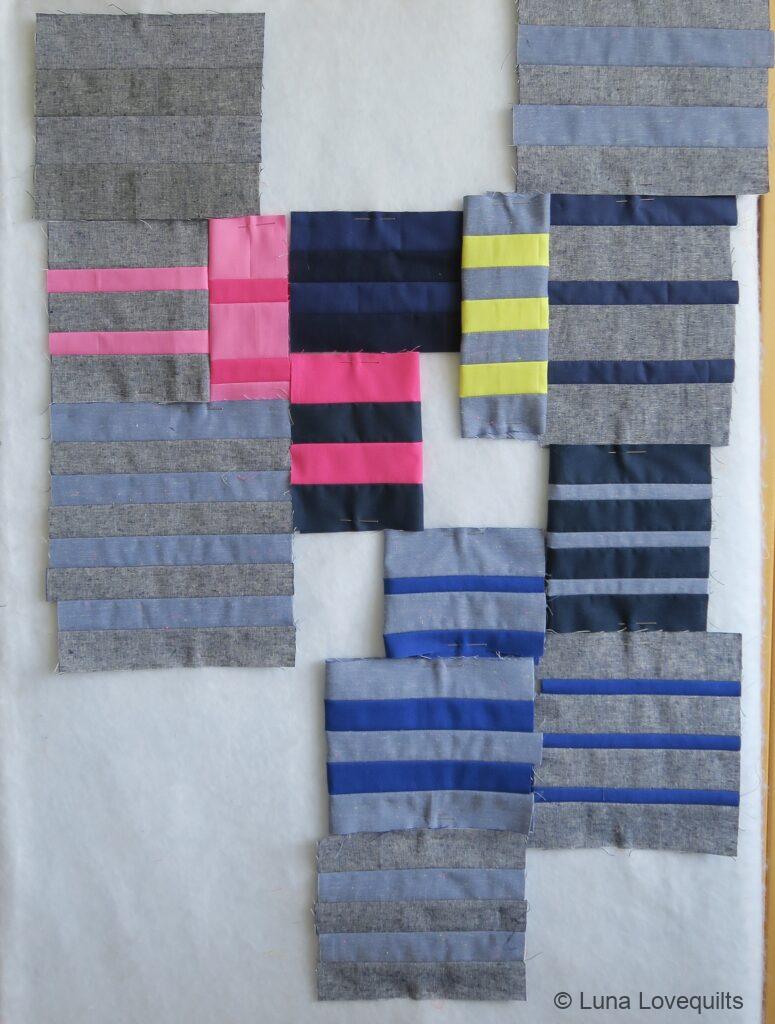 It is a first draft and no doubt this layout will evolve but I think I can make something that I will be pleased with in the end.
C'est un premier jet et cette disposition va sans aucun doute évoluer mais je pense que je peux réaliser quelque chose qui me plaira à la fin.