Do you remember my LOVE quilt ? I have been wanting to reuse the same design since I finished it in July last year.
Vous vous souvenez de mon quilt LOVE ? J'ai eu envie de réutiliser le même design depuis que je l'ai terminé en juillet de l'année dernière.
And I finally started last week ! I decided to use only the LOVE letters at the centre of the quilt though, leaving out the overlapping letters of the background. I thought it was better for a smaller size piece.
Et je me suis finalement lancée la semaine passée ! J'ai cependant décidé de reprendre seulement les lettres LOVE au centre du quilt et de laisser tomber les lettres qui se chevauchent sur le fond. Cela me paraissait mieux pour une pièce de plus petite taille.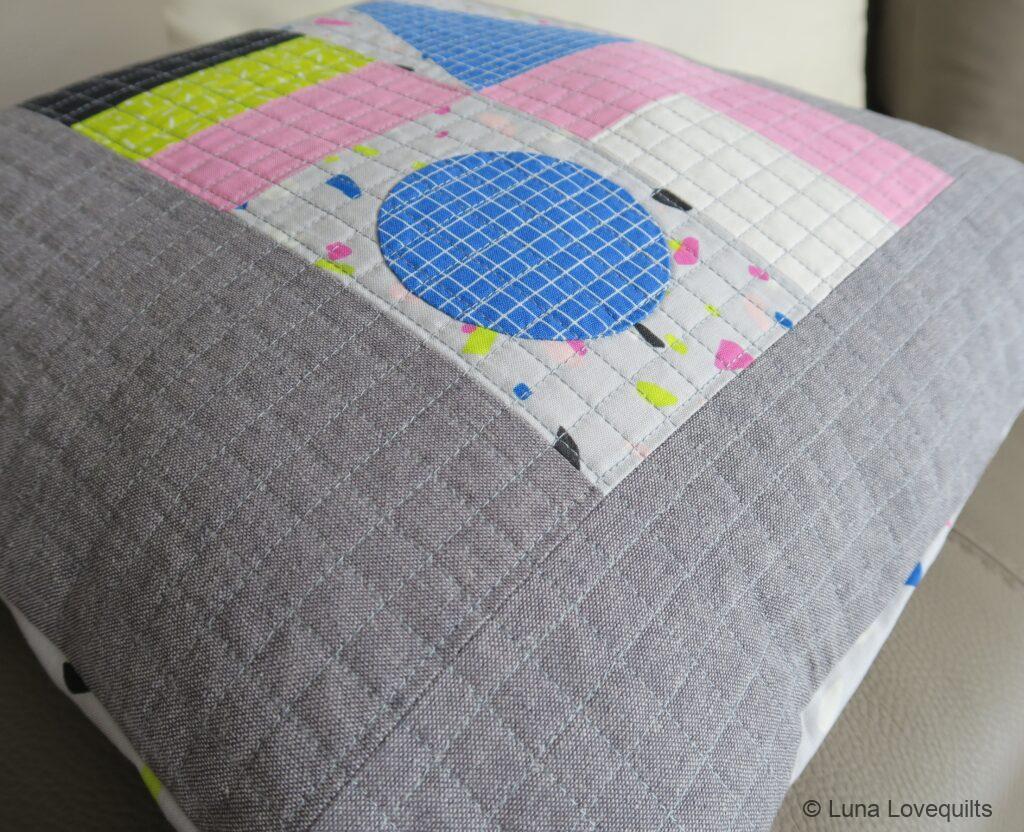 I made a second cushion which is very similar to the first one. I chose to work for both with the Snap to Grid collection that I already used in different quilts. Mostly in my Gelateria quilt and in my test for the Diaspora pattern. The grey fabric around is an Essex Linen.
J'ai réalisé un deuxième coussin qui est similaire au premier. Pour les deux, j'ai choisi de travailler avec la collection Snap to Grid que j'ai déjà utilisée dans différents quilts. Principalement, dans mon quilt Gelateria et dans mon test pour le modèle Diaspora. Le tissu gris autour est un Essex Linen.
The fabrics I used for the the envelope closure backing are also from the same collection.
Les tissus utilisés pour le dos portefeuille sont aussi de la même collection.
That is not all … I also made a quilted pouch using the measurements of the Essential Pouch pattern (large size) by SOTAK Handmade.
Ce n'est pas tout … J'ai aussi réalisé une pochette quiltée en utilisant les mesures du modèle Essential Pouch (taille large) de SOTAK Handmade.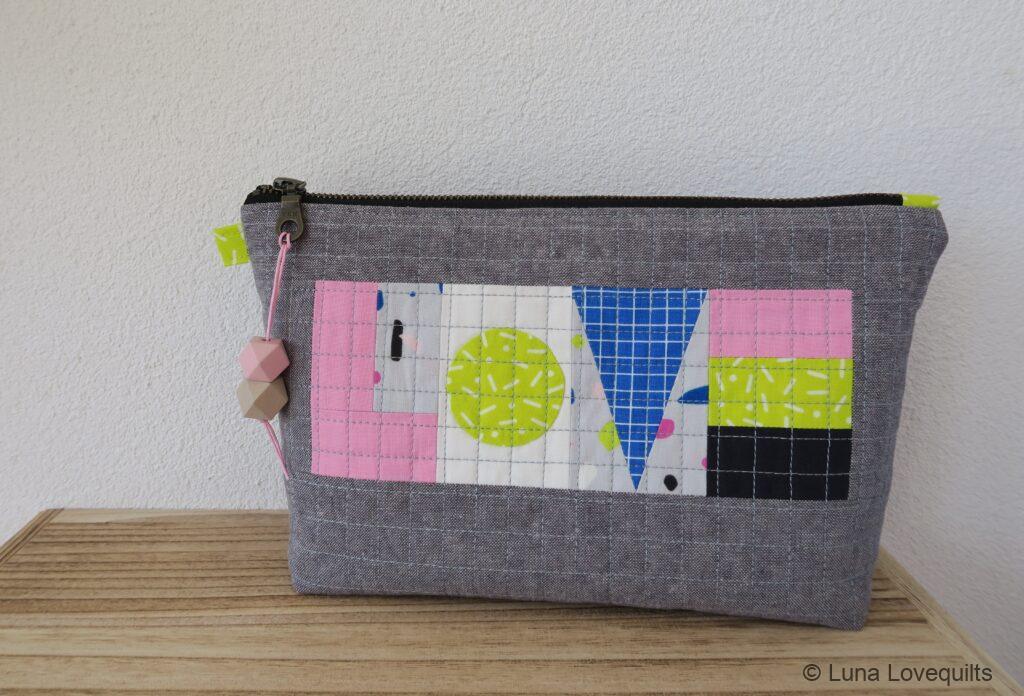 I had to place the letters on the same row to fit the panel though.
J'ai dû cependant placer les lettres sur la même ligne pour m'adapter aux dimensions.
And the back side of the pouch …
Et le dos de la pochette …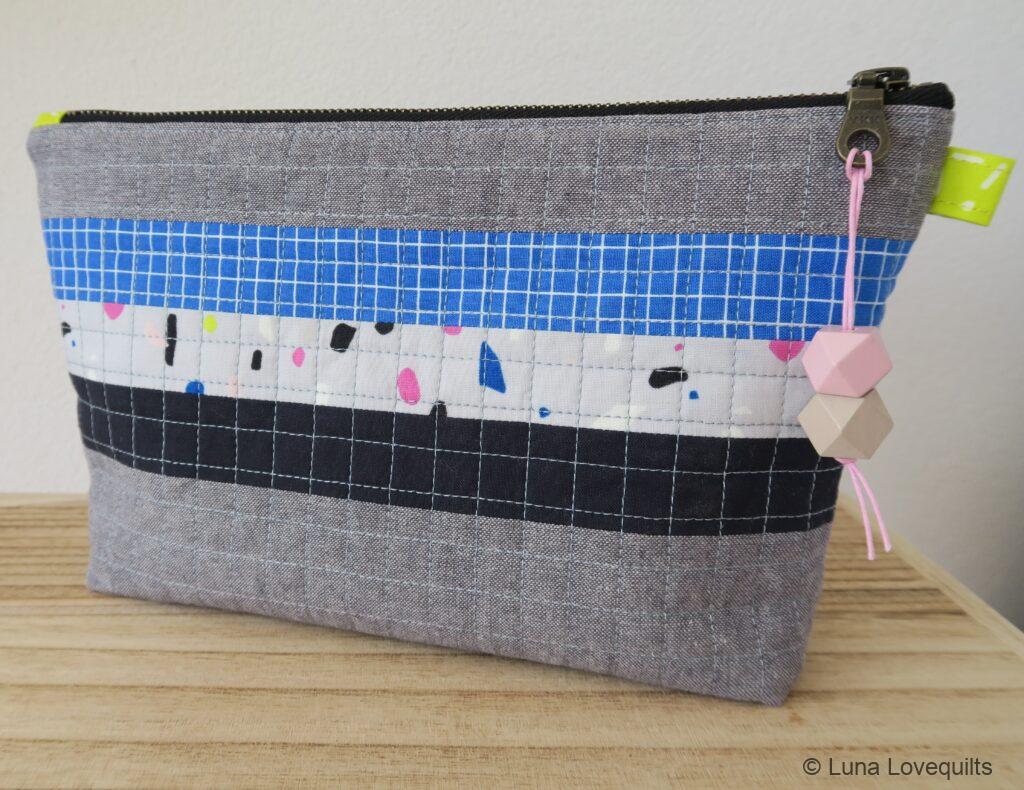 I planned to make other cushions and pouches from this design. These items are intended for a craft fair in November which I hope won't be cancelled since I already made a lot of stuff …
J'ai prévu de réaliser d'autres coussins et pochettes à partir de ce design. Ces objets sont destinés à un marché de Noël en novembre qui j'espère ne sera pas annulé car j'ai déjà réalisé pas mal de choses …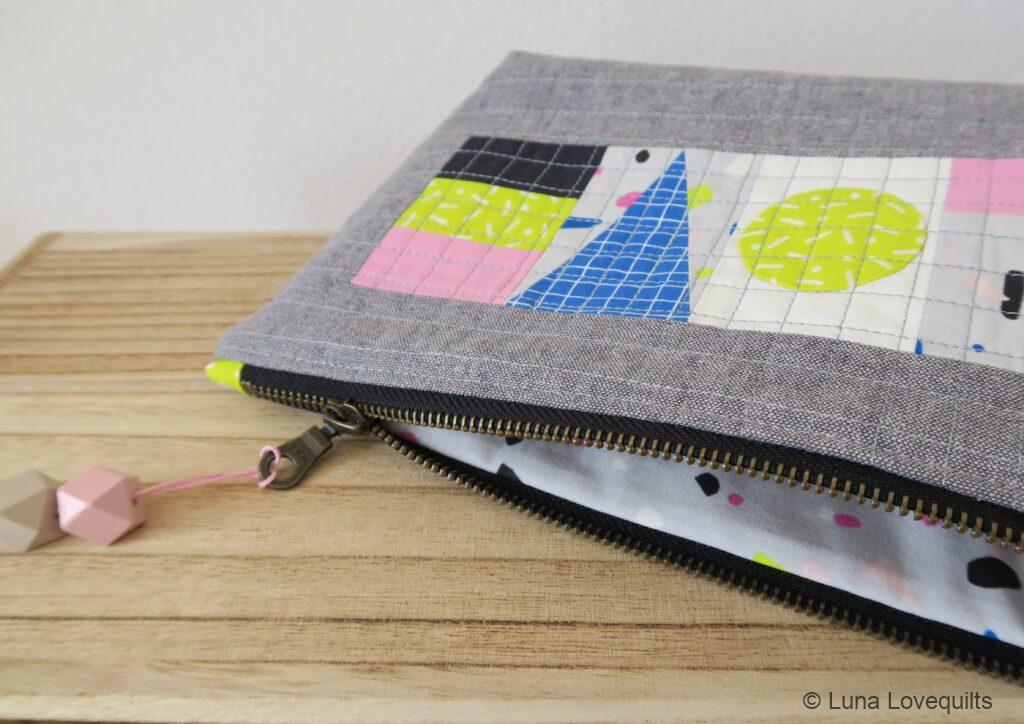 I am linking up with Kelly for NTT and Frédérique for Patchwork & Quilts