I started last week a new project which is a series of Improv mini quilts. I decided to explore HST pattern (Half Square Triangles), inspired by a few quilters I follow on Instagram. The list below is probably not complete but I listed the one who came to my mind if you'd like to have a look at their work.
J'ai commencé la semaine dernière un nouveau projet qui est une série de mini quilts Impro. J'ai décidé d'explorer le motif HST (triangle demi carré), inspirée par quelques quilteuses que je suis sur Instagram. La liste n'est probablement pas exhaustive mais j'ai listé celles qui me viennent à l'esprit si vous avez envie de jeter un oeil à leur travail.
Diana Vandeyar @dianavandeyar
Laura Loewen @quiltfortco
Heather Jones @heatherjonesstudio
Jill Fisher @pieladyquilts
My goal is to work on 12″ x 12″ and 16″ x 16″ small quilts and so first started by drawing frames on my design wall. Then I spent an afternoon sewing HSTs, without a clear idea except for the colours.
Mon but est de travailler sur des petits formats de 30 x 30 cm et 40 x 40 cm et j'ai donc commencé par dessiner des cadres sur ma surface de conception. J'ai ensuite passé un après-midi à coudre des HSTs sans idée précise à part les couleurs.
The day after, it was my turn running the small craft shop where I have a few items for sale. Since I had spare time between customers, I sketched a few ideas around the Lady of The Lake block, a traditional block that consists of HSTs units.
Le lendemain, c'était mon tour de tenir la petite boutique d'artisanat où j'ai quelques créations à vendre. Comme j'avais du temps libre entre les clients, j'ai dessiné quelques idées autour du bloc Lady of The Lake, un bloc traditionnel constitué de motifs HSTs.
So when I came back to my project, it took a more specific direction. I rearranged the existing blocks, made new ones and set some aside for later use. I had in mind to work only with black and white tones for my first piece. But as you can see below I introduced the small pink rectangle to lengthen a block and then it led me to add a few other bright pieces. It's the magic of Improvisation …
Donc quand j'ai repris mon projet, il a pris une direction plus spécifique. J'ai réarrangé les blocs existants, réalisé de nouveaux et mis de côté certains pour les utiliser plus tard. J'avais en tête de travailler seulement des tons noirs et blancs pour ma première pièce. Mais comme vous pouvez le voir ci-dessous, j'ai introduit le petit rectangle pink pour rallonger un bloc ce qui m'a ensuite conduit à ajouter quelques autres pièces vives. C'est la magie de l'improvisation !
Next on the design wall … I can't wait to see where this is going !
Prochaine pièce en travail … Je me réjouis de voir où cela va me mener !
I also started another mini project (16″ x 12″), though this one is totally planned and requires accurate piecing. Quite normal if it looks familiar to you since it is a smaller version of LOVE II, a quilt I made for a swap at the beginning of the year.
J'ai aussi commencé un autre mini projet (40 x 30 cm), mais celui-ci est totalement planifié et demande de la précision dans la réalisation. Tout à fait normal si vous avez une impression de déjà vu car c'est une version plus petite de LOVE II, un quilt réalisé pour un échange en début de l'année.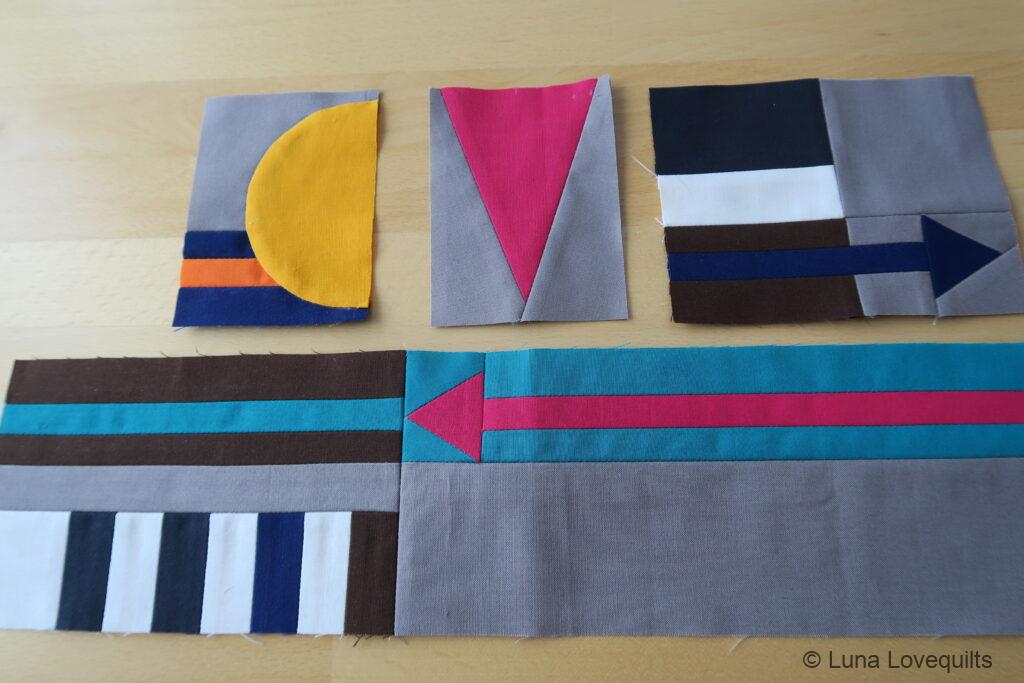 Thank you for following my blog.
I wish you a Merry Christmas !

Merci pour votre présence sur le blog.
Je vous souhaite un Joyeux Noël !