Our exhibit closed last Sunday. I spent as much time as possible on site for the length of the exhibit and then had some catching up to do at home … Now that everything is pretty much in hand I can share with you a few pictures.
A challenge was to mix my Modern Quilt style pieces with traditional quilts … Finally my Gelateria quilt got along pretty well with Nina's quilt 🙂
Notre exposition s'est terminée dimanche dernier. J'ai passé le plus de temps possible sur place pendant toute la durée de l'exposition et j'ai donc eu du retard à rattraper à la maison … Maintenant que tout est à peu près sous contrôle, je peux vous montrer quelques photos.
Un défi était de mixer mes pièces de style Modern Quilt avec des quilts traditionnels … Finalement, mon quilt Gelateria est plutôt bien avec le quilt de Nina 🙂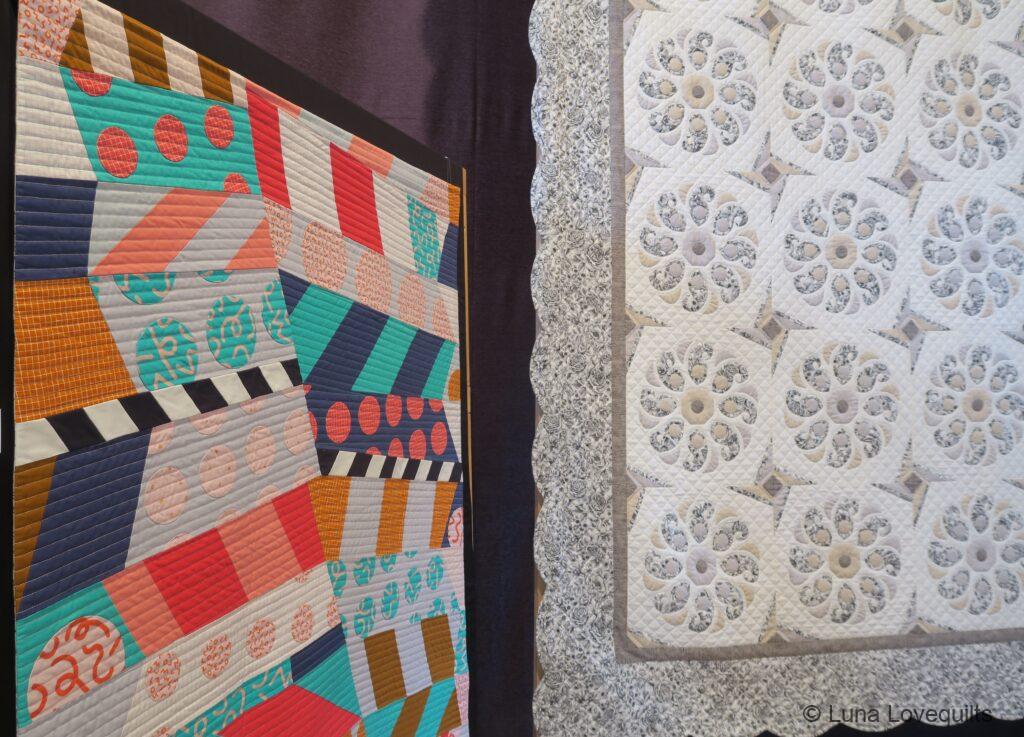 This quilt is about Queen size, mostly hand appliqued and also hand quilted.
C'est un couvre-lit deux place, avec beaucoup d'appliqué main et quilté main également.
But the very first task was to turn a multi-purpose space (sport, theatre, private party, …) into an exhibition space … Hopefully, as usual, we could rely on a few helpers for installing display structures.
Mais la toute première tâche, était de transformer une salle polyvalente (sport, spectacle, fête privée, …) en un espace d'exposition … Heureusement, comme d'habitude, nous avons pu compter sur des aides pour installer les structures d'exposition.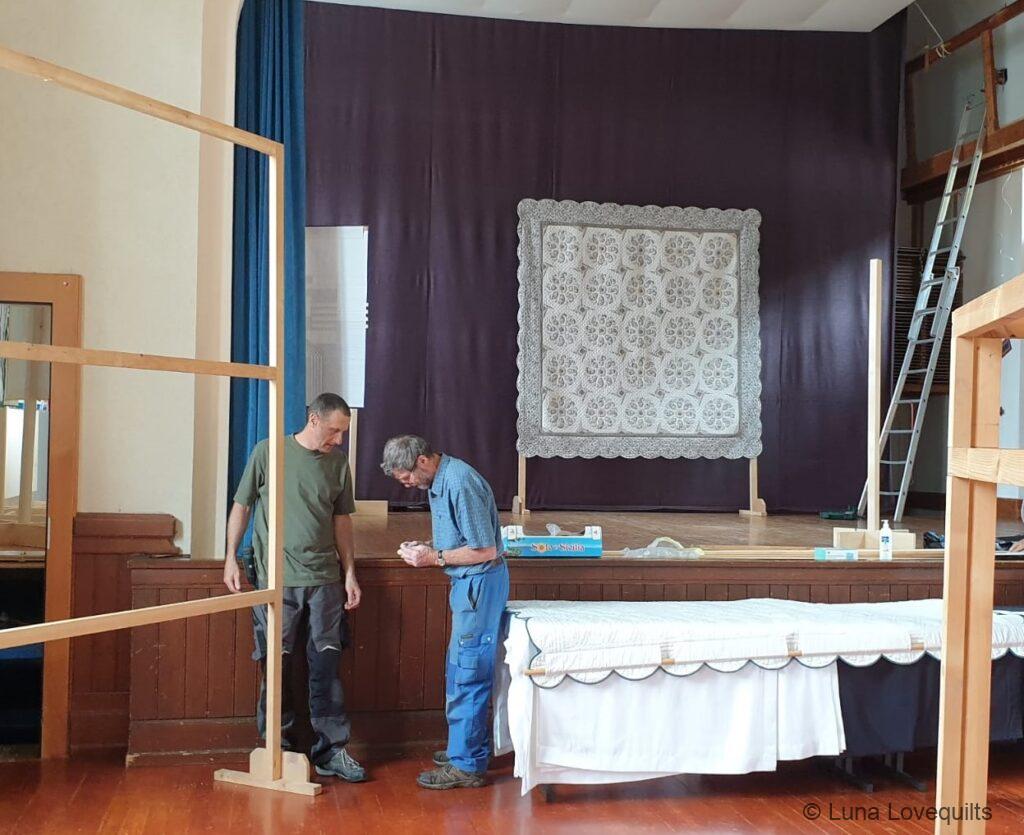 Each of us is free to work and show quilts of her own choice except for one that we make specifically for the exhibit. This year, the challenge was a two-colour quilt of about 32″ x 40″ including the same white on white printed fabric and one saturated colour. Only these two fabrics could be used in the quilt. Can you guess which is mine ?!
Chacune de nous est libre de travailler et exposer les quilts de son choix excepté un que nous réalisons spécifiquement pour l'exposition. Cette année, le challenge était un quilt bicolore de 80 x 100 cm, incluant un même imprimé blanc sur blanc et une couleur vive. Uniquement ces deux tissus pouvaient être utilisés dans le quilt. Pouvez-vous deviner lequel est le mien ?!
Nine solid fabrics were selected based on the colour wheel. And then each of us was randomly assigned a colour. Draw back in March 2019, tension and relief …
Neuf tissus unis ont été sélectionnés sur la base de la roue des couleurs. Et ensuite, chacune a reçu aléatoirement une couleur. Tirage au sort en mars 2019, tension et soulagement …
I had fifteen quilts on display, including mini quilts, wall hangings and a few throw size quilts. Funky Town and LOVE found their place next to our two-colour challenge.
J'avais quinze quilts exposés, en comptant les minis, panneaux muraux et quelques quilts de taille couverture. Funky Town and LOVE ont trouvé leur place à la suite de notre challenge bicolore.
When I made this quilt (pictured left) I thought of using it as a throw quilt. I had to sew a temporary sleeve for the exhibit and actually it was the first time I saw it hanging. I was happily surprised to discover how the fabrics shine, especially the light coral.
Quand j'ai réalisé ce quilt (à gauche sur la photo), j'avais l'intention de l'utiliser comme couverture. J'ai dû coudre un manchon temporaire pour le suspendre et en fait c'était la première fois que je le voyais exposé. J'ai été agréablement surprise de découvrir comme les les tissus sont lumineux, particulièrement le corail clair.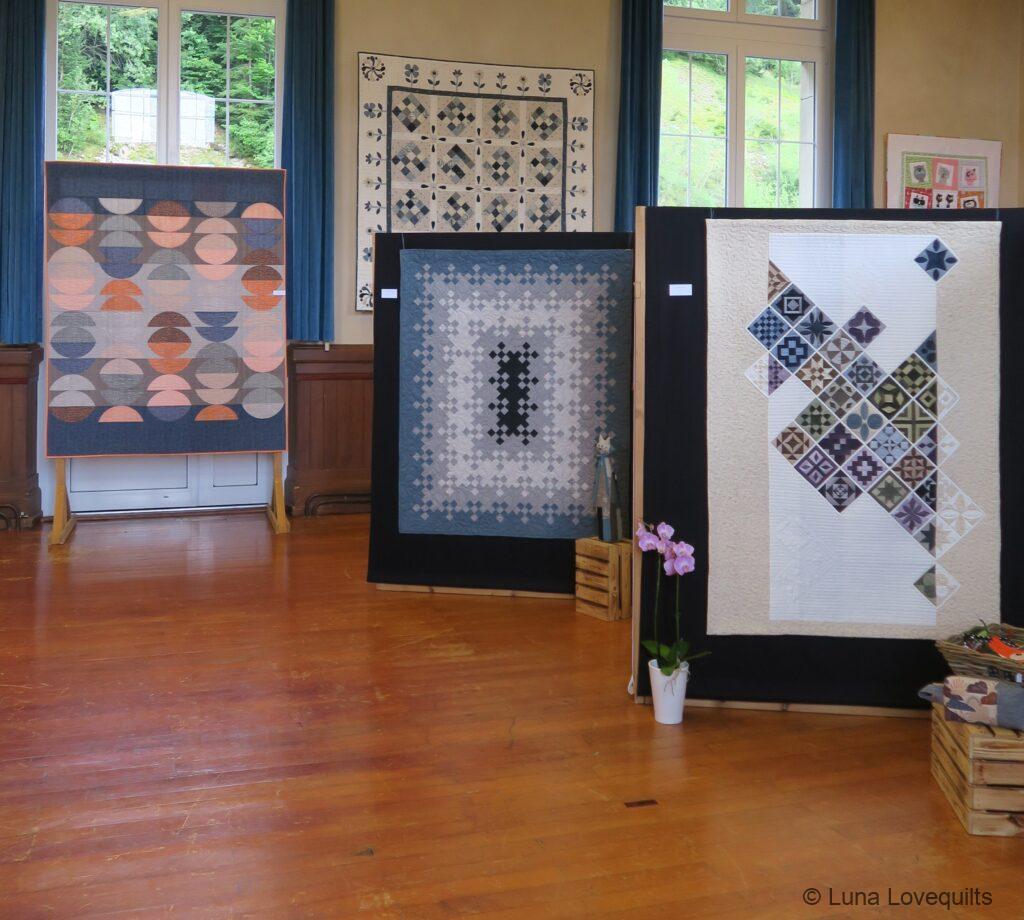 Here is another overall picture, the first view on the exhibit when entering the hall.
Voici une autre photo d'ensemble, la première vue de l'exposition en entrant dans la salle.
I have to say Nina had spectacular pieces in the show this year. Even if we followed her ongoing projects these past four years, it was pretty impressive to see them all together (and finished !).
Je dois dire que Nina avait des pièces spectaculaires dans l'exposition cette année. Même si nous avons suivi son travail ces quatre dernières années, c'était assez impressionant de les voir tous ensemble (et terminés !).
But my favourite was her Baby Jane which features some blocks from the original Dear Jane quilt with an interesting layout. I love how she played with fabrics for the blocks along the vertical borders. They seem to disappear gradually in the background.
Mais mon préféré était son Baby Jane qui présente quelques blocs du quilt Dear Jane original, avec une disposition intéressante. J'adore comme elle a joué avec les tissus pour les blocs le long des bordures verticales. Ils semblent disparaître petit à petit dans le fond.
Her twin sister, Martine, was not left behind … Do you see the hand appliqued feather border ?!
Sa soeur jumelle, Martine, n'était pas en reste … Avez-vous vu la bordure plume appliquée à la main ?!
We tried as far as possible to get a balanced and cohesive exhibition. Though the quilts were very different in style, I think we achieved it pretty well and that every piece was highlighted. Of course we had to group a bit some of my quilts that are bold in colour and shape and that could outshine more subtle pieces.
Nous avons essayé autant que possible de présenter une exposition équilibrée et homogène. Bien que les quilts étaient très différents en style, je trouve que nous avons plutôt bien réussi et que chaque pièce était mise en valeur. Bien sûr nous avons dû grouper un peu mes quilts qui ont des couleurs et motifs très présents et qui pourraient écraser un peu des pièces plus discrètes.
The Covid situation makes everything unpredictable and we were happily surprised to welcome so many visitors, local and from afar. We really enjoyed this time of sharing and the lovely feedbacks made all installation work worth it !
La situation Covid rend tout imprévisible et nous avons été agréablement surprises d'accueillir autant de visiteurs, de la région et de plus loin. Nous avons pris beaucoup de plaisir à ces moments de partage et les retours positifs valaient la peine pour tout ce travail d'installation.
Lanternes, a beautiful gradient quilt made by Danielle Hugonnet.
Lanternes, un magnifique dégradé pour ce quilt réalisé par Danielle Hugonnet.
Matching visitor and quilt … Just love when this happen and always try to capture it 🙂
Un visiteur assorti à un quilt … J'adore quand ça arrive et j'essaie toujours de saisir l'instant 🙂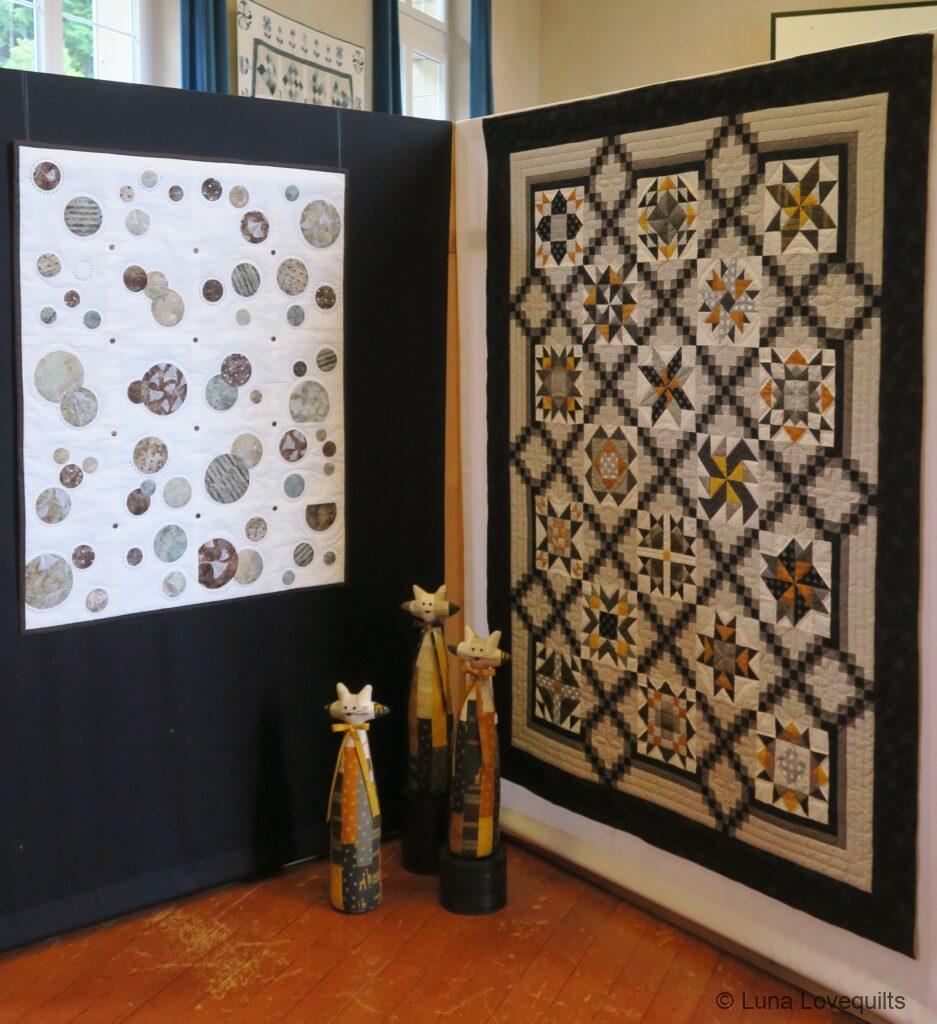 As I was packing up all the stuff I brought back from the exhibit I decided to change the two quilts that were hanging in my living room for a while, as well as the cushions.
Comme je rangeais toutes les affaires que j'ai ramenées de l'expo, j'ai décidé de changer les deux quilts accrochés dans mon salon depuis longtemps, ainsi que les coussins.
We are already working for the next exhibit, so see you there in three years !
Nous sommes déjà en train de travailler pour la prochaine exposition, donc rendez-vous dans trois ans !