In my previous post I shared a small quilt I made as part of a swap with a group of friends. We are eight MQG members from all over the world (Australia, England, USA and Switzerland). Sarah, a British quilter I first met on Instagram and then in person a few years back is the initial link. She brought us together for a dinner last year at Quiltcon and we have stayed in touch since then.
Dans mon article précédent, je vous ai montré un quilt réalisé dans le cadre d'un échange avec un groupe d'amies. Nous somme huit membres de la MQG, éparpillées aux quatre coins du globe (Australie, Angleterre, USA et Suisse). Sarah, une quilteuse anglaise que j'ai rencontrée d'abord sur Instagram et ensuite en personne il y a quelques années est le lien initial. Elles nous a rassemblées pour un repas l'année dernière à Quiltcon et nous sommes restées en contact depuis.
Last fall Kathy suggested we'd have a swap and six of us embarked on the journey. As I already mentioned, the guidelines were pretty simple. Make a quilt in your own style, 24 inches maximum. As for the deadline, the quilts had to reach their destination before Quiltcon kick off. Which didn't worked exactly as planned because of the extended delivery times at the moment …
L'automne passé Kathy a suggéré d'organiser un échange et six d'entre nous se sont lancées. Comme je l'ai déjà mentionné, les règles étaient assez simples. Créer un quilt dans son propre style, de 24 inches (60 centimètres) maximum. En ce qui concerne le délai, les quilts devaient arriver à destination avant le début de Quiltcon. Ce qui n'a pas tout à fait marché comme prévu à cause des longs délais de livraison en ce moment …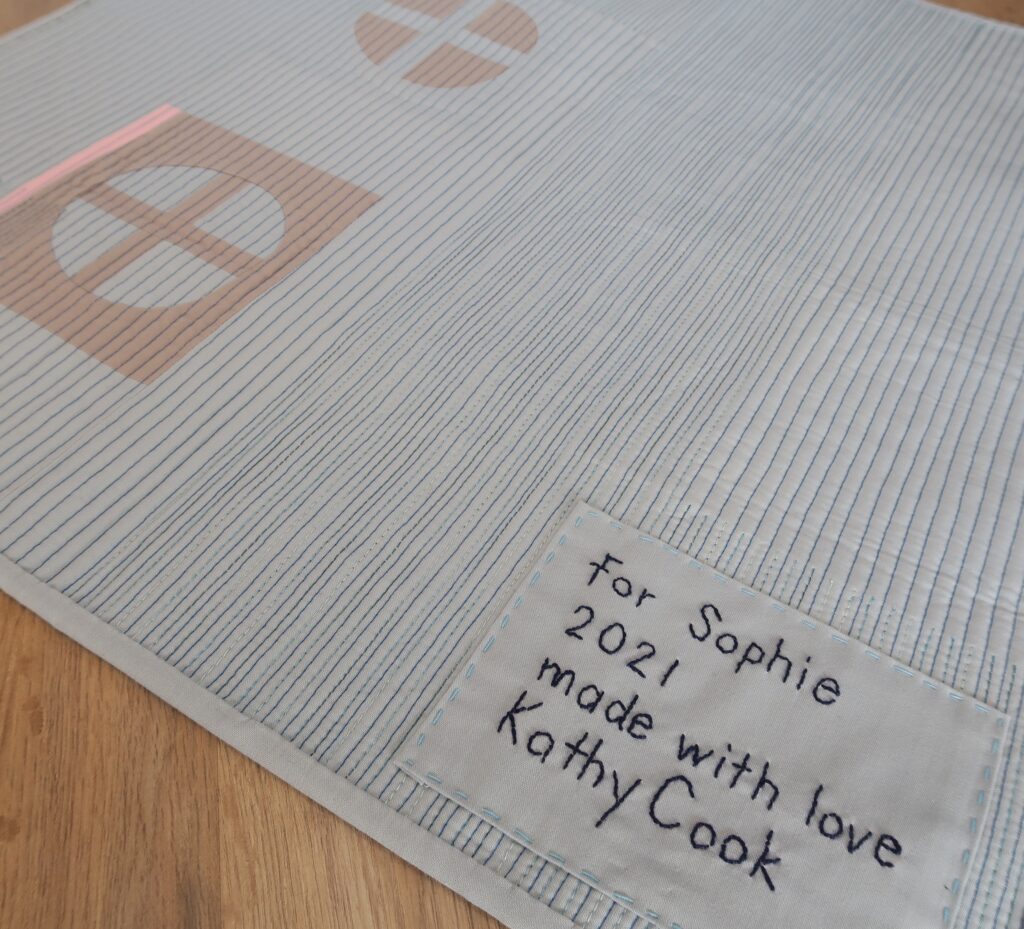 It was a secret swap which means each of us only knew the name of the recipient of her quilt. So I discovered who had secretly worked for me when I got the package in my mail box. We agreed on opening our packages together, during a zoom meeting. So I hid mine in a closet so that I wouldn't be tempted to cheat and take a peek before :-))
C'était un échange secret, ce qui signifie que chacune d'entre nous connaissait seulement le nom du destinataire de son quilt. Donc j'ai découvert qui avait secrètement travaillé pour moi quand j'ai reçu le paquet dans ma boîte aux lettres. Nous avions convenu d'ouvrir nos paquets ensemble, pendant une réunion vidéo. Donc j'ai caché le mien dans une armoire pour ne pas être tentée de jeter un coup d'oeil avant :-))
I was lucky to receive this fantastic quilt from Kathy. She knew I fell in love with one of her quilts last year in Austin and so she made something similar. You can see the original in part 1 of my Quiltcon 2020 recap.
Here is a close-up of the matchstick quilting. She beautifully played with thread colour and quilting density.
J'ai eu la chance de recevoir ce fantastique quilt de la part de Kathy. Elle savait que j'avais craqué pour un de ses quilts l'année dernière à Austin et elle m'a donc fait quelque chose de similaire. Vous pouvez voir l'original dans la première partie de ma récap Quiltcon 2020.
Voici un gros plan sur le "matchstick quilting". Elle a magnifiquement joué avec la couleur de fil et la densité du quilting.
Cheri was the recipient of my LOVE II quilt. Hopefully she likes bright colours and contrast as you can see on the pictures below 😉
She decided to use favourite scraps from previous projects to make her swap quilt. That totally fits her recipient who is sensitive to upcycling fabrics. You can see more colourful projects on Cheri's IG account @dragonmom03.
Cheri était la destinataire de mon quilt LOVE II. Heureusement elle aime les couleurs vives et le contraste comme vous pouvez le voir sur les photos ci-dessous 😉
Elle a décidé d'utiliser de précieux restes de ses projets précédents pour réaliser son mini quilt. Cela correspond tout à fait à sa destinataire qui est sensible à la récupération des tissus. Vous pouvez voir d'autres projets colorés de Cheri sur son compte IG @dragonmom03.
Of course, beautiful linen fabrics and hand stitching on the piece Sarah made. You can see her work on @quiltscornerstone. She also posts on another account on Instagram, @cornerstonecollages, dedicated to her collage work which is very inspiring and worth a visit.
De magnifiques lins bien sûr et du quilting main sur la pièce que Sarah a réalisée. Vous pouvez voir son travail sur @quiltscornerstone. Elle publie également sur un autre compte Instagram, @cornerstonecollages, dédié à ses collages, qui est très inspirant et vaut le détour.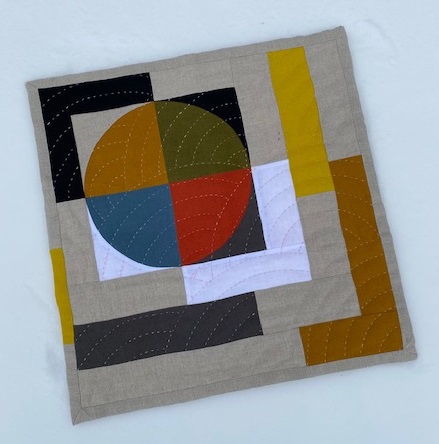 Sophie @softnquilt made a twin version of a previous project. She used this design last year for a challenge organized by Curated Quilts magazine with the prompt Half square triangle + Subtraction. She added to the original version some linen fabrics and hand stitches thinking of her recipient.
Sophie @softnquilt a réalisé une version jumelle d'un projet précédent. Elle a utilisé ce design l'année dernière pour un challenge organisé par le magazine Curated Quilts sur le thème Half square triangle + Soustraction. Elle a ajouté à la version originale quelques lins et des points à la main en pensant à sa destinataire.
And finally, here is Tara's project. Tara is a pattern designer living in Australia and she offers a few modern quilt patterns, some of them made from upcycled jeans. You can see her work on Instagram @stitchandyarn or on her website Stitch and Yarn. Her patterns are available on her Etsy shop.
Et finalement, voici le projet de Tara. Tara est une designer australienne et elle propose plusieurs modèles modernes, dont certains réalisés avec des jeans recyclés. Vous pouvez voir son travail sur Instagram @stitchandyarn ou sur son site web Stitch and Yarn. Ses modèles sont disponibles sur sa boutique Etsy.
On another topic, one of Tara's quilts, Blue Dwarf, was accepted for the MQG Retrospective exhibit that will be held at the National Quilt Museum, April 9 – July 27, 2021.
Sur un autre sujet, un des quilts de Tara , Blue Dwarf, a été sélectionné pour l'exposition Retrospective de la Modern Quilt Guild qui aura lieu au National Quilt Museum du 9 avril au 27 juillet 2021.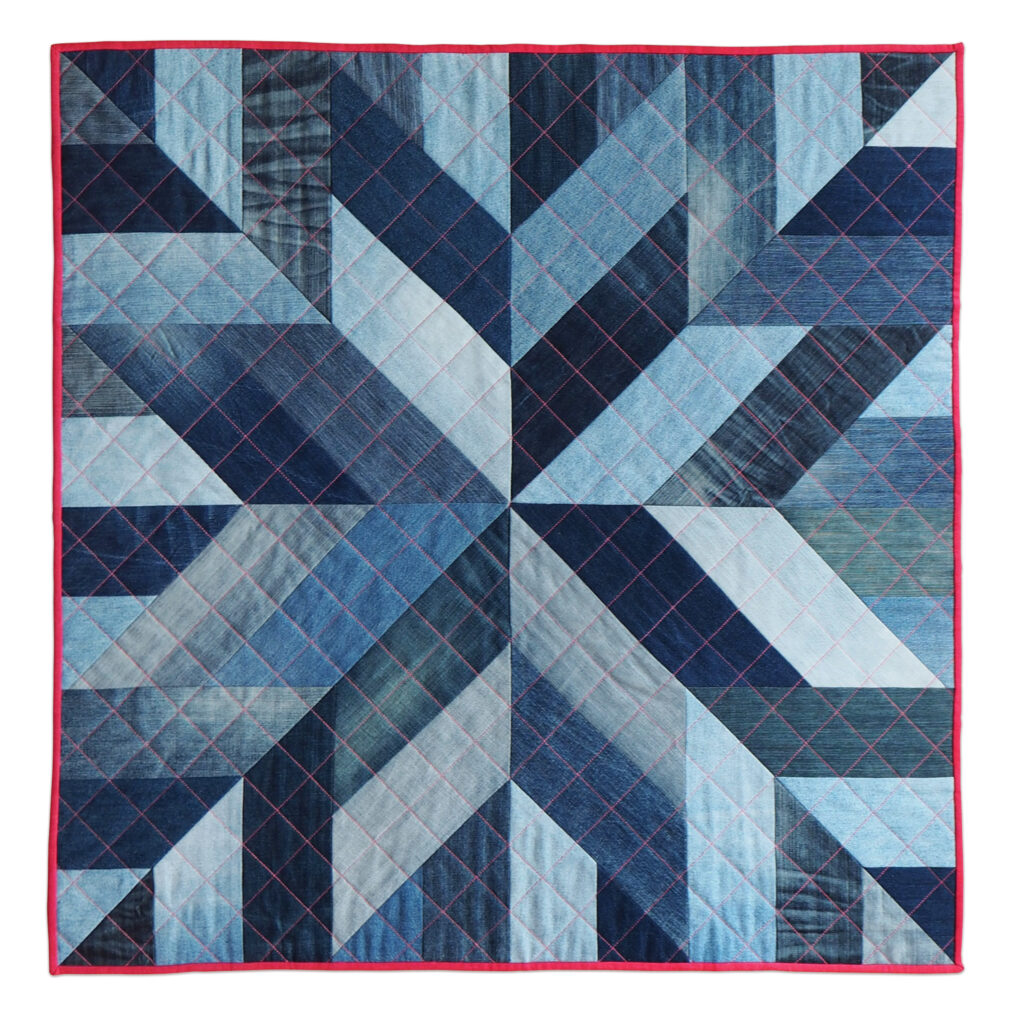 Marla @pennylanequilts will have two of her quilts in this exhibit as well.
Marla @pennylanequilts aura également deux de ses quilts dans cette exposition.
I heard only 37 quilts will be on display due to limited space, so I am super happy that my friends are in. I also took a chance and submitted my Eclat quilt but it didn't make it.
J'ai entendu dire que l'espace étant limité seulement 37 quilts seront exposés, je suis donc super contente que mes amies soient de la partie. J'avais aussi tenté ma chance et soumis mon quilt Eclat mais il n'a pas été sélectionné.