I spent last week in South of France with my friends of Patchmania group. For this quilting retreat, I decided to work on different small projects, alterning machine piecing and hand applique. I made this small top which will be turned into a table topper.
J'ai passé la semaine dernière dans le sud de la France avec mes amies du groupe Patchmania. Pour ces vacances patchwork, j'ai décidé de travailler sur différents petits projets en alternant assemblage machine et appliqué main. J'ai réalisé ce petit top qui deviendra un dessus de meuble.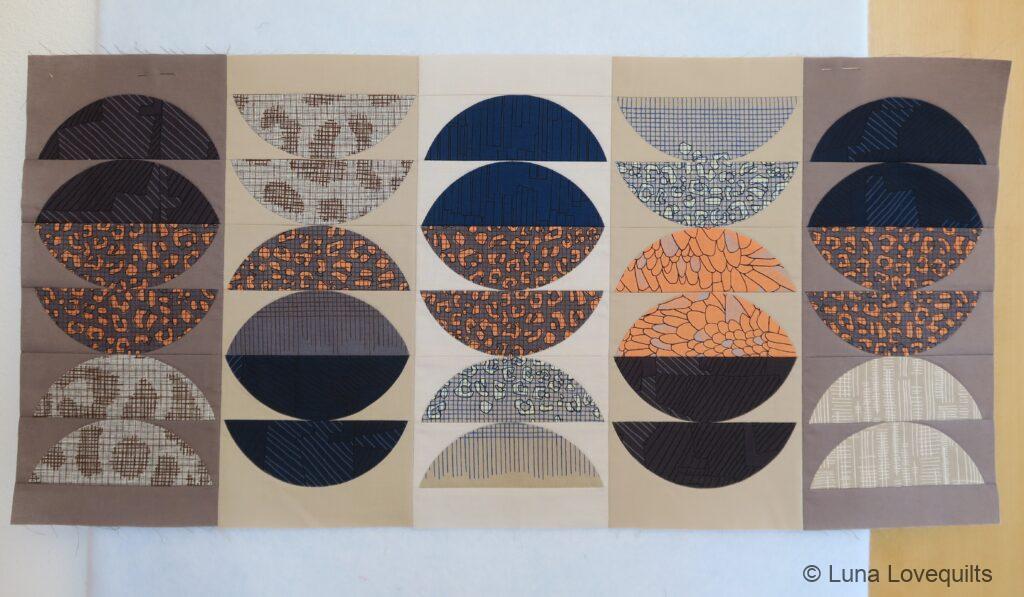 All these prints from different collections by Carolyn Friedlander are left over fabrics from previous projects.
Tous ces imprimés de différentes collections de Carolyn Friedlander sont des restes de tissus de projets précédents.
I also used small scraps to make these four panels with a patchwork plaid pattern. I will use them as exterior panels for quilted pouches.
J'ai aussi utilisé des petits restes pour réaliser ces quatre panneaux avec un motif à carreaux en patchwork. Je les utiliserai comme panneaux extérieurs pour des pochettes quiltées.
I finished this top which is intended for a cushion cover.
J'ai terminé ce top qui est destiné à être une housse de coussin.
Actually I had started this project one year ago and I don't know why I set it aside for so long …
En fait, j'avais commencé ce projet il y a une année et je ne sais pas pourquoi je l'ai laissé de côté aussi longtemps …
I am usually not into Christmas things but I just couldn't resist these cute holiday prints from the Flurry collection by Ruby Star Fabrics …
Je ne suis d'habitude pas trop Noël mais là je n'ai pas pu résister à ces adorables imprimés de la collection Flurry par Ruby Star Fabrics …
Anne-Chantal swapping her blocks to balance colours on her layout, with each of us giving her own opinion of course 😉
Anne -Chantal en train de déplacer ses blocs pour équilibrer les couleurs de son top, avec chacune de nous donnant sa propre opinion bien sûr 😉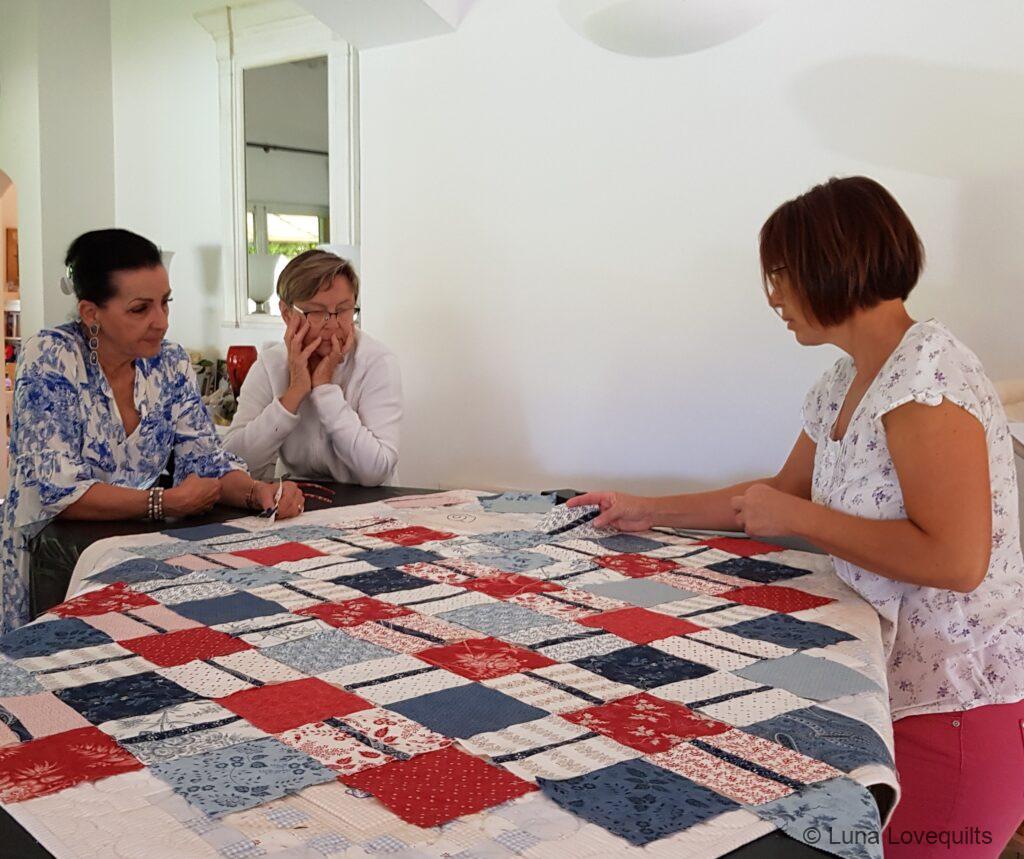 In awe of Martine and Nina new joint project, intricate blocks in different tones of red combined to a white fabric.
En admiration devant le nouveau projet commun de Martine et Nina, des blocs complexes dans différents tons de rouge combinés à un tissu blanc.
A lot of laughter, chatting, sharing and even some progress on our projects 🙂 What a lovely week!
Beaucoup de rires, bavardages, partages et même un peu d'avance sur nos projets 🙂 Une magnifique semaine !