At last … some pictures of Road Trip, my latest finish.
Enfin … Quelques photos de Road Trip, ma dernière réalisation.
This quilt combines some of my favourite elements of design. Checkerboard. stripes and arrows. I am really happy with the overall look (design and colour choice) though I have to say it is not technically my best piece ever …
Ce quilt combine quelques uns de mes éléments préférés de design. Damiers, lignes et flèches. Je suis vraiment contente de l'aspect général (design et choix de couleurs) mais je dois dire cependant que ce n'est techniquement pas ma meilleure pièce …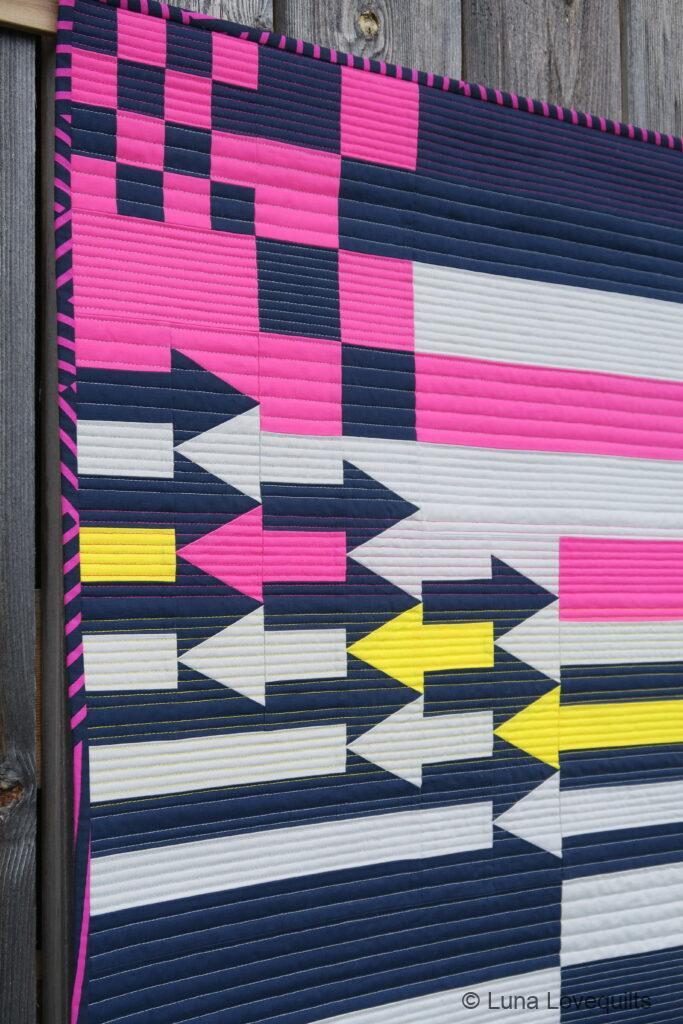 I think all issues came from my choice of piecing method. Because I wanted my triangles (arrowheads) to be very accurate, I decided to make them with foundation paper piecing. Of course they ended up perfect. But then I had to assemble accurate fpp units with standard pieced units that were slightly smaller. At that point, I should have faced the problem and remake some of these pieces. Instead of that I tried to match my seams anyway … The result is that some pieces got distorted. And the quilting, instead of smoothing this issue increased it.
Je pense que tous les problèmes sont venus de mon choix de méthode d'assemblage. Comme je voulais que mes triangles (pointes des flèches) soient très précis, j'ai décidé de les réaliser en couture sur papier. Bien sûr, ils étaient parfaits. Mais ensuite, j'ai dû assembler des unités précises en couture sur papier avec des unités cousues de manière standard et qui étaient légèrement plus petites. A ce moment là, j'aurais dû faire face au problème et refaire certaines de ces pièces. Au lieu de ça, j'ai essayé de faire coïncider tant bien que mal mes coutures … Le résultat est que certaines pièces ont été déformées. Et le quilting, au lieu de l'atténuer, a renforcé le problème.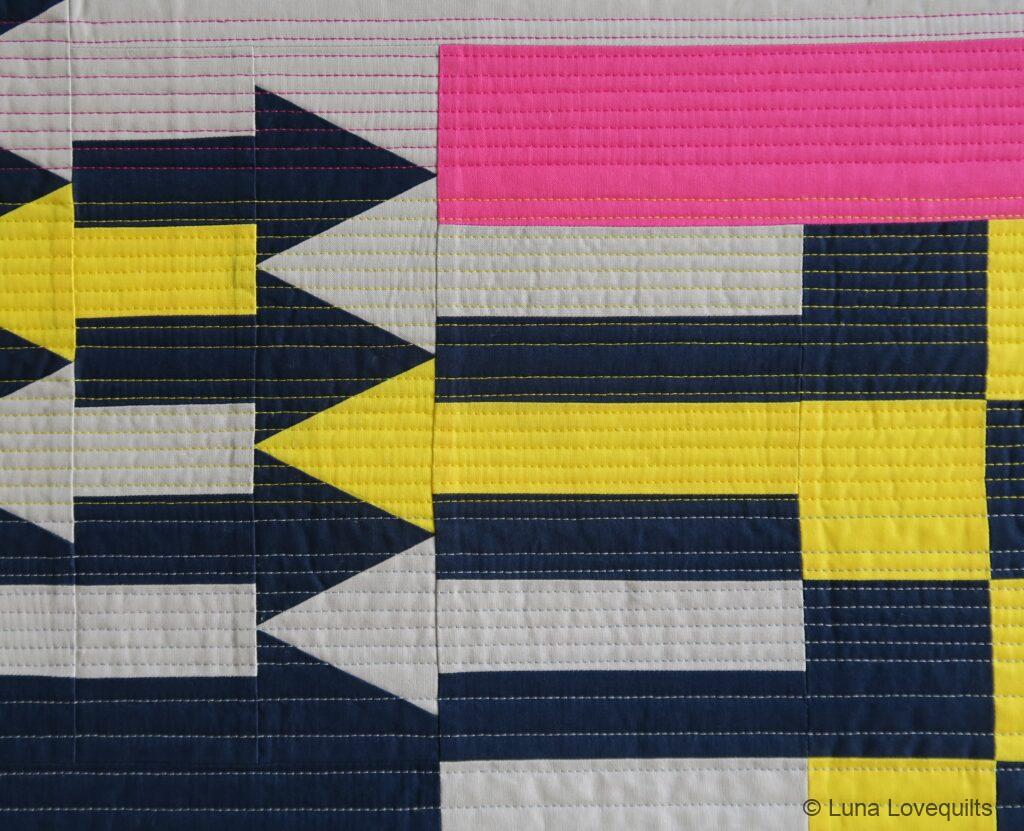 I usually press my seams open to get a very flat top. As I worked partly with foundation paper piecing, some of my seams are on the side in this project. So my quilting ended up not as good as usual … You may see on the picture below the difference between areas with open seams and areas with seams on the side.
I recently took part in an article about pressing on Create Whimsy website. If you fancy read it, there are interesting thoughts about pressing, written by different quilters.
Habituellement, je repasse mes coutures ouvertes pour obtenir un top vraiment plat. Comme j'ai partiellement travaillé en couture sur papier, certaines de mes coutures sont couchées sur le côté dans ce projet. Donc mon quilting n'est pas aussi bien que d'habitude … Vous voyez peut-être sur la photo ci-dessous la différence entre les zones avec coutures ouvertes et les zones avec coutures couchées sur le côté.
J'ai récemment participé à un article à propos du repassage des coutures sur le site Create Whimsy. Si vous avez envie de le lire, il y a des réflexions intéressantes à propos du repassage, écrites par différentes personnes.
I quilted simple horizontal lines varying thread colours (yellow, pink and light grey) and spacing between lines (quarter and half inch) to add some interest.
J'ai quilté simplement des lignes horizontales en variant les couleurs de fil (jaune, pink et gris clair) et l'espacement entre les lignes (un quart et un demi inch) pour ajouter un peu d'intérêt.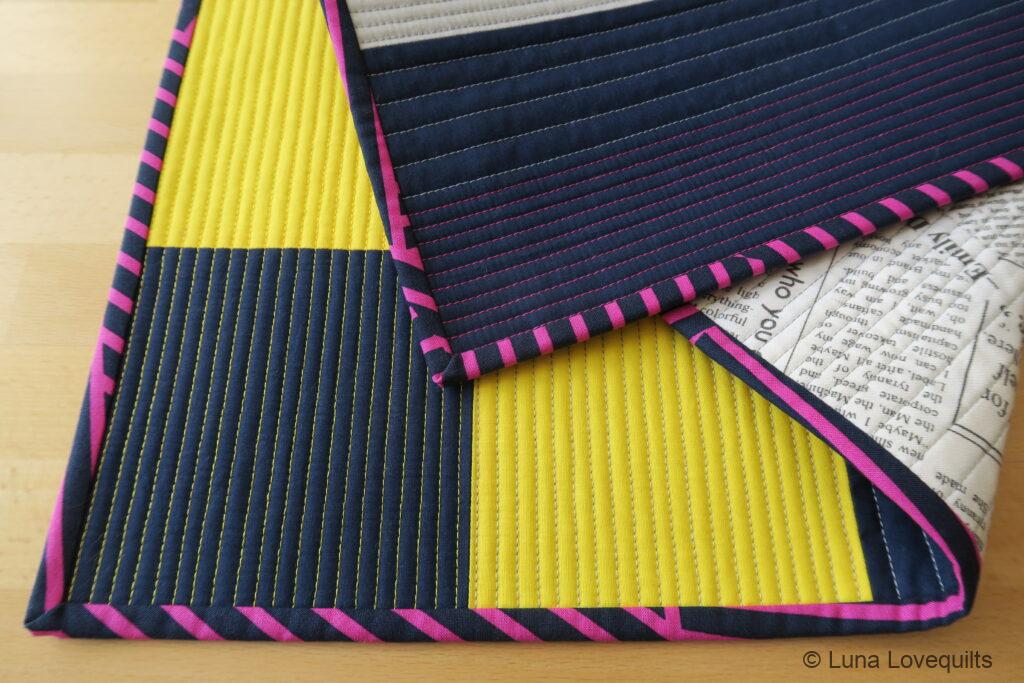 The fabric I chose for the binding is Manor Stripe designed by Victoria Findlay Wolfe. It is one of my favorite striped prints and I used it in a few sewing and quilting projects.
Le tissu que j'ai choisi pour le binding est Manor Stripe créé par Victoria Findlay Wolfe. C'est un des mes imprimés à rayures favoris et je l'ai utilisé dans plusieurs projets couture et patchwork.
The finished size is 25.5″ x 34.5″. It looks good in my stairwell and I prefer seeing it from a distance ! 🙂
La taille finie est de 64 cm x 88 cm. Il va bien dans mon escalier et je préfère le voir de loin ! 🙂