Here is the first finished piece of my Improv mini quilt series. I decided to mount all the pieces of this series on frames or canvas as the finishing method.
Voici la première pièce terminée de ma série de mini quilts Impro. J'ai décidé de monter toute les pièces de cette série sur des cadres ou canevas.
It was my first time using a canvas to showcase a quilt and I first went through information online. I finallly decided to start from a post dating back to 2010 on a blog that doesn't look to be active anymore. But you still can find the tutorial here if you would like to read the original instructions. I modified them a bit and added some steps so I thought it could be interesting to share a few pictures of my process.
C'était la première fois que j'utilisais un canevas pour présenter un quilt et j'ai d'abord consulté les informations disponibles en ligne. J'ai finalement décidé de partir d'un article datant de 2010 sur un blog qui ne semble plus être actif. Mais vous pouvez trouver ce tutoriel ici si vous avez envie de lire les instructions originales. Je les ai un peu modifiées et j'ai ajouté des étapes donc j'ai pensé que cela pourrait être intéressant de partager quelques photos de ma méthode.
I first tested the tutorial on a top I wasn't very excited about and learned a few things … My first trial was on a 1/2 inch deep canvas and this second attempt is a 1″1/2 deep canvas, which in my opinion gives more presence to the quilt on the wall.
J'ai d'abord testé le tutoriel sur un top qui me plaisait moyennement et j'ai appris quelques petites choses … Mon premier essai était sur un canevas de 1,3 cm et ce deuxième essai est un canevas de 3.8 cm, ce qui à mon avis donne plus de présence au quilt sur le mur.
To begin, I squared my quilt as I would have done for a binding or facing finish. I then prepared four strips of fabric, making a 1/2″ hem on the two short sides and on one long side. The length of the finished strip must be a half inch shorter than the side of the quilt. The strips are then sewn to each side of the quilt, on the front.
Pour commencer, j'ai égalisé mon quilt comme je l'aurais fait pour une finition binding ou facing. Ensuite, j'ai préparé quatre bandes de tissu, avec un ourlet de 1/2 inch sur les deux petits côtés et sur un des longs côtés. La longueur de la bande terminée doit être un demi inch plus petite que le côté du quilt. Les bandes sont cousues sur chaque côté du quilt, sur le devant.
I pressed the seams and then topstitched along the four seams to create a crease line. I picked this idea and other useful advice from my friend Tara's tutorial that you can find here.
J'ai repassé mes coutures et ensuite surpiqué le long des quatre coutures pour créer une ligne de pliage. J'ai repris cette idée et d'autres conseils utiles dans le tutoriel de mon amie Tara que vous pouvez trouver ici.
Here is how it looks from the backside at this point.
Voici à quoi ça ressemble depuis le dos à ce stade.
On my first trial I noticed that using a single layer of fabric to cover the sides of the canvas didn't look good. For this one, I added strips of batting that I fixed with a thin fusible interfacing.
Sur mon premier essai, j'ai remarqué que d'utiliser une seule couche de tissu pour couvrir les côtés du canevas ne rendait pas bien. Pour celui-ci, j'ai ajouté des bandes de molleton que j'ai fixées avec de l'entoilage thermocollant.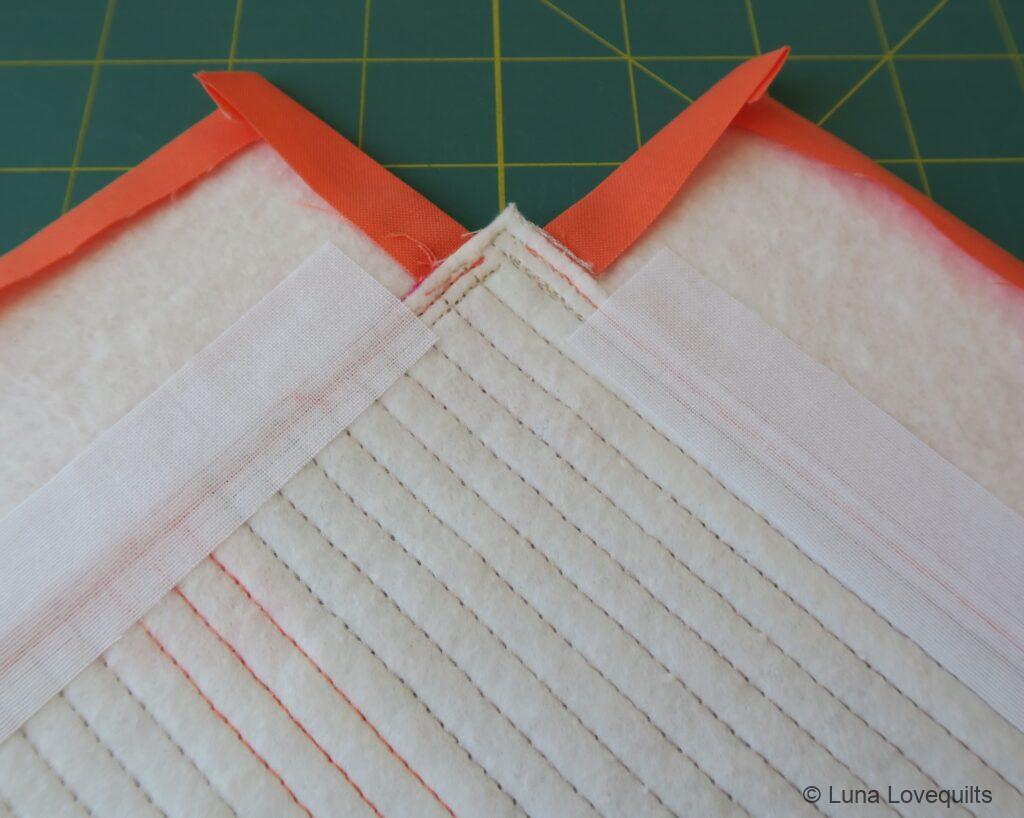 Next step is to center the canvas on the quilt and fold the four strips to the back of the canvas.
L'étape suivante est de centrer le canevas sur le quilt et de plier les quatre bandes vers le dos du canevas.
I used masking tape to fix temporarily the quilt to the canvas. It allows to check if it looks good on the front before stapling. And it also helps to hold everything in place while stapling.
J'ai utilisé du scotch de carrossier pour fixer temporairement le quilt au canevas. Cela permet de vérifier que c'est en ordre sur le devant avant d'agrafer. Et cela aide aussi à tout maintenir en place lors de l'agrafage.
I stapled first the middle of each sides and then handle the corners as recommended in the different tutorials I read.
J'ai d'abord agrafé le milieu de chaque côté et je me suis occupée des coins ensuite, comme recommandé dans les différents tutoriels que j'ai lus.
Whatever the method, I think the key point is getting nice corners … I decided that the small gap between the strips on each corner was not a problem. But I could sew them by hand with a ladder stitch if I changed my mind.
Quelle que soit la méthode, je pense que le point crucial est d'obtenir des coins nets … J'ai décidé que le petit espace entre les bandes à chaque coin n'était pas gênant. Mais je pourrais les coudre à la main avec un point invisible si je changeais d'avis.
One thing I would like to improve in the future though is how to handle the small quarter inch square in each corner. I did my best to hide them but I am not sure it will last … Pressing the seams of the strips open or fixing the corners with fusible interfacing are solutions I am considering for the next pieces.
Une chose que j'aimerais cependant améliorer à l'avenir, c'est comment gérer le petit carré d'un quart d'inch dans chaque coin. J'ai fait au mieux pour les cacher mais je ne suis pas sûre que ça va tenir … Repasser les coutures ouvertes pour les bandes ou fixer le coin avec de l'entoilage sont des solutions que j'envisage pour les prochaines pièces.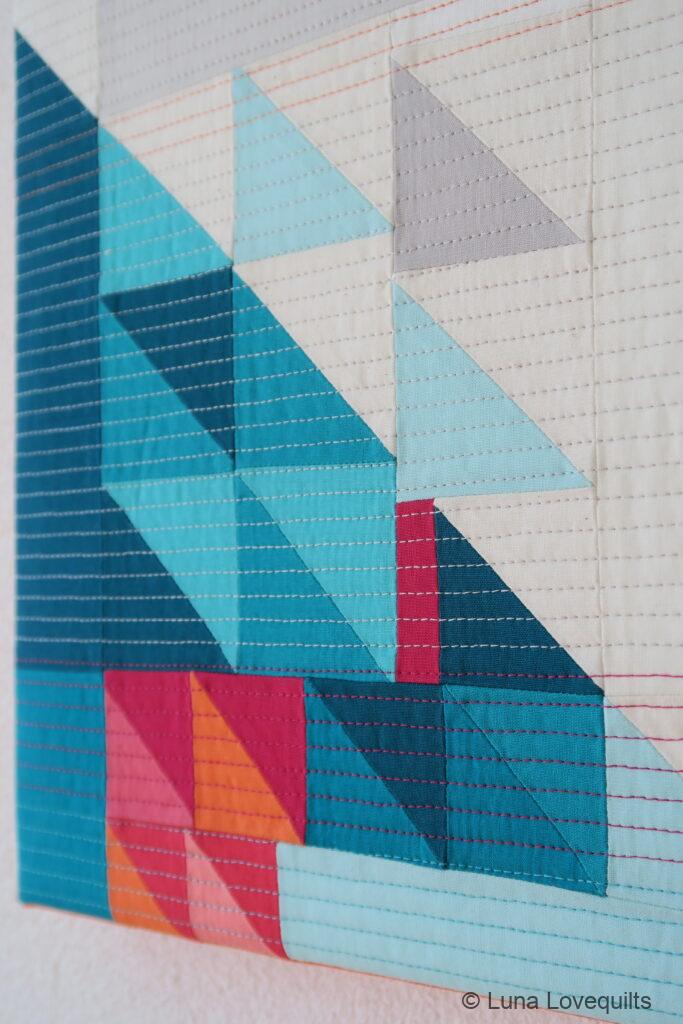 Stay tune for more tests …
Autres tests à suivre …