It's been a while since I wrote my latest post … A few events on a personal level kept me emotionally away from blogging. And in addition it is a tough year, isn't it ?! BUT … I am still sewing to keep my mind and hands busy !
Il s'est passé du temps depuis mon dernier article … Des événements sur un plan personnel m'ont émotionnellement tenus à l'écart de mon blog. Et en plus, c'est une année rude, n'est-ce pas ?! MAIS … je continue de coudre pour garder mon esprit et mes mains occupées !
I feel like working on small items rather than long term quilting projects though.
Cependant, j'ai envie de travailler sur des petits objets plutôt que sur des projets patchwork à long terme.
Actually here is the most complicated piecing I have done in weeks !
En fait, voici l'assemblage le plus compliqué que j'ai fait en plusieurs semaines !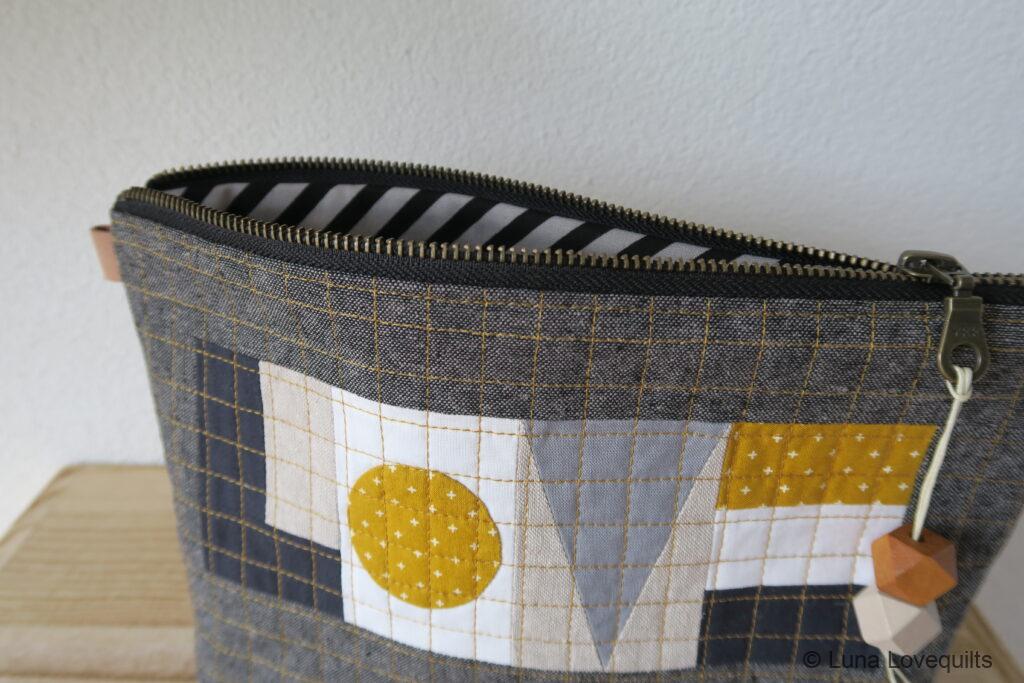 I tried a few new-to-me patterns like this one, Olivia Pouch designed by SOTAK Handmade.
J'ai essayé quelques modèles, nouveaux pour moi, comme celui-ci, Olivia Pouch créé par SOTAK Handmade.
As I am an optimist … I am still working with the idea of having a sale at home at the end of November. So if we don't experience a lockdown by then … I planned a mini market from Friday 27 to Sunday 29. I am thinking to do it outside (under a shelter!) to comply as best as possible with Covid rules.
Comme je suis une optimiste … je continue de travailler avec l'idée de faire une vente à la maison fin novembre. Donc si nous ne subissons pas un nouveau confinement d'ici là … j'ai planifié un mini marché du vendredi 27 au dimanche 29. Je pense le faire à l'extérieur (sous un abri !) pour respecter au mieux les mesures Covid.
I also made a few totes and project bags using mostly Essex Linen fabrics and canvas from Ruby Star collections.
J'ai aussi réalisé quelques sacs cabas et sacs à projets en utilisant principalement des tissus Essex Linen et des canevas des collections Ruby Star.
And now I am using every single scrap from these beautiful fabrics!
Et maintenant j'utilise chaque petit reste de ces magnifiques tissus
I made sets of coordinated pouches working from different patterns. The two on top are from Essential Pouch pattern designed by SOTAK Handmade which is a flat bottom pouch in four sizes.
j'ai fait des ensembles de pochettes coordonnées à partir de différents modèles. Les deux en haut sont réalisées à partir du modèle Essential Pouch dessiné par SOTAK Handmade qui est une pochette à fond plat en quatre tailles.
And yes I think I definitely have a thing for wooden beads at the moment … 🙂
Et oui je pense que j'ai vraiment une obsession des perles en bois en ce moment … 🙂
I hope to share other makes next week since I planned a photo shoot outside with the help of my son's girl friend in the afternoon. Well … it is raining at the moment so we'll see …
J'espère vous montrer d'autres réalisation la semaine prochaine car j'ai planifié une séance photo à l'extérieur cet après-midi avec l'aide de l'amie de mon fils. Bon … il pleut en ce moment donc à voir …