It's been a while since I last posted … I continued to work on small sewing projects these past weeks but had no motivation to share pictures on social media or to move forward in long terms quilting projects …
Cela faisait longtemps que je n'avais pas publié … Ces dernières semaines, j'ai continué de travailler sur des petits projets de couture mais je n'ai eu aucune motivation pour partager des photos sur les réseaux sociaux ni pour travailler sur des projets de quilting à plus long terme …
Anyway … I can now share about a secret project I worked on a few months back. Last year I submitted a pattern to Love Patchwork & Quilting magazine and it was accepted for the issue initially planned June 2020.
Bref … Je peux maintenant vous montrer un projet secret sur lequel j'ai travaillé il y a quelques mois. L'année dernière, j'ai soumis un modèle au magazine Love Patchwork & Quilting et il a été accepté pour le numéro initialement prévu pour juin 2020.
Due to Covid-19 … (what a surprise!) the publishing was postponed. The good news is that issue 88 is finally on sale from today. If you'd like to buy a copy, visit @lovequiltingmag profile on Instagram and click the links to grab a print or digital copy, or subscribe to the magazine.
A cause du Covid-19 … (quelle surprise !) la publication a été retardée. La bonne nouvelle c'est que le numéro 88 est enfin en vente dès aujourd'hui. Si vous avez envie d'acheter le numéro, visitez le profil @lovequiltingmag sur Instagram et cliquez sur les liens pour obtenir une copie imprimée ou numérique, ou vous abonner au magazine.
The pattern is referred as Graphic Splash in the magazine. The instructions are available for making both designs.
Le modèle est dénommé Graphic Splash dans le magazine. Les instructions sont disponibles pour réaliser les deux designs. Notez que les mesures sont en inch et les instructions en anglais, illustrées par des schémas.
All solids I used are Kona Cotton and the prints are from the Anagram collection by Kimberly Kight for Ruby Star.
Tous les unis que j'ai utilisés sont des Kona Cotton et les imprimés sont de la collection Anagram dessinée par Kimberly Kight pour Ruby Star.
This cute print I used for the envelope backing is also from from the Anagram collection.
Cet adorable imprimé que j'ai utilisé pour le dos portefeuille vient aussi de la collection Anagram.
I really enjoyed this first collaboration with LPQ and I hope there will be others.
J'ai beaucoup apprécié cette première collaboration avec LPQ et j'espère qu'il y en aura d'autres.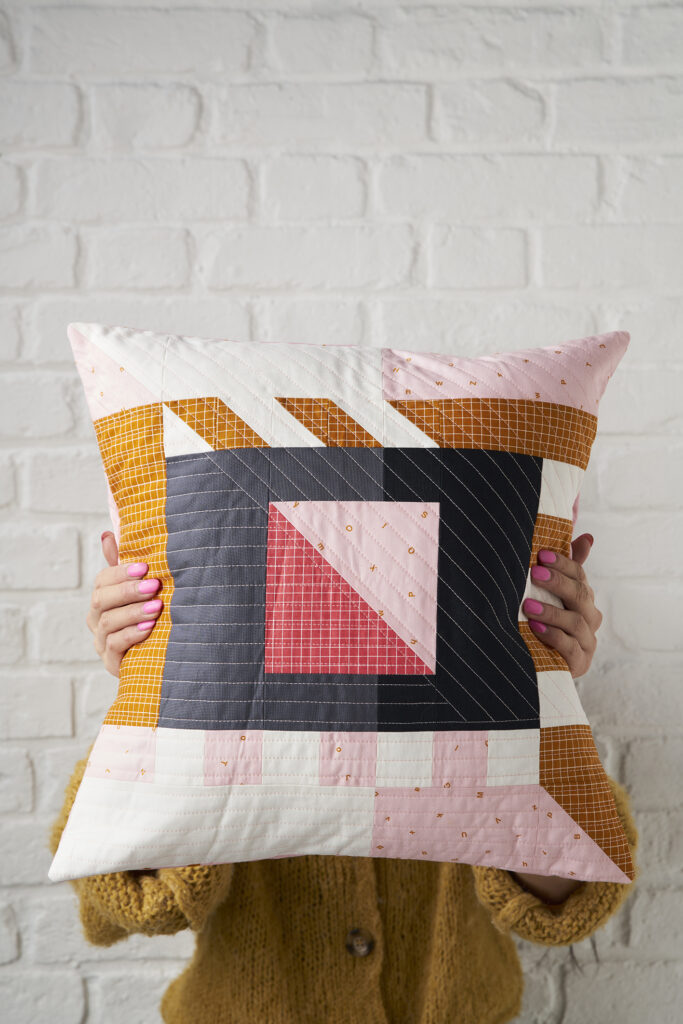 I am linking up with Kelly for NTT and Frédérique for Patchwork & Quilts