Welcome to lunalovequilts.com ! Moving my blog to this website was a long-standing project … One month ago I decided to finalize it and not to publish any new content before it is completed. It was a good motivation since I wanted to show you, Orangeraie, my latest finish …
Bienvenue sur lunalovequilts.com ! Déplacer mon blog sur ce site web était un projet de longue date … Il y a un mois, j'ai décidé de le finaliser et de ne pas publier de nouveau contenu avant qu'il soit terminé. C'était une bonne motivation car j'avais envie de vous montrer, Orangeraie, ma dernière réalisation …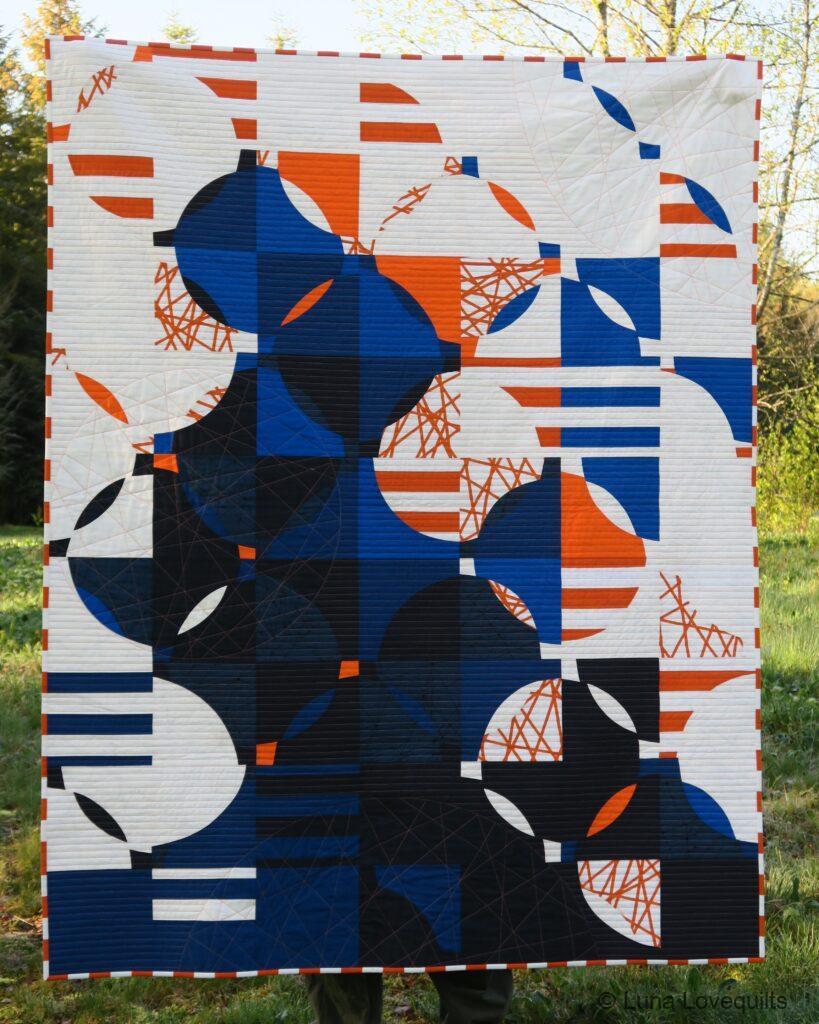 I used three prints for the top, two orange and white from the Sharp Stripe collection by Victoria Findlay Wolfe and one dark blue from Redux collection by Giucy Giuce. I added matching solids to this fabric pull.
J'ai utilisé trois imprimés pour le top, deux en orange et blanc de la collection Sharp Stripe de Victoria Findlay Wolfe et un bleu foncé de la collection Redux de Giucy Giuce. J'ai ajouté des tissus unis assortis à cette sélection.
I combined the striped orange and white VFW print to pieced strips of blue and white solids.
J'ai combiné l'imprimé à rayures orange et blanc VFW avec des bandes unies bleues et blanches.
I chose the blue colourway from the same VWF collection for the backing. And a striped binding of course …
J'ai choisi le coloris bleu de la même collection VFW pour le dos. Et un binding à rayures, bien sûr …
All quilting is made with this gorgeous Light Salmon Aurifil thread. I already used it for my Eclat quilt and loved the effect against dark blue.
Tous le quilting est réalisé avec ce magnifique fil Light Salmon de chez Aurifil. Je l'avais déjà utilisé pour mon quilt Eclat et j'avais adoré l'effet sur le bleu foncé.
I sketched a few options for the quilting design and here are my favourite two. I hesitated a couple of weeks between the safe choice, on the left, and the more original but also the more uncertain one, on the right.
J'avais dessiné plusieurs options pour le quilting et voici mes deux préférées. J'ai hésité quelques semaines entre le choix sûr, à gauche, et le plus original mais aussi le plus risqué, à droite.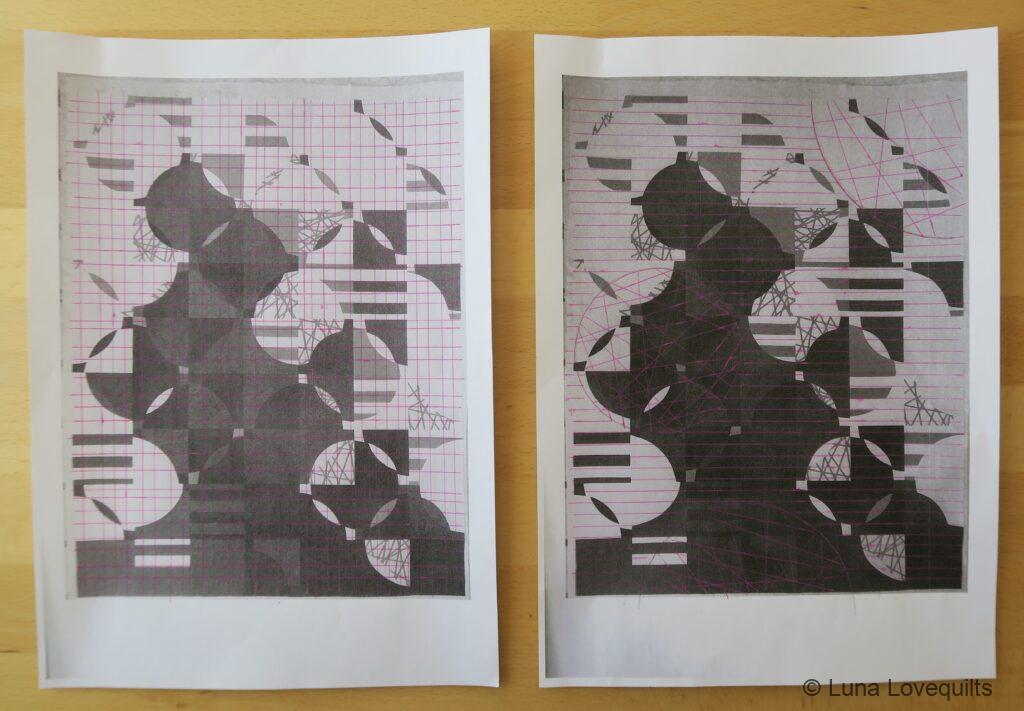 I had to join two pieces of batting and I remembered seeing a tip on Debbie's blog, A Quilter's Table. I used fusible interfacing scraps and it worked very well.
J'ai dû assembler deux pièces de molleton et je me suis souvenue d'une astuce que j'avais vue sur le blog de Debbie, A Quilter's Table. J'ai utilisé des restes d'entoilage thermocollant et cela a bien fonctionné.
And here is what the design looks like when reversed !
Et voici à quoi ressemble le design en inversé !
This place is just fifteen minutes walk from home. We have been living here for ten years and only found it by chance a few weeks ago …
Cet endroit est à seulement quinze minutes de marche de la maison. Nous habitons ici depuis dix ans et l'avons découvert par hasard il y a quelques semaines …
A new setting for my photo shoots outside !
Un nouveau cadre pour mes séances photos à l'extérieur !
I am linking up with Kelly for NTT and Frédérique for Patchwork & Quilts