This set is a custom order for a friend. She asked me a project bag in burgundy colour and a matching quilted pouch.
Cet ensemble est une commande personnalisée pour une amie. Elle m'avait demandé un sac à projet dans les tons bordeaux avec une pochette assortie.
I chose this cotton linen blend canvas from Ruby Star as a basis for this project. The pattern I used for the bag is Denver Tote designed by Svetlana Sotak.
J'ai choisi ce canevas en mélange coton lin de chez Ruby Star comme point de départ pour ce projet. Le modèle que j'ai utilisé pour le sac est Denver Tote dessiné par Svetlana Sotak.
I used different matching fabrics to piece the pouch exterior panels. The bag and the pouch are both lined with this beautiful print from the Dusk till Dawn collection by Cotton and Steel Fabrics.
J'ai utilisé différents tissus assortis pour piécer les panneaux extérieurs de la pochette. Le sac et la pochette sont tous les deux doublés avec ce magnifique imprimé de la collection Dusk till Dawn par Cotton and Steel Fabrics.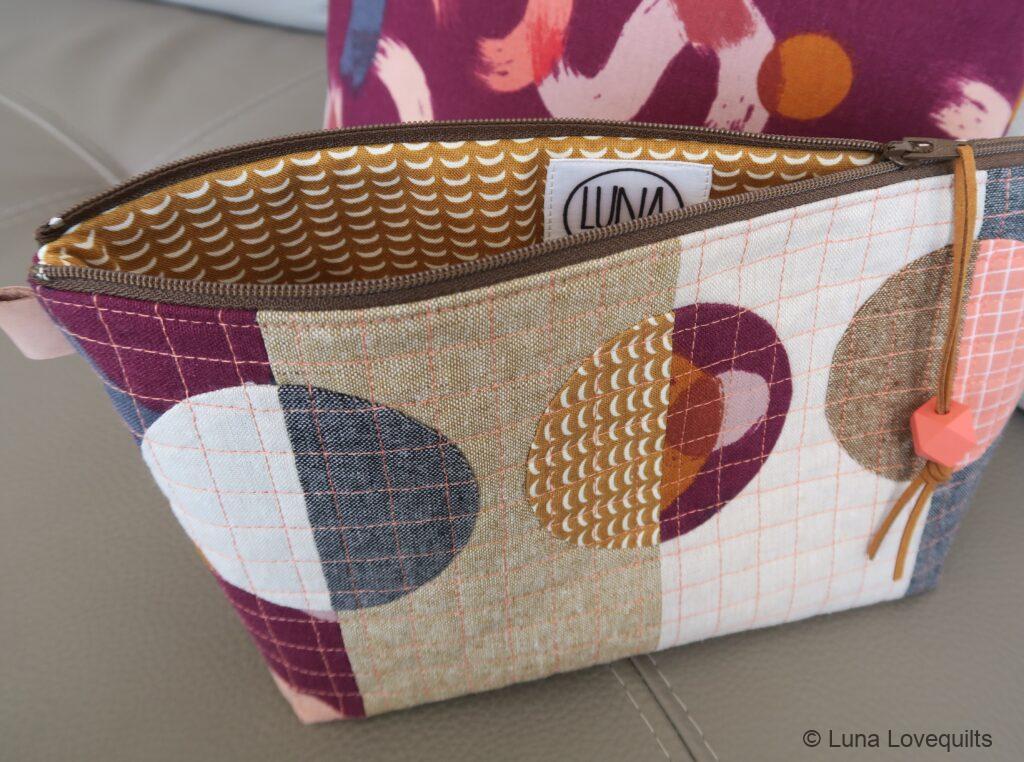 I made four other project bags together using different canvas.
J'ai réalisé en même temps quatre autres sacs à projet avec différents canevas.
And a few pouches as well … For this one I mixed some Carolyn Friedlander prints to Essex Linen fabrics.
Et aussi quelques pochettes … Pour celle-ci, j'ai combiné des imprimés de Carolyn Friedlander à des tissus Essex Linen.
After working with muted tones, I needed a pop of colour and made these two bright versions. All circles are hand appliqued on the background in case you are wondering about it.
Après avoir travaillé avec des tons neutres, j'avais besoin d'une touche de couleur et j'ai réalisé ces deux versions colorées. Tous les cercles sont appliqués à la main sur le fond, au cas où vous vous posez la question.
Maybe you remember the rainbow quilted panel I shared a few weeks back. As I was sewing a batch of zippers I completed this project as well !
Vous vous souvenez peut-être du panneau quilté arc-en-ciel que j'avais montré il y a quelques semaines. Comme je cousais une série de fermetures Eclair, j'ai aussi profité de terminer ce projet !
Here is the back side of this pouch.
Voici le dos de cette pochette.
I also tried another design using the same colour palette. For this pouch the back side is identical to the front.
J'ai aussi essayé un autre design avec la même palette de couleurs. Pour cette pochette, le dos est identique au devant.
I really enjoy working on these small projects ! Choosing fabrics is one of my favorite step and it is so satisfying to complete something relatively quickly 🙂
J'ai toujours du plaisir à travailler sur ces petits projets ! Choisir les tissus est une de mes étapes préférées et c'est très gratifiant de terminer quelque chose relativement rapidement 🙂