Here is my latest finish, a big rectangle cushion cover I made for a custom order. This cover is intended for a non standard size cushion, approximately 30″ x 24″. I had to put two of my cushions and a piece of batting inside for the photo shoot … 🙂
Voici ma dernière création, une grande housse de coussin réalisée pour une commande personnalisée. Cette housse est prévue pour un coussin de taille non standard, 75 cm x 60 cm. J'ai dû mettre deux de mes coussins et du molleton à l'intérieur pour la séance photo … 🙂
As the original cover was in brown-beige tones I picked some neutral solids and added a few colours to match the painting which is hanging in the room.
Comme la housse originale était dans les tons brun-beige, j'ai sélectionné des unis neutres et ajouté quelques couleurs assorties à un tableau qui se trouve dans la pièce.
I submitted four designs for this project and was lucky the recipient chose my favourite! I think it would be a beautiful wall hanging as well and I may reuse this idea in the future.
J'avais soumis quatre designs pour ce projet et j'ai eu la chance que la destinataire choisisse mon préféré ! Je trouve qu'il ferait aussi un beau panneau mural et je réutiliserai peut-être cette idée dans le futur.
I used the measurements and some pictures as an example to reproduce the closure system of the original cover, gussets in the corners and a zipper.
J'ai utilisé les mesures et quelques photos comme exemple pour reproduire le système de fermeture de la housse originale, goussets (pas sûre de ce terme … ) dans les coins et fermeture Eclair.
I had to add an extra border all round the design for making the corners. Basically I extended by one inch all pieces that were on the edges. Except the triangles for which I pieced a vertical strip to keep the points on the front of the cushion.
J'ai dû ajouter un bord supplémentaire tout autour du design pour réaliser les coins. En gros, j'ai prolongé d'un inch toutes les pièces que se trouvaient sur les bords. Excepté les triangles auxquels j'ai cousu une bande verticale pour garder les pointes sur le devant du coussin.
I went for an invisible zipper and used a video tutorial on Youtube provided by Jann Newton to attach it. You can watch the video for more details but here is a short description of the process.
J'ai opté pour une fermeture Eclair invisible et j'ai utilisé un tutoriel vidéo sur Youtube fournit par Jann Newton pour la poser. Vous pouvez regarder la vidéo pour plus de détails mais voici une courte description de la réalisation.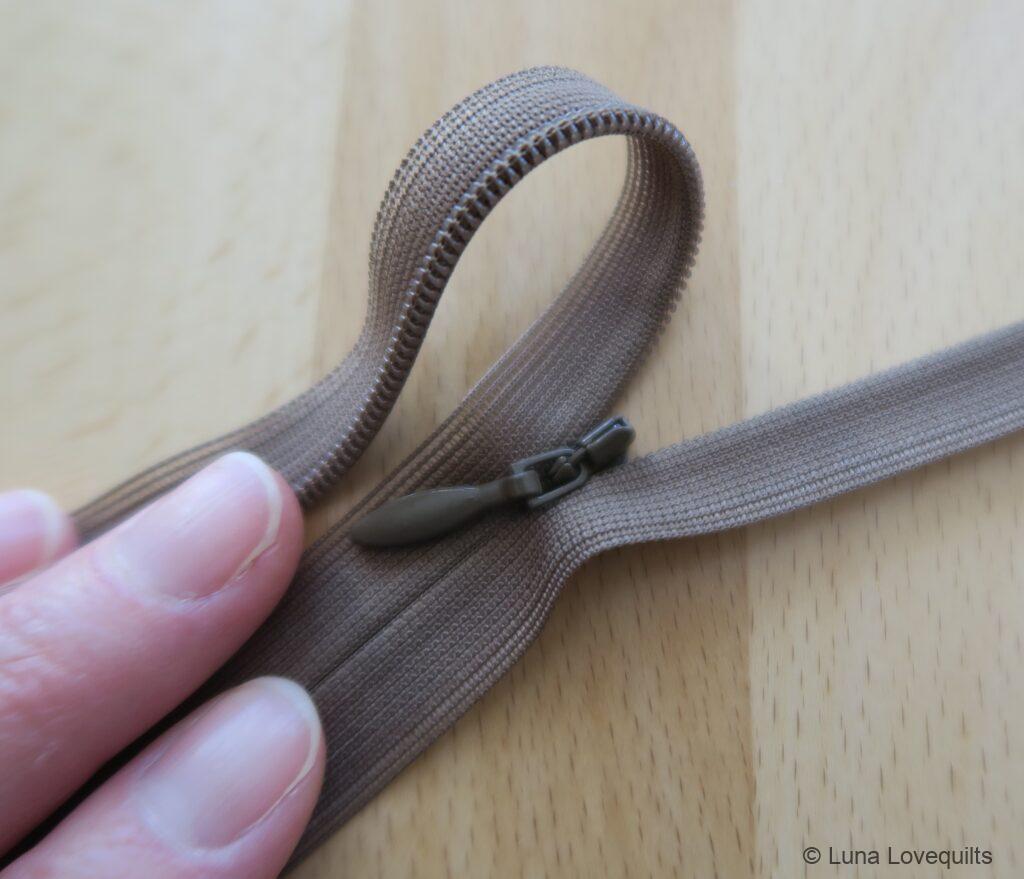 I assembled the two panels, front and back, at both ends on one side using a standard stitch length and securing the seam with backstitches. In between (at the zipper position actually) I increased the stitch length. Then I pressed the seam open and positionned my zipper. I decided to hand baste the zipper first to make the next step easier.
J'ai assemblé les deux panneaux, devant et dos, aux deux extrémités sur un des côtés en utilisant un point de longueur standard et en sécurisant la couture avec des points arrières. Entre deux (à l'emplacement prévu pour le zip), j'ai augmenté la longueur du point. J'ai ensuite ouvert la couture au fer et positionné ma fermeture Eclair. J'ai choisi de d'abord faufiler à la main la fermeture Eclair pour faciliter l'étape suivante.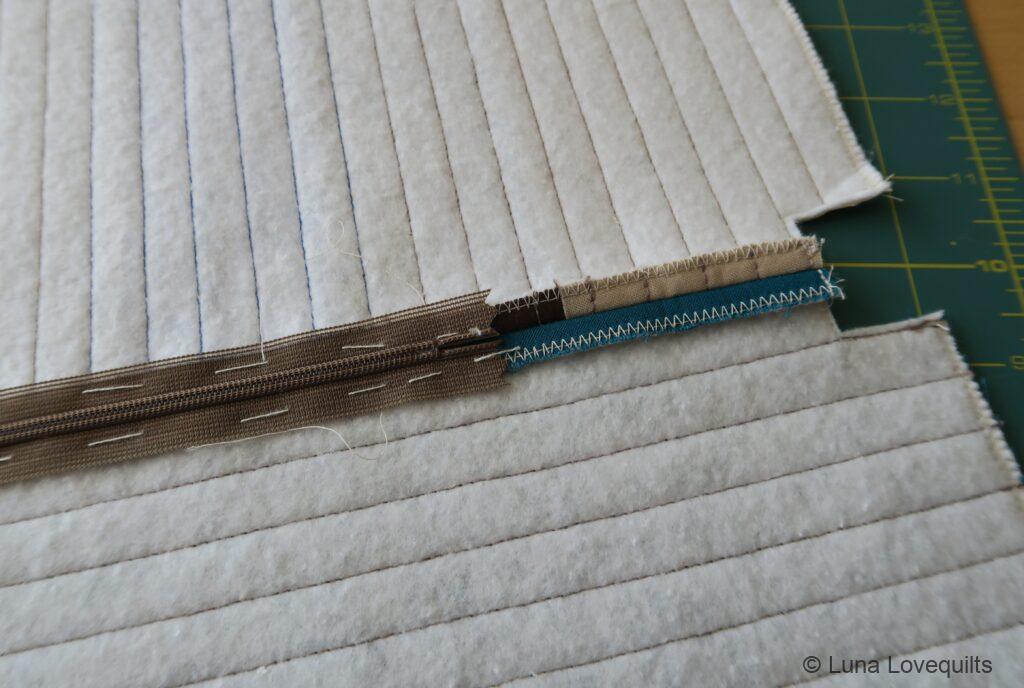 Then I attached the zipper working from the wrong side of the panels. From the right side, it looks like a topstitching. Last step was to remove carefully the machine basting stitches.
Ensuite, j'ai fixé la fermeture Eclair en travaillant depuis l'intérieur des panneaux. Vu de l'extérieur, cela ressemble à une surpiqure. La dernière étape était d'enlever avec précaution les points de faufil machine.
After the zipper side was completed, I sewed front and back panels on the three other sides. I finished by stitching each corner.
Après avoir terminé le côté avec zip, j'ai cousu les panneaux devant et dos sur les trois autres côtés. J'ai terminé par coudre chaque coin.
For the quilting, I chose simple horizontal straight lines.
Pour le quilting, j'ai choisi de simple lignes horizontales.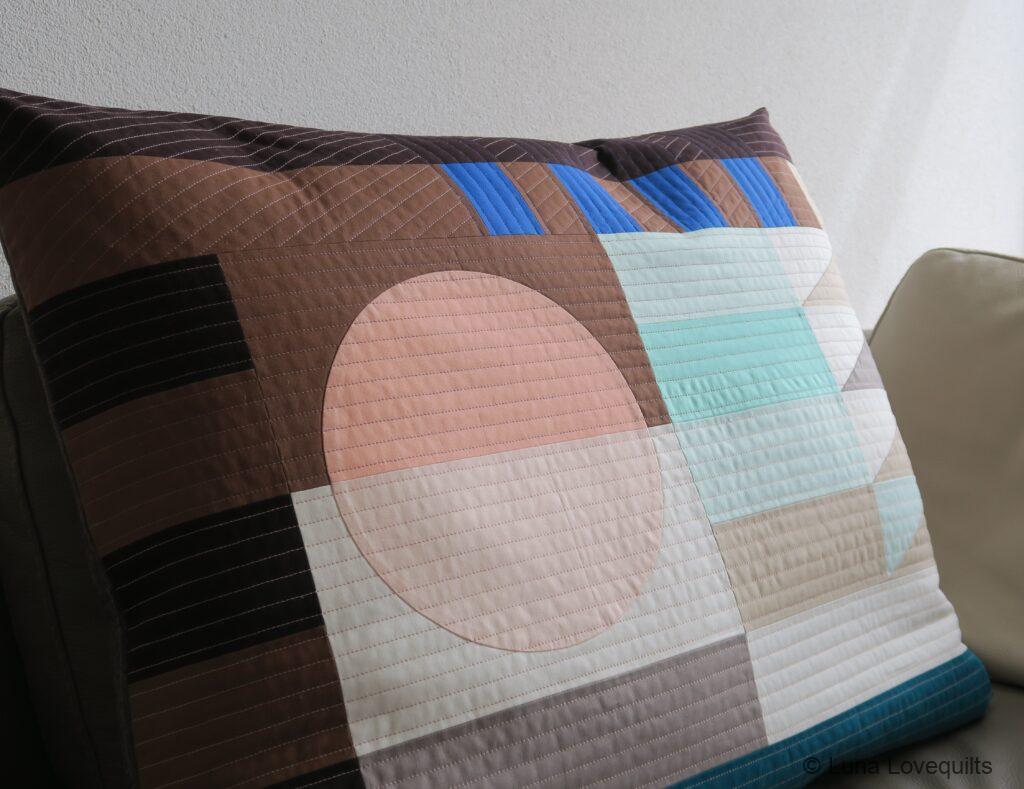 Except the top where the design called for something else. I then highlighted the blue strips with vertical lines and filled the remaining space with diagonales.
Excepté le haut où le design demandait autre chose. J'ai donc souligné les bandes bleues avec des lignes verticales et rempli l'espace restant avec des diagonales.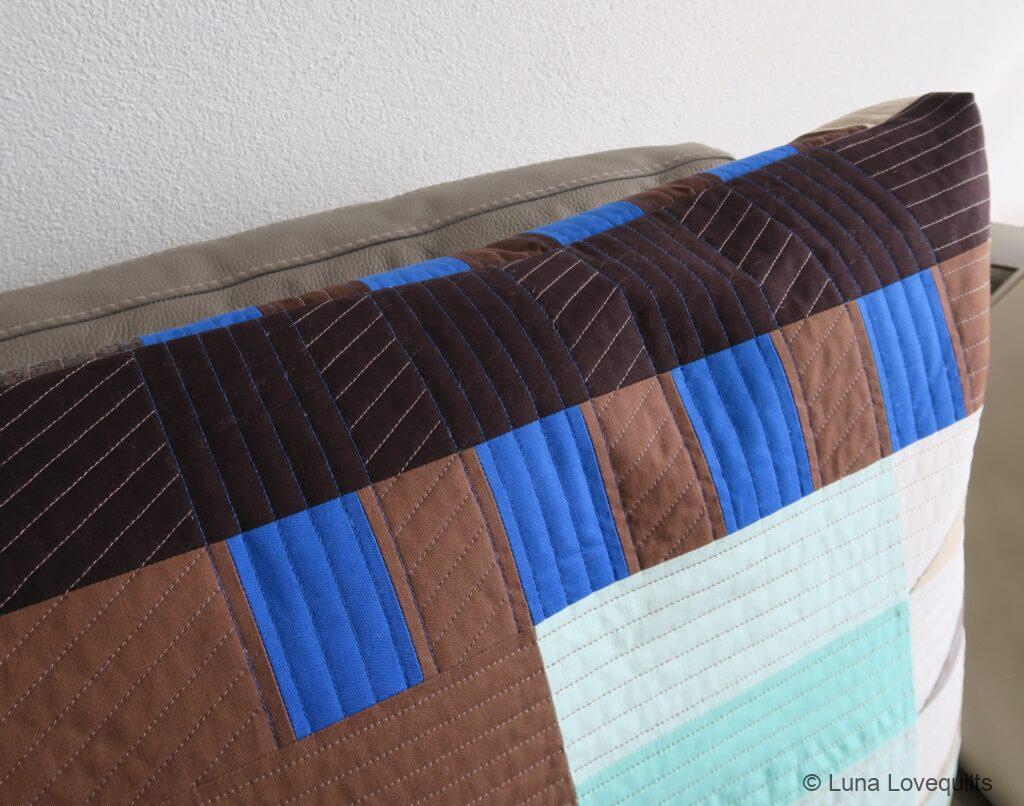 The back is also pieced while the design is much more simple. I just echoed the blue vertical strips of the front side. I also added to the fabric pull a piece of Essex Linen that I first thought to use for the front.
Le dos est aussi piécé quoique le design est beaucoup plus simple. J'ai simplement rappelé les bandes verticales bleues du devant. J'ai aussi ajouté à la sélection de tissu une pièce de Essex Linen que je pensais d'abord utiliser pour le devant.
Well … It took me a few days before I notified the recipient her cover was finished and ready to ship. I was a bit anxious to know if it would fit the cushion … So I did a happy dance when I received pictures of the cover in use in its new home !
Bon … Cela m'a pris plusieurs jours avant d'informer la destinataire que sa housse était terminée et prête à être envoyée. J'étais un peu inquiète de savoir si elle était ajustée au coussin … Donc j'ai été super contente en recevant des photos de la housse en fonction dans sa nouvelle maison !
This project was a bit of a challenge … A lot of thoughts and maths. And I learned a few things as well … Anyway I am super happy that I had this opportunity and love the result 🙂
Ce projet était un peu un challenge … Beaucoup de réflexion et de calculs. Et j'ai aussi appris quelques trucs … Mais je suis super contente d'avoir eu cette opportunité et j'adore le résultat 🙂