Quilt retreat
Earlier this month, I had planned a sewing retreat with my friend Sophie and we decided to work together on the latest Curated Quilts mini quilt challenge. We ended up with two very different designs. Sophie's project pictured top, mine on the bottom.
Plus tôt dans le mois, j'avais prévu une retraite couture avec mon amie Sophie et nous avons décidé de travailler ensemble sur le dernier challenge de mini quilts organisé par Curated Quilts. Nous avons abouti à deux designs très différents. Le projet de Sophie en haut et le mien au bas de la photo.
Sophie followed up with the quilting of her mini while I started working on a new idea. The plan is a series of small quilts featuring upcycled denim.
Sophie a continué directement avec le quilting de son mini, alors que j'ai commencé à travailler sur une nouvelle idée. Le projet est une série de petits quilts intégrant du jeans de récupération.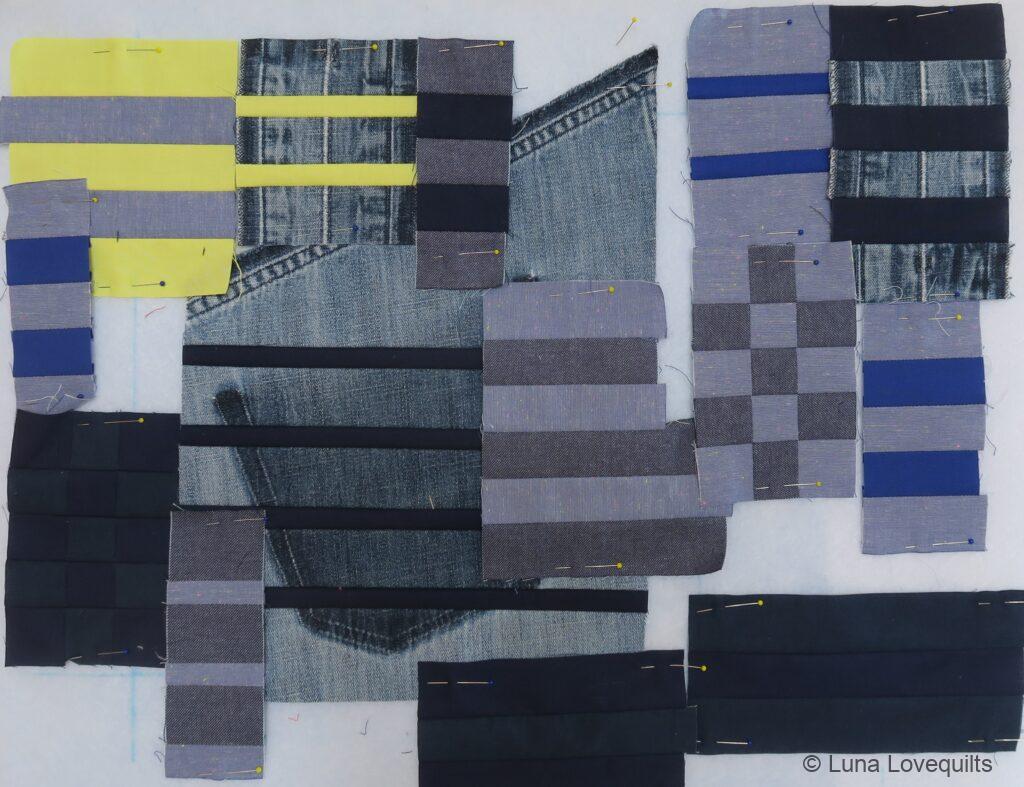 Submissions
I had on my to-do list a couple of submissions I wanted to do this month. I submitted Impact to the Festival of Quilts of Birmingham, in the Modern category. As there is no preselection to take part in the show, it should be on display in Birmingham mid August.
J'avais sur ma liste deux soumissions que je voulais faire ce mois. J'ai soumis Impact pour le Festival of Quilts de Birmingham, dans la catégorie Modern. Comme il n'y a pas de présélection pour participer à l'exposition, il devrait être exposé à Birmingham mi-août.
It was suggested that I submit my Spotlight quilt to International Quilt & Fiber Arts Festival (Washington state) and I decided to give it a try. As the submission fee is fixed for up to three quilts I also included Funky Town and LOVE.
On m'a suggéré de soumettre mon quilt Spotlight pour l'International Quilt & Fiber Arts Festival (dans l'état de Washington) et j'ai décidé de tenter ma chance. Comme les frais d'inscriptions sont forfaitaires pour un à trois quilts, j'ai aussi inclus Funky Town et LOVE.
Upcoming exhibits with ART-TEX group
This October, I will take part in Eloge du Fil, a textile art event here in Switzerland, with my friends of ART-TEX group.
There will be several exhibits (embroidery, lacework, quilts, …) located in different spots of the town. In addition to that, the organizers are putting together a street art installation consisting of textile faces. I wasn't very inspired by this figurative theme but … searched the Internet for 'abstract geometric face' and found out a few ideas that I finally combined. I went for fused appliqué which is a technique I never use in my work. This project is intended to last the duration of the event and I didn't want to spend too much time and energy on it. I completed it with hand embroidery to figure the eyes, nose and mouth.
En octobre, je vais participer à Eloge du Fil, un événement d'art textile ici en Suisse, avec mes amies du groupe ART-TEX.
Il y aura plusieurs expos (broderie, dentelle, quilts, … ) situées en différents endroits de la ville. En plus, les organisateurs sont en train de mettre sur pied une installation d'art urbain composée de visages textiles. Je n'étais pas très inspirée par ce thème figuratif mais … j'ai recherché sur Internet "visage géométrique abstrait" et trouvé quelques idées que j'ai ensuite combinées. J'ai opté pour l'appliqué collé qui est une technique que je n'utilise jamais dans mon travail. Ce projet est destiné à durer le temps de l'événement et je ne voulais pas y consacrer trop de temps et d'énergie. Je l'ai complété par de la broderie main pour représenter les yeux, nez et bouche.
October will be a busy month for ART-TEX group since we will also exhibit in Friedrichshafen (Germany) for Nadelwelt event!
Octobre sera un mois chargé pour le groupe ART-TEX car nous allons aussi exposer à Friedrichshafen (Allemagne) pour le salon Nadelwelt !
Bags, accessories and more
I am looking for a new spot nearby to offer my handmade items. I considered different possibilities for introducing examples of my creations to shop owners and finally went for a dedicated page on my website. Due to its purpose, the page is only available in French (at least at the moment) but there are pictures to look at 🙂
Je recherche un nouveau lieu dans les environs pour proposer mes objets fait main. J'ai considéré différentes possibilités pour montrer des exemples de mes créations aux boutiques et opté pour une page dédiée sur mon site web. Vous pouvez aussi y faire un tour !