Anyone else experiencing a lack of motivation at the moment ?! Anyway … I started to work on several small projects like these front panels from the Norfolk Pouch pattern by SOTAK Handmade. I had to put them aside though because I am waiting for a zipper order to arrive and also for my fabric labels that are still in the designing step …
Quelqu'un d'autre ressent un manque de motivation en ce moment ?! Bon … J'ai quand même commencé à travailler sur plusieurs petits projets comme ces panneaux du modèle Norfolk Pouch de SOTAK Handmade. J'ai dû les laisser de côté cependant car j'attends une commande de zips et aussi sur mes étiquettes tissus qui sont toujours au stade conception …
Same for these two panels that will be turned into a quilted pouch, front and back.
As I mentioned in my previous post, I am testing marking tools at the moment. For this project I used the Sewline air erasable pen which worked well. The lines completely disappeared after a few hours. As regards the white heat erasable pen I spoke you about, I would like to add that I could use it only for a few lines on a small project. No wonder it come with three refills …
Pareil pour ces deux panneaux qui deviendront une pochette quiltée, devant et dos.
Comme mentionné dans mon article précédent, je teste en ce moment différentes solutions pour le marquage. Pour ce projet, j'ai utilisé le stylo effaçable à l'air de chez Sewline qui a très bien fonctionné. Les lignes ont complètement disparu après quelques heures. En ce qui concerne le stylo blanc effaçable à la chaleur dont je vous avais parlé, j'aimerais ajouter que j'ai pu l'utiliser seulement pour quelques lignes sur un petit projet. Pas étonnant qu'il soit vendu avec trois recharges …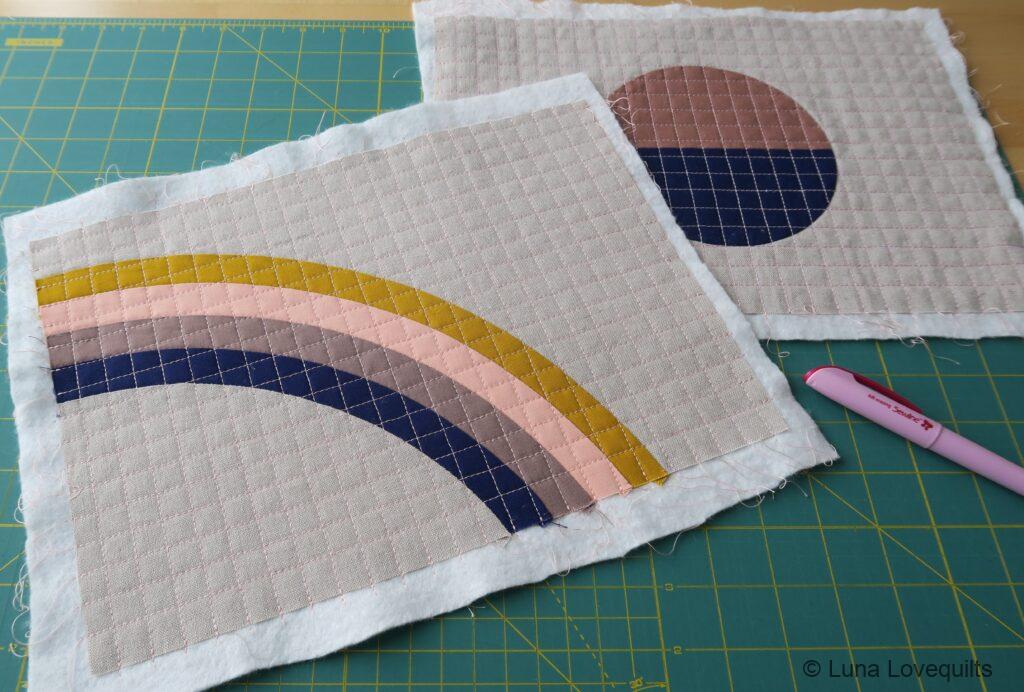 For making this rainbow design I used hand appliqué with Freezer Paper which is my go-to method for accurate curves.
Pour réaliser ce design arc-en-ciel, j'ai utilisé l'appliqué main avec Freezer Paper qui est ma méthode de prédilection pour les courbes précises.
I usely draw the templates with a compass for quarter circles or trace for other shapes. This time though I tried to print directly on the Freezer Paper and it worked. And my printer still works 🙂
D'habitude je dessine les gabarits avec un compas pour les quarts de cercle ou je décalque pour les autres formes. Cette fois cependant, j'ai essayé d'imprimer directement sur le Freezer Paper et cela a marché. Et mon imprimante fonctionne encore 🙂
Note that my printer is an inkjet type.
I cut a piece of Freezer Paper slightly smaller than a standard paper sheet. I fix it on a sheet with masking tape at the four corners, glazed side down. I insert the Freezer Paper in the manual feed tray of my printer and start printing. Definitely more accurate and faster than tracing !
Notez que mon imprimante est de type jet d'encre.
Je coupe une pièce de Freezer Paper légèrement plus petite qu'une feuille de papier standard. Je la colle sur une feuille avec du scotch carrossier aux quatre coins, le côté glacé contre le bas. J'insère le Freezer Paper dans la fente de chargement manuel de mon imprimante et je lance l'impression. Vraiment plus précis et rapide que de décalquer !
In other news, my first 2021 quilting project is finished ! It is a mini quilt for a friend swap. Unfortunately I have to wait until end February to show you more …
Sur un autre sujet, mon premier projet patchwork 2021 est terminé ! C'est un petit quilt pour un échange entre amies. Malheureusement, je dois attendre fin février pour vous en montrer plus …