Some news about what I've been working on since my latest post … 🙂
Quelques nouvelles de l'avancement de mes projets depuis mon dernier article … 🙂
Quilting
I started the quilting on a top which has been waiting since last July. While designing this project I already had in mind to mix machine and hand quilting. The machine quilting part is now almost finished and the addition of big hand stitches is well under way.
J'ai commencé le quilting sur un top qui attendait depuis juillet dernier. En dessinant ce projet, j'avais déjà en tête de mixer quilting machine et main. La partie quilting machine est maintenant presque terminée et l'ajout des grands points à la main est bien avancé.
Improvisation
I also made some progress on another project started last summer. A slow process with a lot of back and forth … This is an Improv project and it is fun to see how the design has evolved since the very first picture.
J'ai aussi avancé sur un autre projet commencé l'été passé. Un processus lent avec de nombreux allers et retours … Je travaille de manière improvisée et c'est amusant de voir comment le design a évolué depuis la toute première photo.
Bags and Accessories
I already started working on items for a market planned at the end of the year. It looks a bit early but I like to devote time to each of my creation without the pressure of the deadline … Here are a few items I recently finished.
J'ai déjà commencé à travailler sur des articles pour un marché prévu à la fin de l'année. Cela semble un peu tôt mais j'aime consacrer du temps pour chacune de mes créations sans la pression du délai … Voici quelques articles terminés récemment.
From Collage to Quilt
I also received this month my copy of Sarah's book, From Collage to Quilt and it's a treat for the eyes!
J'ai aussi reçu ce mois mon exemplaire du livre de Sarah, From Collage to Quilt, et c'est un régal pour les yeux !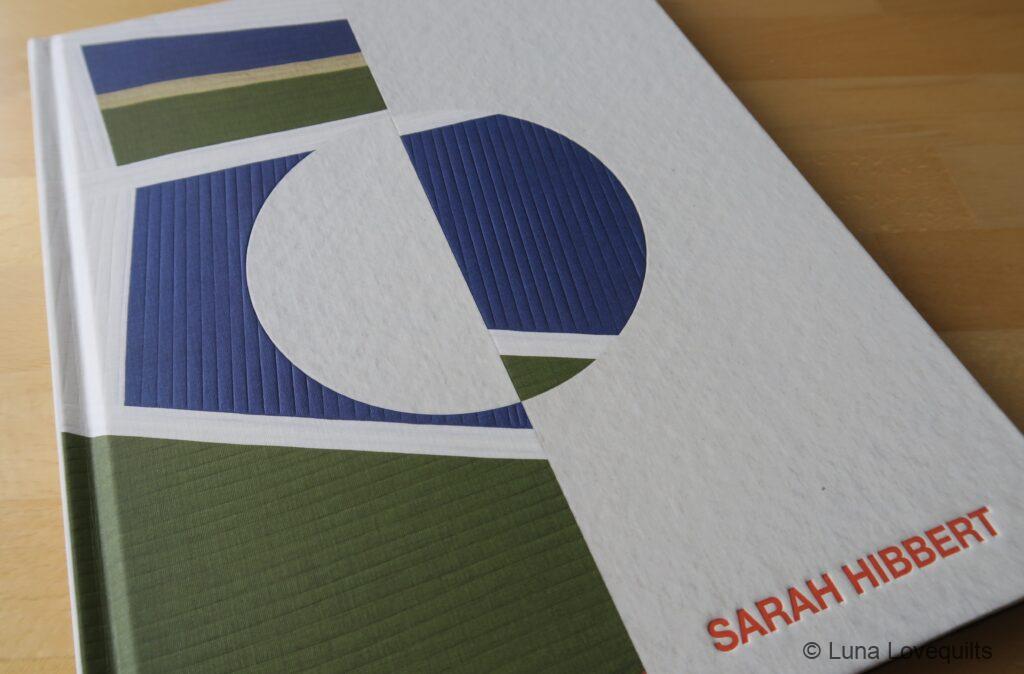 Sarah put a lot of herself in that project, not only her story, background and influences such as typography and Pop Art, but you can feel her enthousiasm and generosity throughout the book. In addition to that, the book in itself is a beautiful object as Sarah and the publisher paid attention to detail with stunning pictures, beautiful layout and embossed cover.
Sarah a mis beaucoup d'elle-même dans ce projet, non seulement son histoire, contexte et influences comme la typographie et le Pop Art, mais on peut sentir son enthousiasme et sa générosité à travers le livre. En plus, le livre est un bel objet en lui-même car Sarah et l'éditeur ont soigné les détails avec des photos originales, une belle mise en page et une couverture en relief.
With this book she will take you on a project to make a simple design from paper collage and turn it into a unique quilt. Though the book is more about creating a quilt with your own design, there is a 'Projects' section in which Sarah explains the process for fourteen projects based on paper collages.
Avec ce livre, elle vous guidera sur un projet pour réaliser un design simple à partir d'un collage papier et le transformer en un quilt unique. Bien que le livre soit plutôt orienté sur la création d'un quilt avec son propre design, il y a une section "Projets" dans laquelle Sarah explique la démarche pour quatorze projets basés sur des collages.
If you want to know more about Sarah, you can read an article on Create Whimsy website or see her quilting projects on her Instagram account quiltscornerstone. You will find her paper collages on a dedicated account cornerstonecollages.
Si vous avez envie d'en savoir plus sur Sarah, vous pouvez lire un article sur le site web de Create Whimsy ou voir ses projets patchwork sur son compte Instagram quiltscornerstone. Vous trouverez ses collages sur un compte dédié cornerstonecollages.
The book is available on Sarah's website or via the publisher's website Lucky Spool not to mention large retailers. If you plan to go to the Festival of Quilts in Birmingham next August, you will be able to purchase it at Sarah's gallery as well.
Le livre est disponible sur le site web de Sarah ou via le site web de l'éditeur Lucky Spool sans oublier la grande distribution. Si vous avez prévu d'aller au Festival of Quilts à Birmingham au mois d'août, vous pourrez aussi vous le procurer dans l'exposition personnelle de Sarah.
A noter – Ce n'est pas un livre classique de modèles avec des mesures et schémas précis. Pour profiter pleinement de la démarche et des explications, c'est indispensable de pouvoir lire l'anglais.