I have two finished quilt tops to share today! I wrote about the beginning of Spotlight (already found a name … yay for me!) in a post a few weeks back.
J'ai deux tops terminés à vous montrer aujourd'hui ! J'avais posté à propos du début de Spotlight (hourra … le nom est déjà trouvé !) dans un article il y a quelques semaines.
If you follow me on Instagram as well, you maybe saw this new project in your feed. Minimalist piecing that I completed in a day …
Si vous me suivez aussi sur Instagram, vous avez peut-être vu passer ce nouveau projet dans votre fil d'actualité. Un assemblage minimaliste que j'ai réalisé en un jour …
There were not a lot of seams to match but I am super proud of this part 🙂
Il n'y avait pas beaucoup de coutures à faire coïncider mais je suis super contente de cette partie 🙂
I ordered backing fabric for these two projects and meanwhile I decided to try a new to me pouch pattern. It is Boxy Pouch pattern designed by Courtney @seaminglysane and that you can find on her etsy shop.
J'ai commandé du tissu pour le dos de ces deux projets et en attendant j'ai décidé d'essayer un modèle de pochette que je ne connaissait pas encore. Il s'agit du modèle Boxy Pouch dessiné par Courtney @seaminglysane et que vous pouvez trouver sur sa boutique etsy.
I also used for the first time a zipper coil which has a metal look and that I ordered from K-Bas @kbas.be in Belgium. They sell them by the yard in many different colour combinations (for teeth and tape) on their website.
J'ai aussi utilisé pour la première fois un zip nylon qui a un aspect métallique et que j'ai commandé chez K-Bas @kbas.be en Belgique. Ils les vendent au mètre dans plein de combinaisons de couleurs différentes (pour les dents et la bande) sur leur site web.
Other pouches and tote bags in progress in the studio …
D'autres pochettes et sacs cabas en cours de réalisation dans l'atelier …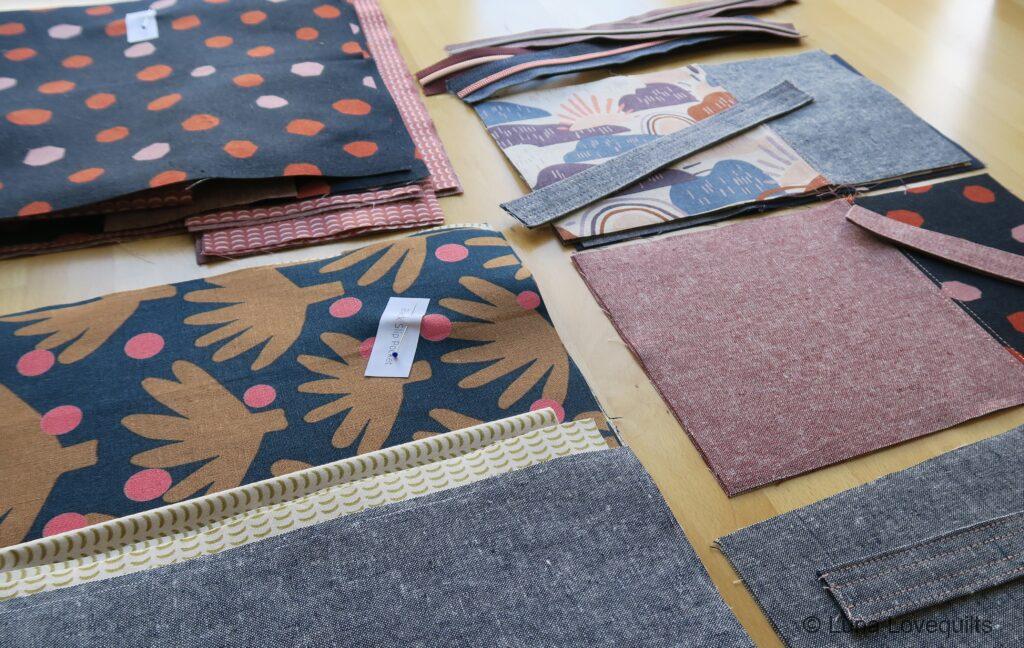 And what's next … ?! I decided to submit a quilt for next Quiltcon Fabric Challenge category. This year, the fabrics to include are a selection of Artisan Cotton collection by Windham Fabrics (picture on the left). I also ordered the neutrals that can be used in addition to the challenge fabrics. I am almost fixed for the design so I will start this project later this month.
Et ensuite … ?! J'ai décidé de soumettre un quilt dans la catégorie "challenge tissu" pour le prochain Quiltcon. Cette année, les tissus à inclure sont une sélection de la collection Artisan Cotton de chez Windham Fabrics (photo de gauche). J'ai aussi commandé les tons neutres qui peuvent être ajoutés en plus des tissus du challenge. Je suis pratiquement fixée sur le design et je pense commencer ce projet dans le courant du mois.
Another point that keeps me a bit busy at the moment … The group exhibit we had to cancel last year because of the Covid situation will be held end August. After a year of uncertainty and doubt about having or not the exhibit in 2021, we decided to go for it and to have the flyers printed. Now let's hope we won't face new restrictions by then …
Une autre point qui m'occupe un peu en ce moment … L'exposition de groupe que nous avons dû annuler l'année dernière à cause de la situation Covid aura lieu au mois d'août. Après une année d'incertitude et d'hésitation à propos d'organiser ou non l'expo en 2021, nous avons décidé de nous lancer et fait imprimer les flyers. Maintenant espérons que nous n'allons pas faire face à de nouvelles restrictions d'ici là …