Interaction is the mini quilt I made for the latest challenge organized by Curated Quilts magazine.
Interaction est le mini quilt que j'ai réalisé pour le dernier challenge organisé par Curated Quilts.
The general theme of the issue will be Polygons and here is the specific colour palette to be used for the mini quilt challenge.
Le thème général du magazine sera Polygones et voici la palette de couleurs spécifique à utiliser pour le challenge de mini quilts.
For making the top, I used a mix of machine piecing and hand appliqué. I went for appliqué to avoid working with Y-seams or having to subdivide my design a lot. It is difficult to see that now the top is quilted, but for example this white shape on the picture below is just one piece of fabric.
Pour réaliser le top, j'ai utilisé un mélange d'assemblage machine et appliqué main. J'ai choisi l'appliqué pour éviter de travailler avec des coutures en Y ou d'avoir à beaucoup subdiviser mon design. C'est difficile à voir maintenant que le top est quilté … mais par exemple cette forme blanche sur la photo ci-dessous est une seule pièce de tissu.
The quilted lines are a quarter inch spaced. I had tons of threads to bury and even if it is a small piece (16″ x 16″) I thought I would never get to the end !
Les lignes de quilting sont espacées d'un quart d'inch. J'ai eu des tonnes de fils à arrêter et même si c'est une petite pièce (environ 40 cm x 40 cm) j'ai pensé ne jamais arriver au bout !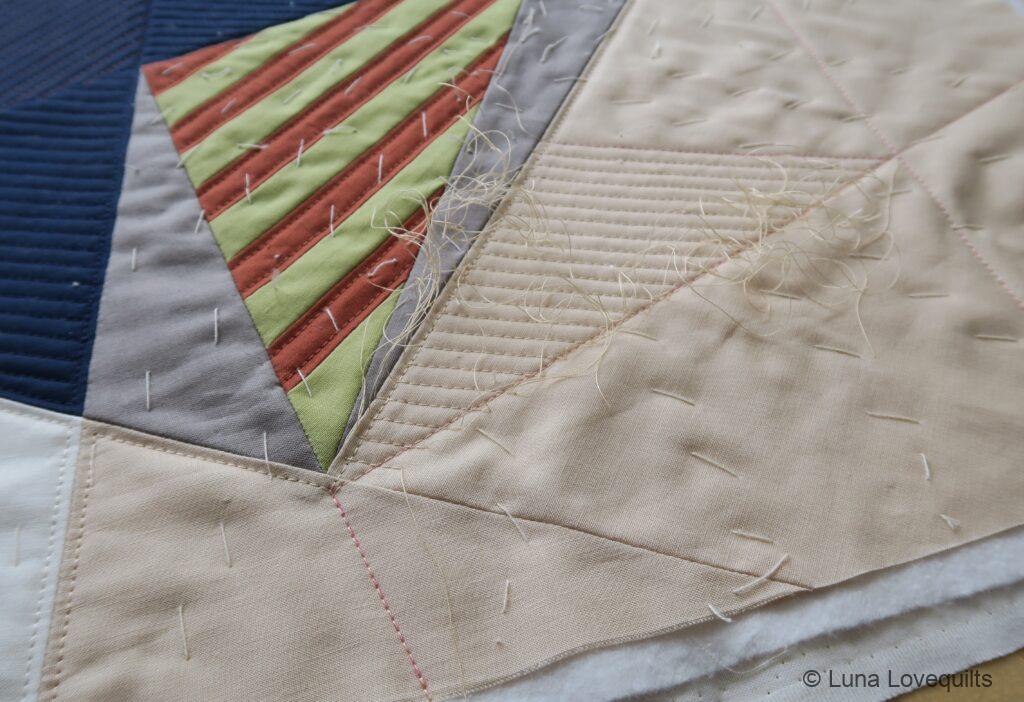 Anyway now I think it was worth it 🙂
Mais maintenant je pense que cela en valait la peine 🙂
I mainly chose matching colour threads for the quilting. Except in two areas where I used contrasted colours to create new shapes with the quilting.
J'ai principalement utilisé des fils de couleurs assorties pour le quilting. Excepté à deux endroits où j'ai utilisé des couleurs contrastées pour créer de nouvelles formes avec le quilting.
I added more angles to the design using two colours for the binding, rust and olive. I started to attach the binding on the right edge and it was pretty easy to match the first angle with the piecing design. Matching the second angle on top was a bit more tricky …
J'ai ajouté des angles supplémentaires au design en utilisant deux couleurs pour le binding, rouille et olive. J'ai commencé à poser le binding sur le côté droit et c'était assez facile de faire correspondre le premier angle avec le design du top. Faire correspondre le deuxième angle en haut a été un peu plus compliqué …
By chance this mini looks very good on this wall and it may replace the small quilt that is currently hanging here.
Par hasard ce mini va super bien sur ce mur et il va peut-être remplacer le petit quilt qui est actuellement accroché ici.