More stunning quilts in this last part of my Quiltcon recap! You can read previous posts Part 1 and Part 2 by following the links.
Encore d'autres quilts étonnants dans cette dernière partie de ma récap Quiltcon ! Pour lire les articles précédents Part 1 et Part 2, cliquez sur les liens.
Hillary Goodwin
Hillary Goodwin created 2020 Vision to commemorate the events of 2020 and express her feelings. It is a powerful quilt and the Best In Show award was well deserved in my opinion.
Hillary Goodwin a créé 2020 Vision pour commémorer les événements de 2020 et exprimer ses sentiments. C'est un quilt qui a beaucoup de force et le prix Best in Show était vraiment mérité à mon avis.
These two quilts, Breaking Tradition #1 and #2, were entered in the Modern Traditionalism Category.
Ces deux quilts, Breaking Tradition #1 et #2, étaient inscrits dans la catégorie Modern Traditionalism.
For each, she pieced a traditional pattern and then cut it up and sewed it back together. The final result has an intriguing effect!
Pour chacun, elle a assemblé un motif traditionnel et ensuite l'a coupé et recousu ensemble. Le résultat final a un effet intéressant !
I love following her Instagram account @entropyalwayswins where she shares not only about her quilting journey but also about the garments she makes. Speaking of garments, have you already heard about Fast Fashion of the 1960s? I discovered this paper dresses trend while visiting the Phoenix Art Museum. A very cool exhibition!
J'adore suivre son compte Instagram @entropyalwayswins où elle partage non seulement ses projets de quilting mais aussi les vêtements qu'elle coud. En parlant de vêtements, avez vous déjà entendu parler du mouvement Fast Fashion des années 60 ? J'ai découvert cette tendance des robes en papier en visitant le Phoenix Art Museum. Une exposition vraiment cool !
Carson Converse
It is very difficult to capture on a picture the beauty of Carson Converse's work. I wasn't surprised that her Red Blue quilt won an award with first place in Negative Space Category. But I was blown away when I read the description of her process for making this quilt. The top was made with solids and prints of different colours and then densely quilted with polyester thread. Pretty conventional so far, but then … she over-dyed the finished piece to mix the fabrics together! Thus the quilting becomes more prominent as the polyester thread resist the dye. The result is just amazing!
C'est très difficile de saisir en photo la beauté du travail de Carson Converse. Son quilt Red Blue a reçu un prix avec la première place dans la catégorie Negative Space et ce n'était pas une surprise. Mais j'ai été épatée quand j'ai lu la description de la réalisation de ce quilt. Le top est piécé avec des unis et imprimés de différentes couleurs et ensuite quilté de manière dense avec du fil polyester. Plutôt classique jusque là, mais ensuite … elle a sur-teint la pièce terminée pour mixer ensemble les tissus! Comme le fil polyester résiste à la teinture, le quilting ressort plus. Le résultat est juste magnifique !
Green and Rose was entered in the Improvisation category. She used the same process and over-dyed the finished piece with dark green.
Green and Rose était inscrit dans la catégorie Improvisation. Elle a utilisé le même procédé de réalisation et sur-teint la pièce terminée avec un vert sombre.
Latifah Saafir
The guest artist and speaker this year was Latifah Saafir, co-founder of the Modern Quilt Guild. She received a standing ovation when she went on stage for her lecture as she is a kind of rock star in the Modern Quilting community 🙂
Latifah Saafir, co-fondatrice de la Modern Quilt Guild, était l'artiste et conférencière invitée cette année. Comme c'est une sorte de rock star dans le monde du Modern Quilting, elle a reçu une ovation debout quand elle est montée sur scène pour sa conférence 🙂
I have long admired her innovative and bold quilts. Latifah is also a fabric designer. Some of her fabrics were inspired by graffiti, urban art and the streets of Los Angeles. If you look closer at my Spotlight quilt, you can see that the only two prints I used (the graffiti style alphabet and the bricks) are from her fabric collections. Her Kicks quilt, was also influenced by urban design and hip hop artists.
J'admire depuis longtemps ses quilts innovants et forts. Latifah est aussi designer textile. Certains de ses tissus sont inspirés par les graffiti, l'art urbain et les rues de Los Angeles. Si vous regardez mon quilt Spotlight de plus près, vous pouvez voir que les deux seuls imprimés que j'ai utilisés (alphabet style graffiti et briques) viennent de ses collections de tissus. Son quilt Kicks, a aussi été influencé par le design urbain et les artistes de hip hop.
We Still Matter, is a memorial quilt made with Steven Taylor's jeans, a Black man murdered by the police in California.
We Still Matter, est un quilt commémoratif créé avec les jeans de Steven Taylor, un homme Noir tué par la police en Californie.
Minimalist Design Category
I love minimalism in design so I am always eager to see this category. Pictured below is Lucky Number 13 by Marnie Burnham.
J'adore le minimalisme dans le design donc je suis toujours impatiente de voir cette catégorie. Sur la photo ci-dessous, Lucky Number 13 de Marnie Burnham.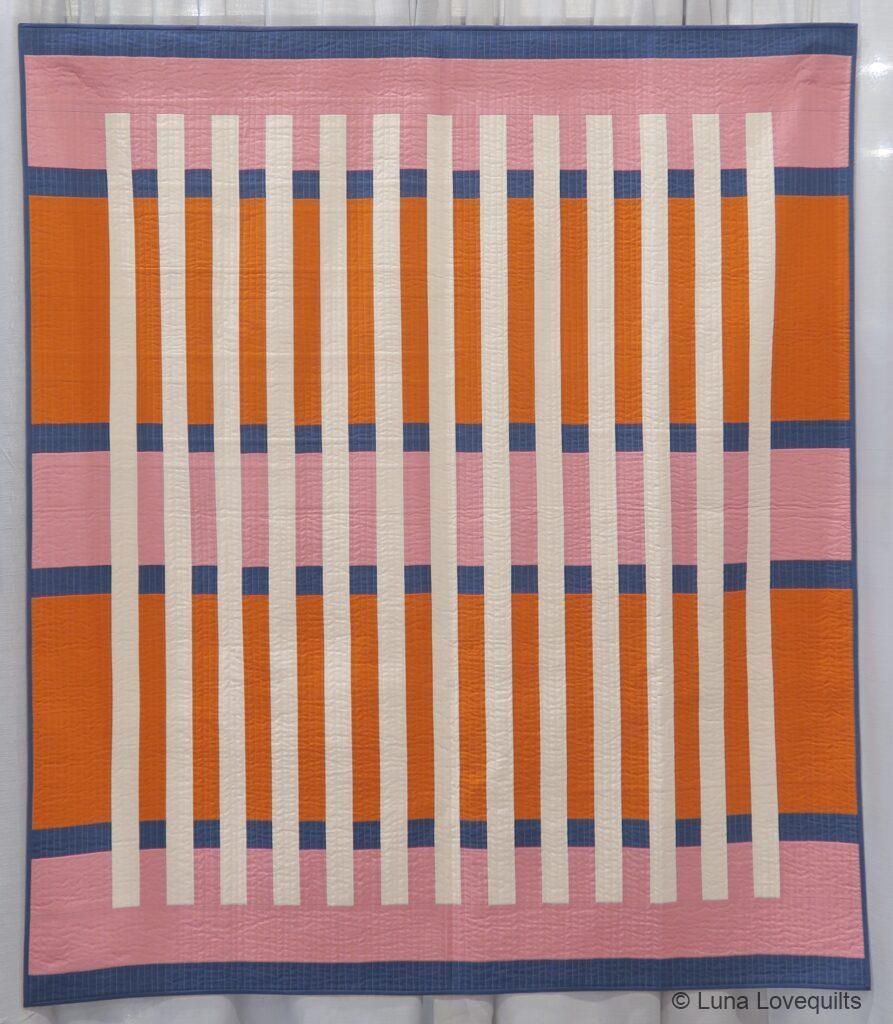 On the left, Swoop by Stephanie Ruyle and pictured right Into the Light by Karen Maple.
A gauche, Swoop de Stephanie Ruyle et sur la photo de droite Into the Light de Karen Maple.

Same colour combination for these two quilts, S Marks the Spot by Naomi Bombardi-Wilson on the left and Neon Lava by Julee Ryle on the right.
Même combinaison de couleurs pour ces deux quilts, S Marks the Spot de Naomi Bombardi-Wilson à gauche et Neon Lava de Julee Ryle à droite.
Improvisation Category
The quilts are grouped in the show by category of course. But I don't know if then they are placed randomly or by number or with an idea of harmony. Anyway this overall view was beautiful.
Les quilts sont regroupés dans l'exposition par catégorie bien sûr. Mais je ne sais pas si ensuite ils sont placés de manière aléatoire ou par numéro ou avec une idée d'harmonie. Dans tous les cas, cette vue globale était vraiment belle.
I love Jill Fisher's improv work as a whole. More of her work @pieladyquilts. Her quilt Jagged, pictured left, recently inspired me to work on improv HSTs. On the right, Neighborhoods by Anca Trandafirescu which is mostly made from shirts.
J'adore dans son ensemble le travail d'improvisation de Jill Fisher. D'autres travaux @pieladyquilts. Son quilt Jagged, sur la photo de gauche, m'a récemment inspirée de travailler sur des HSTs improvisés. A droite, Neighborhoods de Anca Trandafirescu, qui est réalisé principalement avec des chemises.
Bye bye Phoenix …
Some of the quilts I shared were awarded but most were not so go on the Quiltcon 2022 Winners page if you'd like to see awarded quilts of each category.
If you aren't tired of hearing about Quiltcon … Linda also wrote a recap on her blog. We bumped into each other quite a few times at the show (and in the hotel!) but we were drawn to different quilts. You can find a first round of pictures here and if you're interested in temperature quilts, you can see some of them among others in the secound round.
Well … those two are not only making plans for next year in Atlanta, they are also thinking of how going to Raleigh in 2024 😉
Certains des quilts que j'ai montrés ont reçu des prix, mais la plupart pas, donc rendez vous sur la page Quiltcon 2022 Winners si vous avez envie de voir les quilts primés dans chaque catégorie.
Si vous n'êtes pas fatigué d'entendre parler de Quiltcon … Linda a également écrit une récap sur son blog. On s'est croisées pas mal de fois pendant l'événement (et à l'hôtel !) mais nous avons été attirées par des quilts différents. Vous pouvez trouver une première série de photos ici et si vous êtes intéressé par les quilts météo, vous pouvez en voir quelques uns entre autres dans la deuxième série.
Bon … ces deux-là ne sont pas seulement en train de faire des plans pour Atlanta l'année prochaine, mais aussi pour aller à Raleigh en 2024 😉